Personal Insights
Top Factors to Consider for Choosing the Right SAP Business One Partner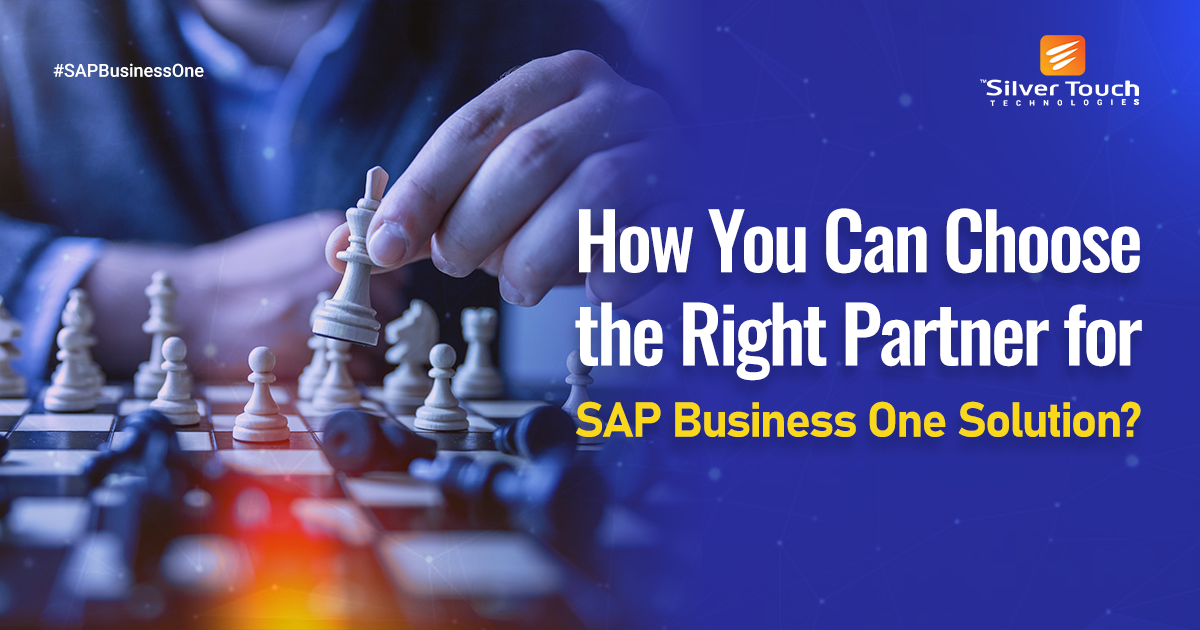 When it comes to streamlining various processes and having greater control over your business, SAP Business One comes in the mind of entrepreneurs, globally. Specially designed for small and mid-sized enterprises, SAP Business One has gained fame as a robust ERP solution and business management software in a very short time.
Modern enterprises can automate key business functions across various departments like operations, financials, and human resources using SAP Business One solution. SAP B1, a popular short form for SAP Business One, works wonders in the companies having the size of 5 to 100 employees. Today, over 55,000 companies spanned across 150 countries rely on SAP Business One.
But, here you need to take a wise decision for leveraging the benefits of this robust and reliable platform. You need to choose the right SAP Business One partner who can manage the supply, plan, implement, integrate, and execute the system while developing customized software in line with your business model and customer requirements.
These days, many IT companies claim that they are SAP partners, but as an entrepreneur, you should select the partner certified by SAP itself. After all, who can give you the best advice on choosing the SAP B1 partner than SAP itself? The company knows its software and makes IT companies with cutting-edge tools and state-of-the-art infrastructure its partner.
Before selecting the SAP Business One partner, you can go through the SAP list of recommended suppliers. But, this is just the first tip. Out of many SAP Business One Gold Partners, who have shown their expertise and capability of developing for the SAP B1 software and the add-ons, you can choose the most suitable for your company by considering the following factors-
1. Years of Experience- This is the most important aspect. It is always better to select the SAP B1 partner with many years of collective experience. The IT company should have a team of certified developers who have worked on many SAP projects across different industry sectors.
2. Testimonials- Client's feedback matters when you select the right SAP Business One partner. You can ask other entrepreneurs who have gone through this process and consider their inputs for making a decision. Some companies show the client's testimonials online, but it is advisable to meet a couple of previous clients of the company to get complete information about the company's approach and resources.
Also Read- 7 Top Benefits of SAP Business One for Small and Mid-sized Enterprises to Grow
3. Resources Strength- Apart from having a good experience, you should focus on the technical knowledge or domain expertise of the developer's team. SAP Partner companies conduct rigorous vetting, auditing data centers, and offer various services regularly. It is necessary that these companies should have enough resources to handle any size of projects.
4. After-sales Service- This is also a highly important factor to consider. The SAP B1 partner you choose must offer technical assistance and maintenance services on a 24/7 basis. Though having enough strength and domain expertise, many companies fail to provide technical support after integrating software in the client's business system.
Finally, you need to consider the SAP managed services that you may require in the future and find out whether the SAP B1 partner you have selected is giving these services. For example, you need SAP Cloud hosting today, but, in the future, you may require SAP Business One HANA or SAP Business One Mobility solution. The partner company should offer these services as well.
Before reaching the end of this blog, just look at the benefits of the right SAP B1 partner for your enterprise-
• Reduces management overhead while ensuring consistency and quick resolution of issues
• Empowers you to integrate a coherent and comprehensive solution
• Improves overall efficiency and decreases redundancy
• Creates a robust SAP Cloud solution that helps your business stay online on a 24/7 basis
Concluding Lines

The selection of the right SAP B1 partner is essential to ensure growth of your business while streamlining operations and simplifying complexities. Hope these factors will assist you to choose the suitable SAP Business One partner company.