Business Trends
How SAP Business One Solutions Improve the B2B Experience for Your Customers
Since its initial release in April 2002, SAP Business One (SAP B1) keeps on evolving to serve modern SMEs. It aims to take businesses to a new level by bringing automation in key processes and increasing productivity. Be it financials or HR, admin or operations, SAP B1 can automate and improve core processes across different industry sectors and SMEs can leverage its benefits by integrating customized SAP Business One solutions.
Every business serves its customers by providing them goods, services, or both. Simply put, a confirmed business transaction initiates with receiving a purchase order and ends with delivery of the goods or services. As a supplier, you can receive orders from your customers in multiple ways. Your customers can inform you about their needs through a phone call or an EDI (Electronic Data Interchange) message that converts into a PO (Purchase Order) automatically in your IT system.
Many factors are responsible to bring variations in the ordering process. For example, customers can wait even if the order process takes more time than usual, if your firm supplies a niche product or service. But, if you are selling products through a dealer's network in a highly competitive market, then you need to put all effort in ensuring that the order process is simple and swift. Whether you own a startup or run an SME, you have to provide your customers with excellent ordering experience.
Here, SAP Business One solutions come into the picture. Let's dig deep into the detail in how SAP Business One ERP solution can help your business to improve B2B experience for customers.
SAP Business One Solutions Assist SMEs to Improve Customer Experience
Developed and maintained by the world leader in business management solutions SAP SE, SAP Business One is a comprehensive ERP system designed for SMEs. Though SAP B1 offers various cloud-based versions like SAP Business One HANA and SAP S/4 HANA Cloud solution for meeting diverse and complex requirements of modern businesses, we will focus on the sales process to understand how it improves the customer experience.
A traditional, manual workflow can delay the overall ordering and sales processes. Also, due to human intervention, chances of errors are high in this type of workflow, and any mistake can lead to a bad customer experience for sure. Altogether, unnecessary delays and chances of human errors make this model obsolete for the current competitive market.
Also Read- Role of SAP in Warehouse Management with Voice-enabled Operations
SMEs that use SAP Business One solutions can see the entire process on the customer portal and make necessary changes anytime. The workflow remains partially automated and companies can easily eliminate the chances of delays in orders or human errors. As a result, customers can get excellent experience.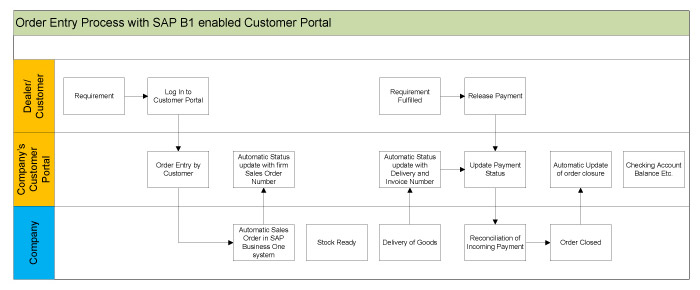 Key Benefits of Customer Portal in SAP Business One
Makes ordering and sales processes more transparent
Reduces chance of errors by decreasing human intervention significantly
Brings business turnaround by increasing speed and efficiency
Enables users to handle the transaction with ease
Offers enhanced experience to customers
Gives your firm a competitive edge and increases sales
All you need to contact a reliable ERP consultant for SAP implementation and leveraging these benefits.
Concluding Lines
Improved B2B experience can be a game-changer in this highly competitive business scenario. Dealers start pushing your products or services more aggressively, and you can grow your business while providing an improved customer experience. A customized SAP Business One ERP solution can increase efficiency of your team by simplifying the complexities of ordering and sales processes.