Business Trends
Make your HR and Payroll data available dynamically in SAP Analytics Cloud
SAP® and SuccessFactors customers have many options for reporting and analytics and the biggest player in SAP Analytics is SAP Analytics Cloud. So the popular question for those folks who love all things HR, Payroll, HCM and HXM: Can you make your HR and Payroll data available dynamically in SAP Analytics Cloud?  The answer is Yes!
(C) SAP 2021
What is SAP Analytics Cloud?
The SAP Analytics Cloud solution combines BI, augmented and predictive analytics, and planning capabilities into one cloud environment. As the analytics layer of SAP's Business Technology Platform, it supports advanced analytics enterprise-wide.
SAP Analytics Cloud has had a few name changes over the years but the key thing to note for it is that unlike People Analytics, which is exclusive to SuccessFactors content, SAP Analytics Cloud is for the entire enterprise. That enterprise can include data from SAP Finance, Logistics, CRM and even from People Analytics.
SAP Analytics Cloud leverages Partner Data Sources
SAP Analytics Cloud can include data from various sources and there are some data points that are not delivered by SAP but rather delivered via partners. This slide below shows SAP's list of data sources. This slide is a couple of years old and the number of data sources has grown quite exponentially since its publication but I would like to call your attention to the red box at the bottom right.
You see SAP Analytics Cloud would like to have access to all data but as we know, access to SAP Payroll Time and On premise configuration data in SAP is difficult to access without. Customers can use a myriad of solutions including the SAP Wage type reporter, abap, the pay recon transaction etc. to collect some of this data and output it, however as popularly known, the easiest way to access payroll and time data is via a third party solution and the only SAP certified for S/4HANA solution is the EPI-USE LABS Query Manager. So that is why you see EPI-USE Labs' Query Manager solution is listed on SAP Analytics Cloud Data Sources slide for SAP Payroll, Payroll configuration and SAP On-Premise reporting (see bottom right).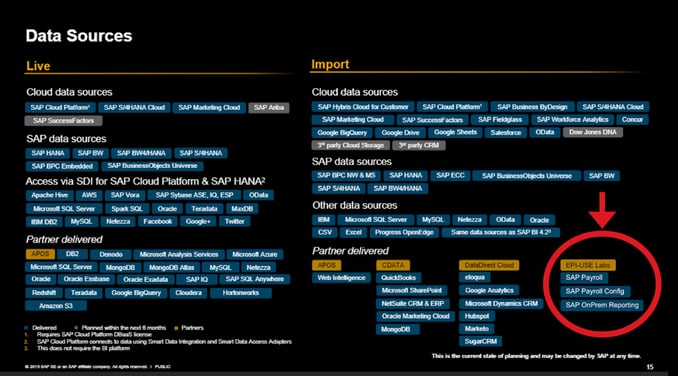 (C) SAP 2019
Connect your SAP on-premise data with SAP Analytics Cloud
If you would like to share your SAP ECC on-premise or SAP SuccessFactors hybrid data or data from your SuccessFactors Employee Central Payroll dynamically with SAP Analytics Cloud, there is a solution.
You're probably already familiar with the SAP-certified solution, Query Manager. As the most popular reporting solution for SAP HCM and Payroll customers, Query Manager provides accurate, meaningful and real-time information from all of your SAP HCM and Payroll data whether you are on-premise in SAP ECC, in a hybrid SAP SuccessFactors environment, or with SAP SuccessFactors Employee Central Payroll. And the exciting news is that Query Manager also serves as an engine for feeding all this data – including configuration, custom tables, Time and Payroll – with any external system with OData integration. This includes SAP Data Analytics Cloud.
How it Works
Query Manager extracts the relevant data for you (whether it be Payroll or PA, OM etc) without replicating the data, even for a sizeable volume.
You can build the queries, without writing code, without staging the data, in another system.
Query Manager generates a web service that exposes that data as an OData service that you can then consume via SAP Analytics Cloud.
You can also combine on-premise data with other data sources, including SuccessFactors, that come from other parts of your ecosystem. In the sample below, you can see Query Manager Analytics Connector as the data source.
In the sample below, you can see SAP On Premise HCM, Payroll Time and configuration data exposed in SAP Analytics Cloud.  This solution also works for SAP SuccessFactors Employee Central Payroll.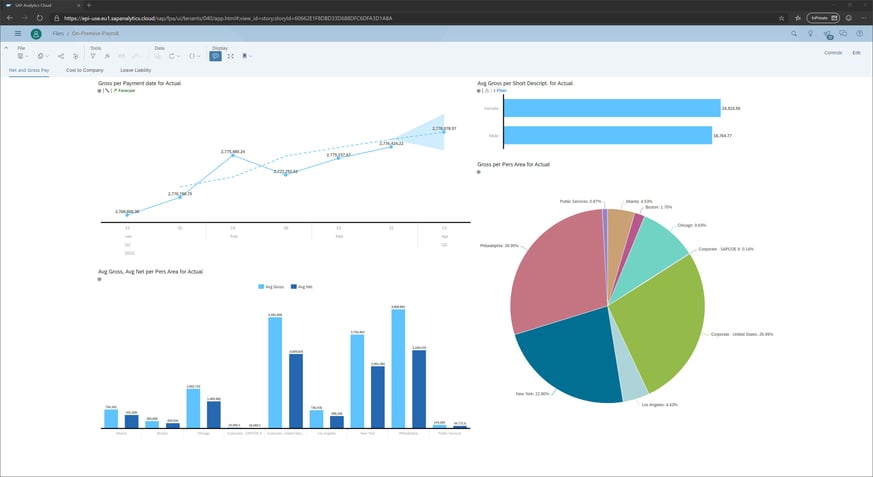 You can then expose this data as analytics in a dashboard, for use in making analytics and strategic decisions for your enterprise. What's ideal is that you can easily refresh the data within SAP Analytics Cloud, on demand, to retrieve the latest available data to you (no more uploading and downloading).
Understanding where the Add-On coms in is detailed in the diagram below.  Other integration types include analytics solutions like Qlik, Tableau or Microsoft PowerBI or the data warehousing solution SAP Data Warehouse Cloud.
Learn more about the SAP-certified Query Manager including the Query Manager Analytics Connector.