Product Information
The Road to SAP SuccessFactors People Analytics
How we got here
In October 2018, SAP SuccessFactors launched People Analytics with the promise for it to be the solution for all Human Capital reporting powered by SAP Analytics Cloud, as detailed by the global head of Product for SAP SuccessFactors, Amy Wilson in SAP's News Center update.  I published a blog titled "SAP SuccessFactors launches People Analytics powered by SAP Analytics Cloud" and I eagerly began to begin my People Analytics education.  Since that time SAP SuccessFactors has launched some additional educational information about People Analytics.
Before we start talking about People Analytics, let's talk about how we got to People Analytics. I think it's best to start right after the acquisition of SuccessFactors when the reporting solution portfolio was shared (see image below).
If you want to start from the very beginning, including a look at all of the reporting options available for on-premise SAP HCM and Payroll, you can start with this free ebook titled "Reporting and Analytics for SAP HCM & SuccessFactors Customers"which outlines all of the options for on-premise SAP HCM and Payroll reporting, including BW, and ending with the announcement that People Analytics is coming soon.
2013 SuccessFactors Reporting Solution Portfolio
(Source © SAP)
With the acquisition of SuccessFactors, the landscape of reporting offerings seemed to increase exponentially. Back in 2013, just as HCM/Payroll customers were trying to wrap their heads around their move from On-Premise SAP HCM to SuccessFactors modules in the Cloud, they were similarly eyeing the availability of the reporting tools in SuccessFactors, which included some of the tools shown below. At that time, the solutions were divided into three categories, similar to what is available today: operational, analytics and planning, as shown in the diagram above.
2013 SuccessFactors Operational Reporting & Dashboards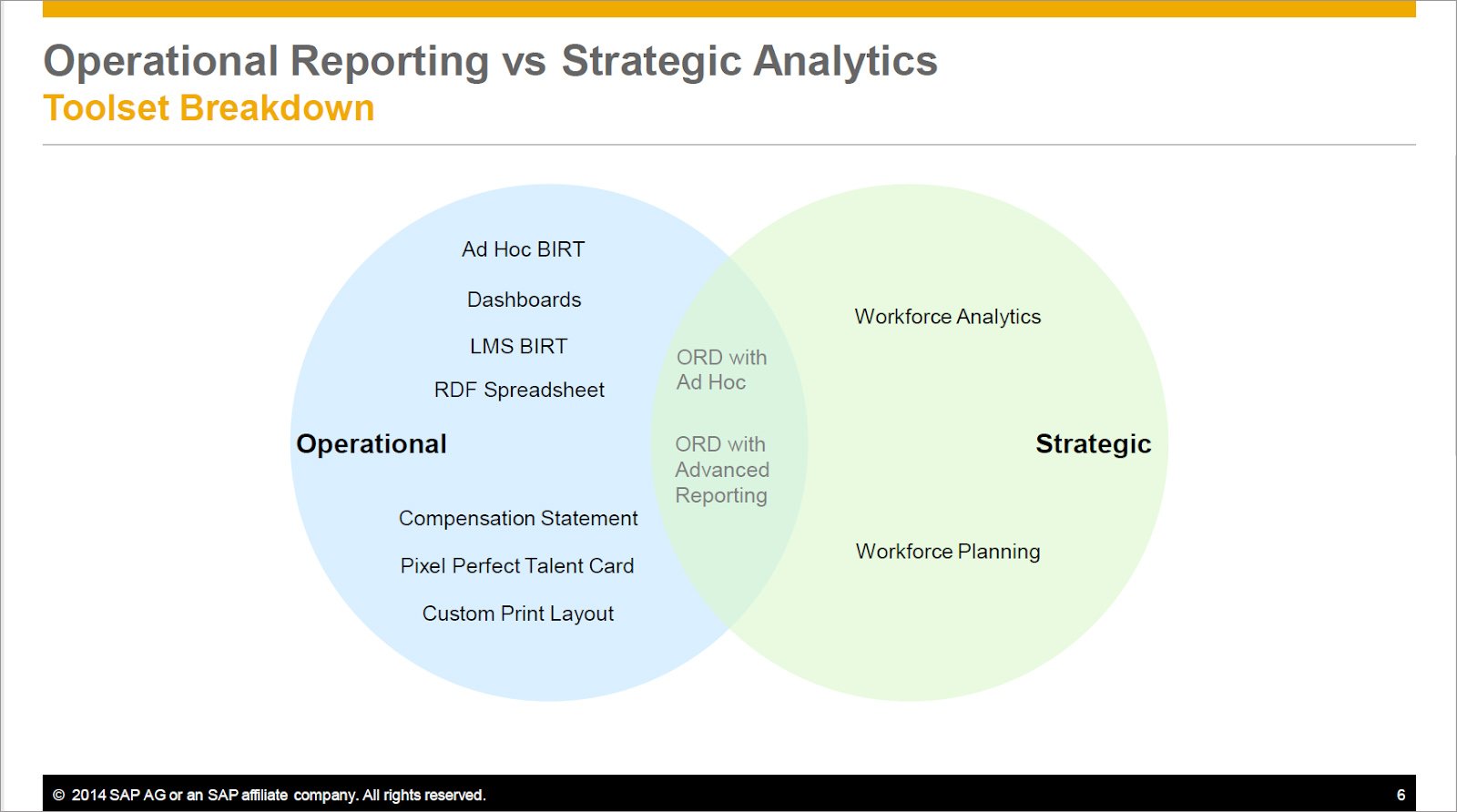 (Source © SAP)
The first family of solutions was designed for operational reporting and was given the general name of Reporting & Dashboards. There were several tools as part of Reporting & Dashboards, as shown in the picture above, including Ad Hoc, BIRT, Dashboards, RDF Spreadsheets, Pixel Perfect Talent Cards and the ORD (Online Report Designer). To further complicate things, there were also classic reports (delivered with the solution) and Premium Reporting, a paid service for report building.
Which SuccessFactors Reporting Solution do you use?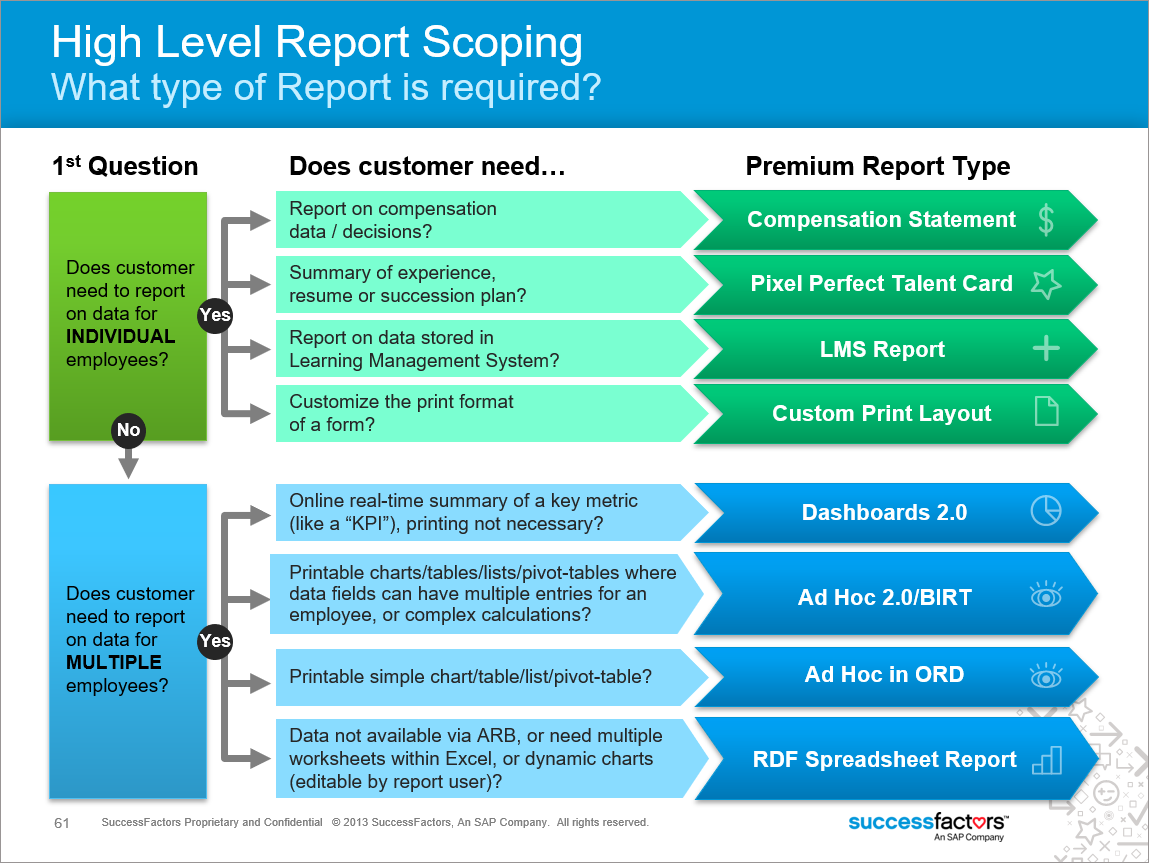 (Source © SAP)
Back in 2013, SuccessFactors' training included a decision tree, like the one shown in the picture above, in an attempt to help users understand which tools they would need for reporting, based on what they wanted to review and the format they wished to review it in. On top of that they also shared guidance that it might be better to leave the report development up to the professional leveraging their Premium reporting option.

(Source © SAP)
Premium Reporting was the option for customers who wanted to satisfy their operational reporting requirements, but struggled with the myriad of solutions
SuccessFactors Workforce Analytics (WFA)
In addition to the transactional reporting solutions shown above, SuccessFactors also introduced a solution called Workforce Analytics. Workforce Analytics, originally called Infohrm, was created by an Australian-based workforce analytics and software vendor known as Inform Business Impact, which was founded in 1982 and acquired by SuccessFactors in 2010. The key distinction is that Workforce Analytics is not a reporting tool; it is a module just like Learning or Employee Central, and it requires an implementation to configure and load it with the appropriate data. At its core, WFA is comprised of metrics packs, which are groupings of metrics for various HR and talent management functional areas, including Employee Central, Recruitment, Learning and Compensation. These metrics are used across the SAP SuccessFactors Workforce Analytics customer base, to allow for benchmarking an organization against a similar area, location or industry. To learn more about Workforce Analytics and its requirements for implementation, see here.
Workforce Planning (WFP)
The third solution initially launched for SuccessFactors customers was a strategic solution called Workforce Planning. This was a cloud-based workforce planning solution designed to help customers identify risks and skill gaps, build what-if scenarios and cost models, optimize headcount plans, and develop strategies to hire and retain the right talent. Learn more here.
The Early Concerns with with SuccessFactors Reporting
The shift from on-premise SAP HCM to SuccessFactors and the cloud was one designed based on a best practice methodology. The elimination of customizations and the movement to a cloud-based architecture are both in line with that thinking. The reporting portfolio shared by SuccessFactors at the time was more of a hodgepodge of solutions similar to the on-premise HCM reporting challenge depicted in the picture below.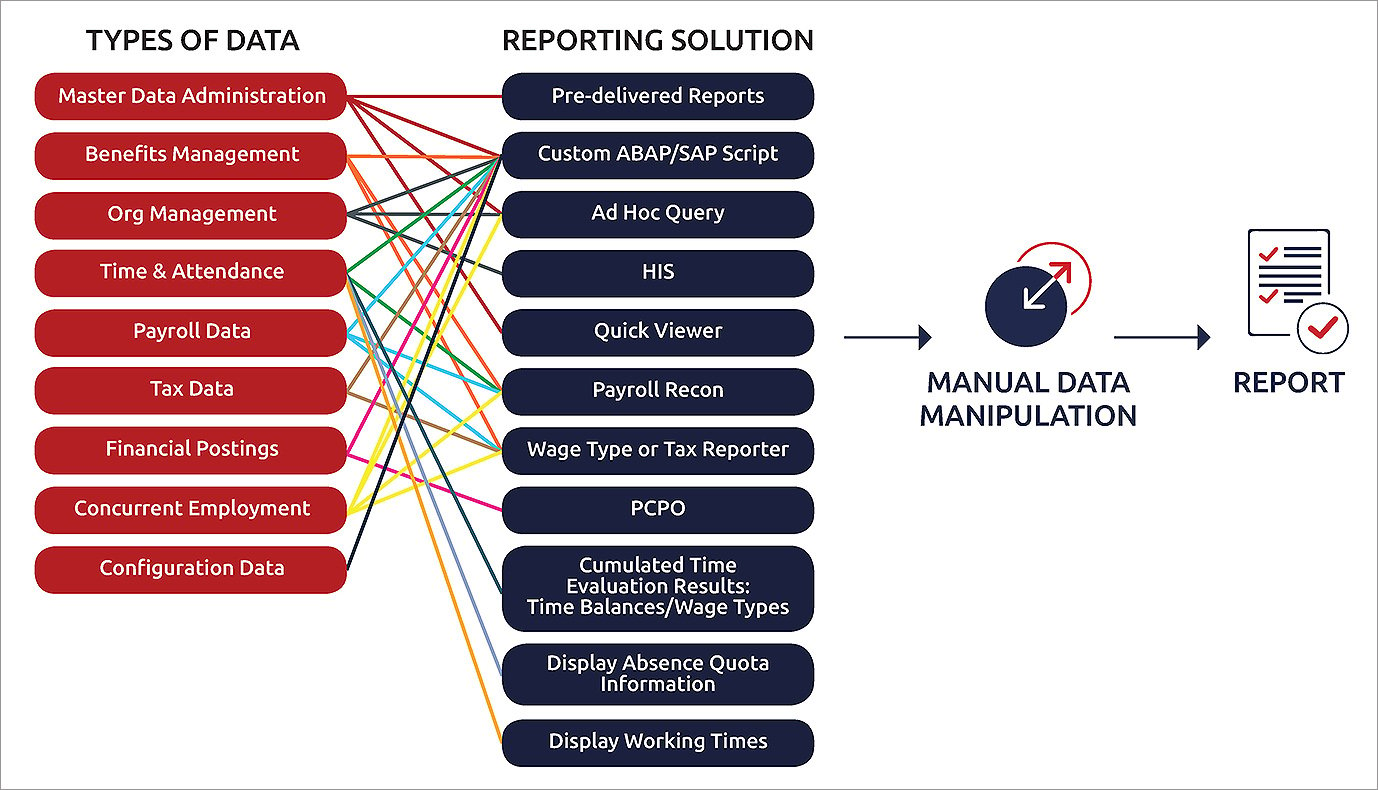 (Source © EPI-USE Labs)
I think the confusion of reporting options, and the lack of options for reporting within all modules (Employee Central Payroll for example) probably did not help with the customer adoption and movement from on-premise SAP HCM and Payroll to SuccessFactors in the Cloud.
SuccessFactors and the Intelligent Enterprise
In 2018, we started to hear about the Intelligent Enterprise including People Analytics. Read more in my blog, SAP SuccessFactors launches People Analytics powered by SAP Analytics Cloud. I am working on an educational eBook series that will take you through People Analytics and bring you up to speed on SAP SuccessFactors launch and what you need to know.