SAP Cloud Computing Vision and Future Applications
I would like to thank you first to read this blog because it contains lot of information about SAP vision with cloud computing products. This blog mainly focus on SaaS – software-as-a-service products/applications.
Cloud Computing at SAP
SAP is a cloud company driven by SAP HANA in-memory technology. SAP has 110 million cloud subscribers and 41 state-of-the-art data centers around the world. SAP offer cloud apps (SaaS) for all lines of business, a market-leading cloud platform (PaaS), and flexible on-demand infrastructure (IaaS). You can rely on proven enterprise cloud security and hosting services – and choose from a public, private, or hybrid cloud environment.
What is cloud computing?
Simply put, cloud computing makes it possible for users to access data, applications, and services over the Internet. The cloud eliminates the need for costly hardware, such as hard drives and servers – and gives users the ability to work from anywhere. Over 90% of businesses are already using cloud technology in a public, private, or hybrid cloud environment. The major benefits of cloud include:
Elasticity: Scale up or down quickly to meet computing demand
Affordability: Only pay for what you use, and minimize hardware and IT costs
Availability: Get 24/7 cloud system access from anywhere, on any device
Simplicity: Free IT from managing servers and updating software
Cloud software offers a number of distinct advantages that help sharpen your competitive edge.
The top 3 reasons to move to the cloud:
Use it to deploy faster, with lower upfront costs
Accelerate innovation cycles with hassle-free, more frequent updates
Leverage anytime scalability and dynamic capacity to boost flexibility and compete with big businesses
Cloud computing is divided into three broad service categories: software-as-a-service (SaaS), platform-as-a-service (PaaS), and infrastructure-as-a-service (IaaS).
What is SaaS?
SaaS – software-as-a-service – is a way of delivering applications over the Internet. Customers can access SaaS applications right from a Web browser, which means there is no hardware or software to buy, install, maintain, or update. The SaaS provider takes care of everything – and the customer always has the latest version of the application.
Explore SaaS products:
SAP SuccessFactors HR Solutions
SAP S/4HANA Finance
SAP S/4HANA Cloud (Cloud ERP for large enterprise and midsize business)
SAP Hybris Cloud for Customer
SAP Sales Cloud
SAP Service Cloud
SAP Marketing Cloud
SAP Commerce Cloud
SAP C/4HANA
SAP Business ByDesign (Cloud ERP for Midsize Business)
SAP Analytics Cloud
SAP Jam Collaboration
SAP Jam Communities
SAP Integrated Business Planning
Ariba Network: Sourcing, Procurement, & Finance
Concur: Travel & Expense Management
Fieldglass: Flexible Labor Management
Now we will look into each application.
SAP SuccessFactors HR Solutions
Manage and engage your workforce with a complete HCM system
Simplify and integrate your human capital management (HCM) processes to drive better business results and engage your people. Our on-premise and cloud HR software can work together or standalone to help you find the right talent, develop future leaders, and inspire employees with a digital HR experience.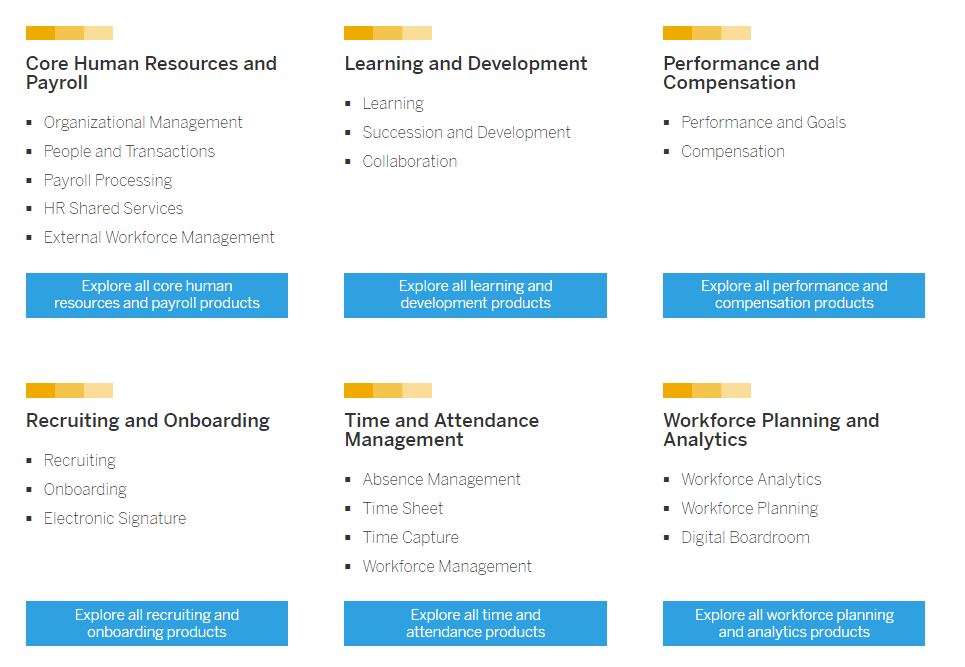 32% less employee turnover with company-wide visibility of workforce availability and gaps.
SAP S/4HANA Finance
Reimagine finance for the digital age with the SAP S/4HANA Finance solution (formerly SAP Simple Finance). This ERP financial software runs on the in-memory platform of SAP HANA, and supports financial planning and accounting, accounting and financial close, treasury and cash management, accounts payable and receivable, risk management, and more.
Cloud or on-premise deployment
Common view of all financial and operational data
Flexible, easily consumable reporting
Automated processes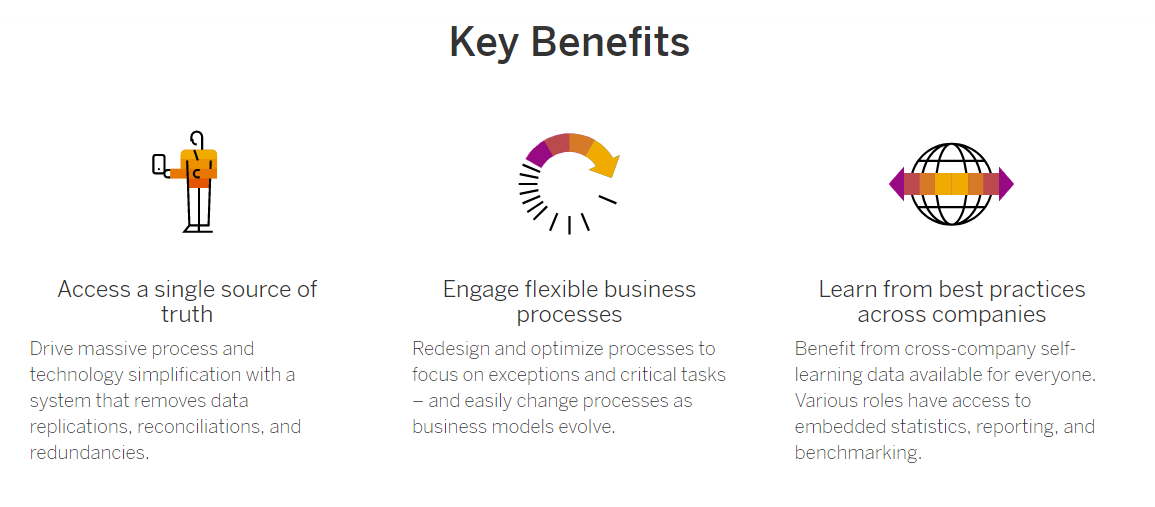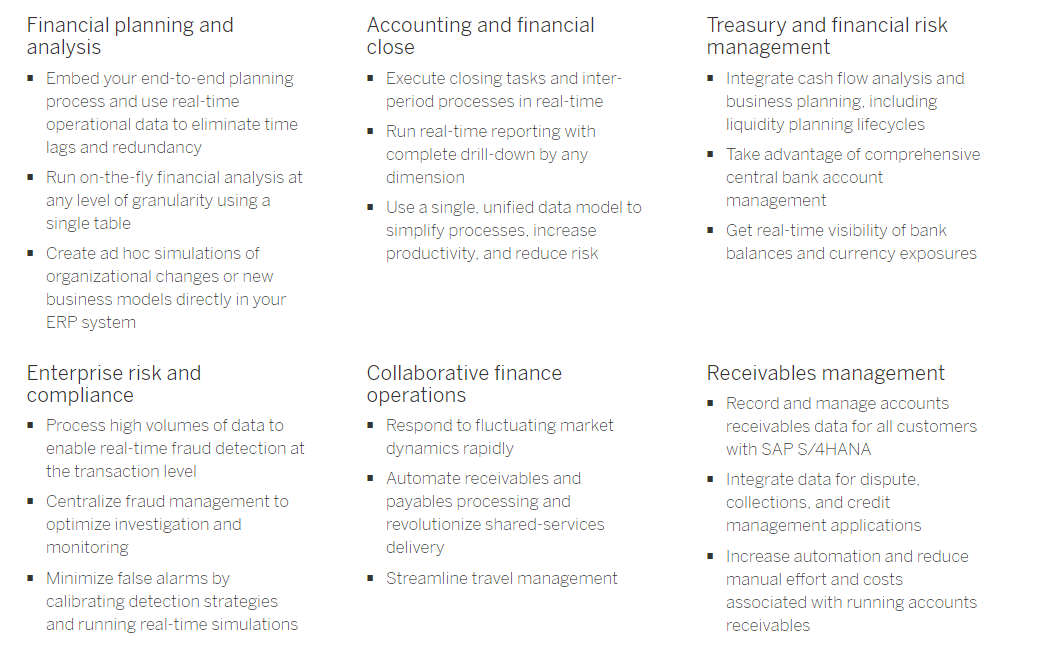 SAP S/4HANA Cloud
Gain the ultimate business advantage with the intelligent, next-generation Cloud ERP business suite – SAP S/4HANA Cloud. It integrates every business process, turns real-time data into actions, and increases employee productivity—with the security you expect from SAP—enabling you to innovate, transform and run ahead.
Make data-driven decisions with predictive analytics
Improve automation, efficiency, and agility through machine learning
Simplify consolidation and integration between headquarters and subsidiaries with 2-tier deployment
Extend easily with native integration to other SAP solutions and open interfaces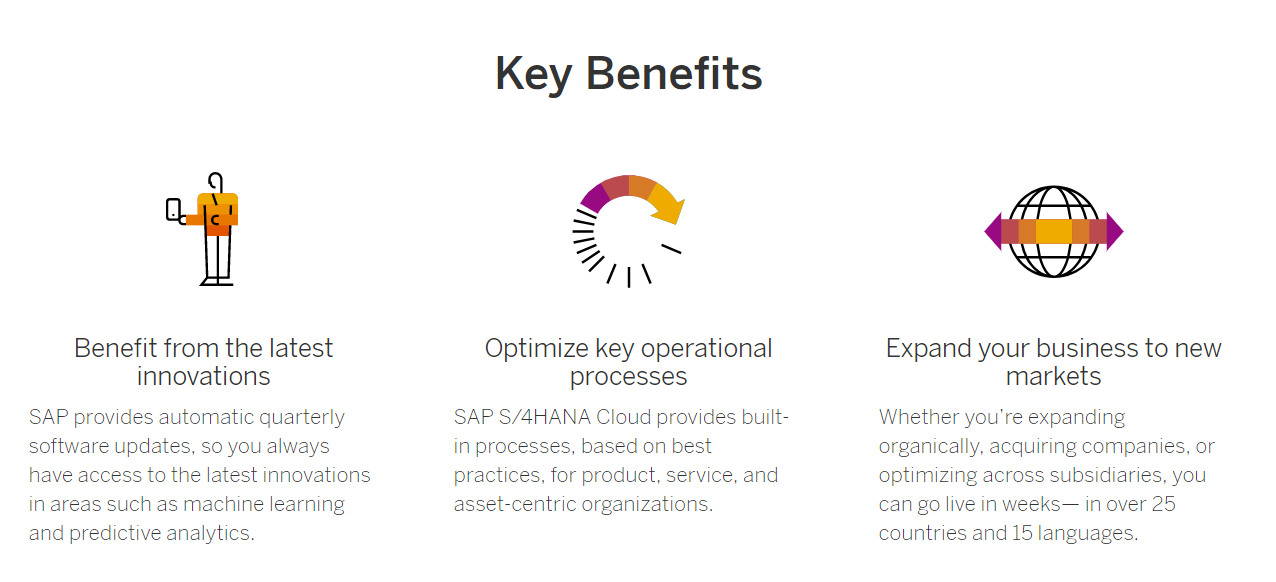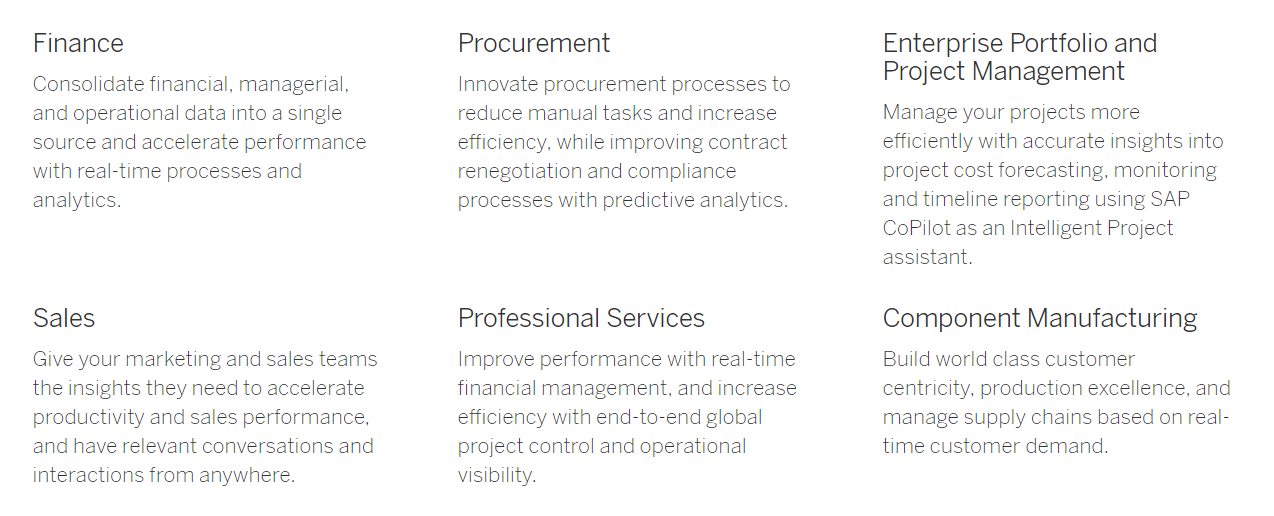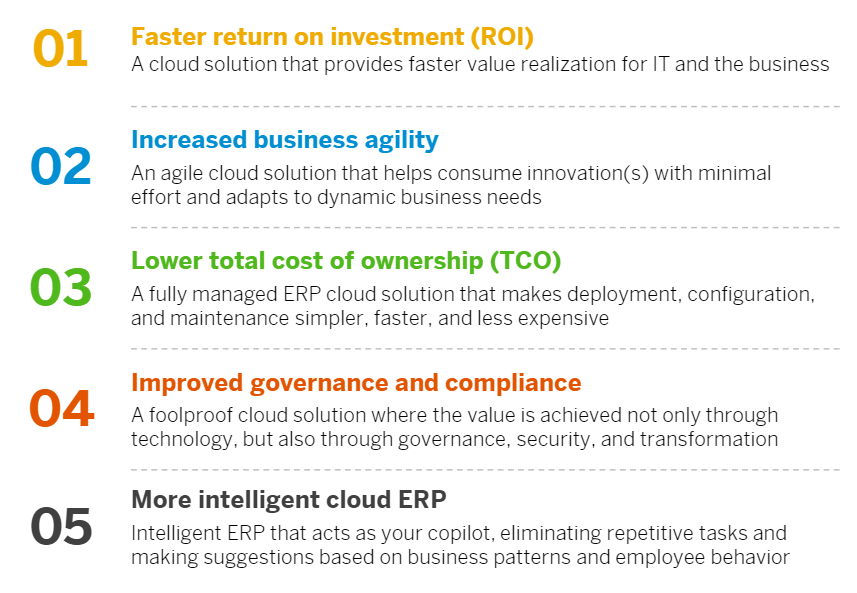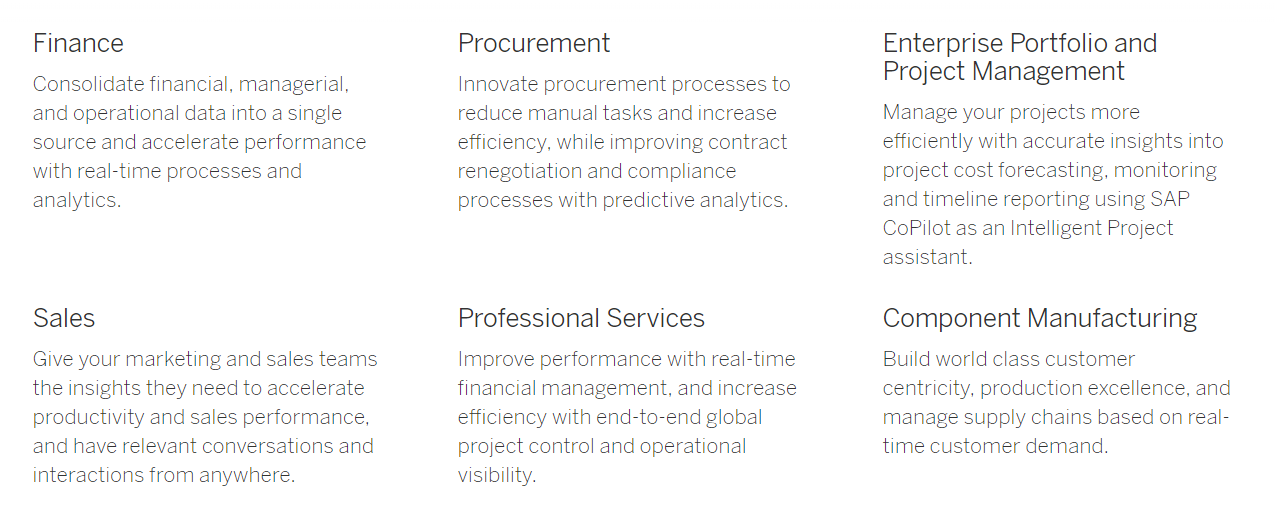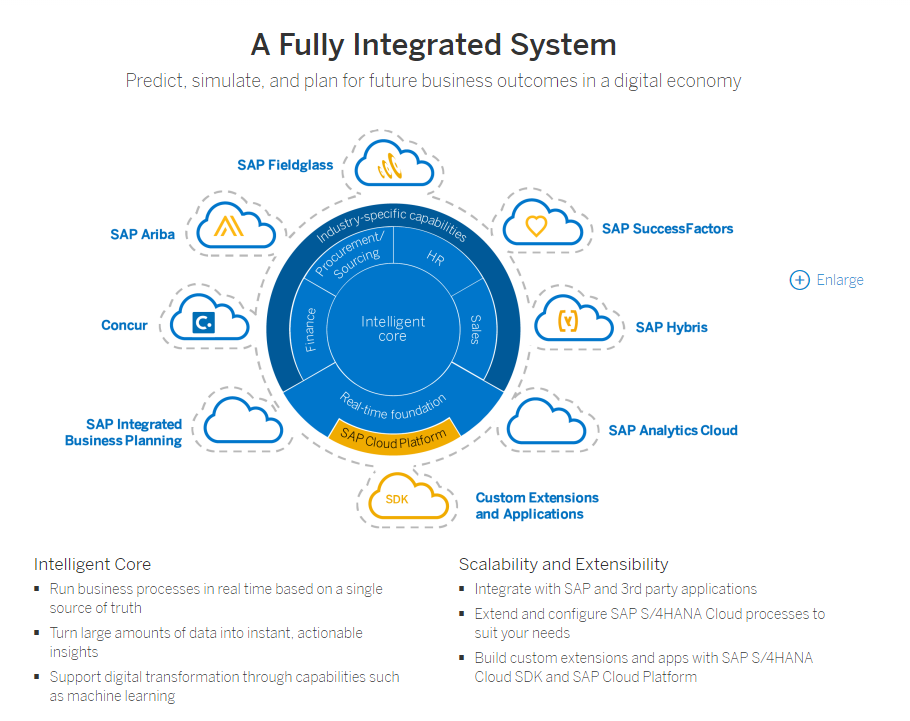 SAP Hybris Cloud for Customer
Engage your customers in more meaningful ways with SAP Hybris Cloud for Customer. This cloud CRM portfolio brings sales, customer service, and social CRM together – to help your team form powerful personal connections that drive customer engagement across all channels. Take advantage of rich predictive insight, flawless execution and contextual customer experience relevant to your industry.
Functional Capabilities
SAP Sales Cloud:
Give your sales reps the insight they need to engage in meaningful customer conversations and take the right action with a new set of capabilities that go beyond traditional sales CRM software. Make it easy for your sales force to engage and win anytime, from anywhere. Learn more details on SAP Sales Cloud
SAP Service Cloud:
Wow digitally connected consumers with consistent service across all channels. Give your call center and help desk agents a complete view of customers so they can quickly solve problems and empower field service technicians with the right mobile tools and technology. Learn more details on SAP Service Cloud
SAP Social Engagement Cloud:
Enhance the customer experience by integrating social media across your service and support channels. Respond quickly and appropriately whenever your brand is talked about online. Learn more details on SAP Social Engagement Cloud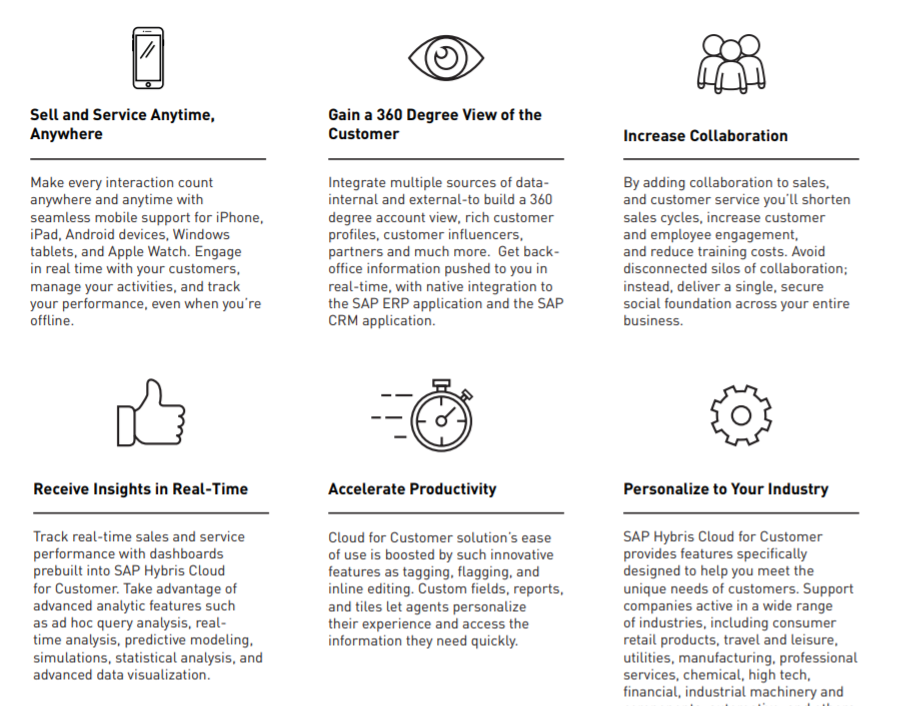 SAP Sales Cloud
SAP Sales Cloud brings together SAP Hybris Cloud for Customer, SAP Revenue Cloud and CallidusCloud, now part of SAP to help organizations connect and guide customers throughout their buying journey. Transform your lead to cash process and accelerate sales performance with incentive optimization, sales coaching and learning recommendations – helping sales teams to spend their time on the best deals.
Cloud deployment
Sales force automation
Commissions
CPQ and subscription billing
Sales learning and enablement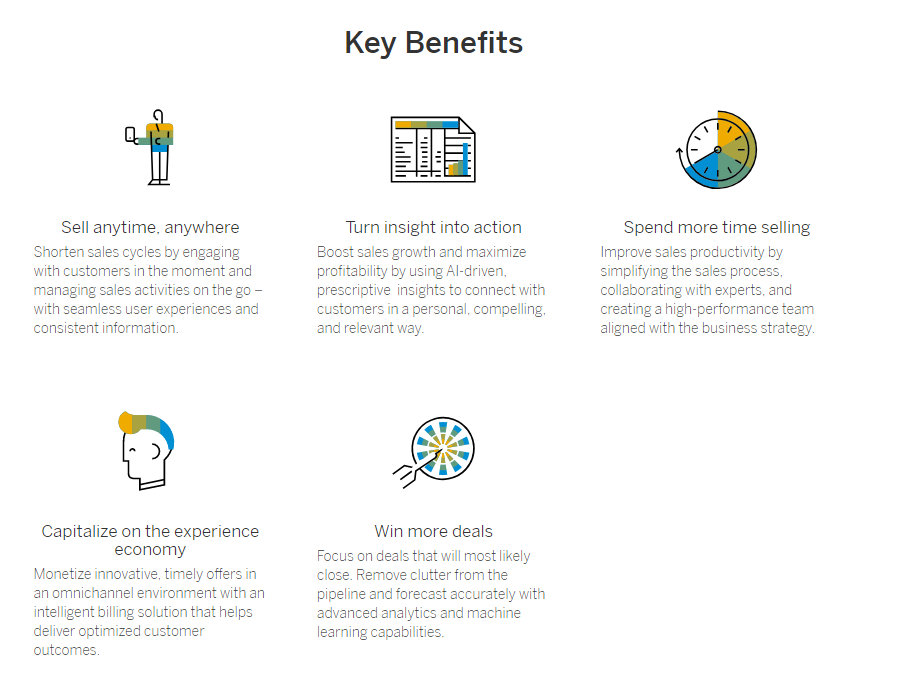 Key Capabilities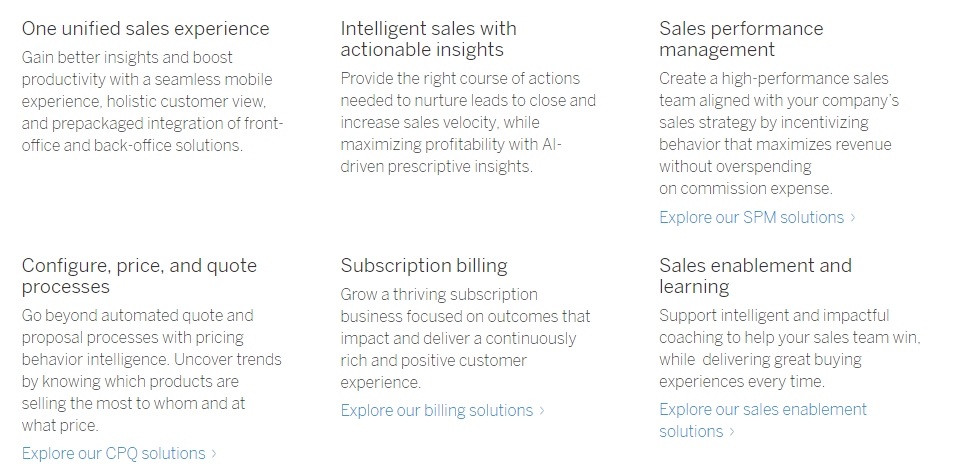 SAP Service Cloud
Stay a step ahead of customer expectations with SAP Service Cloud. This cloud-based customer service software simplifies your ability to offer multiple service channels, access complete and contextual customer information, and gain real-time insight into call center and field service performance.
Cloud deployment
Insight into real-time service performance
Mobile and offline tools for field service
Consistent service experience across channels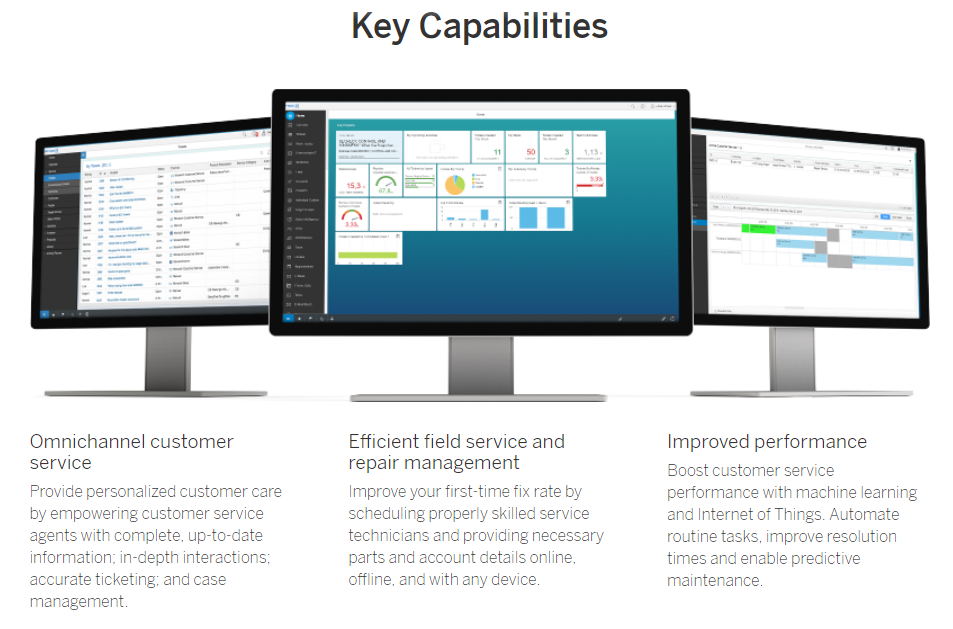 SAP Marketing Cloud
Build a trusted source for first-party customer data to develop a single, unified customer profile. Orchestrate individualized brand experiences across channels and departments powered by machine learning. Empower teams to make data-driven decisions with centralized performance management and greater process transparency.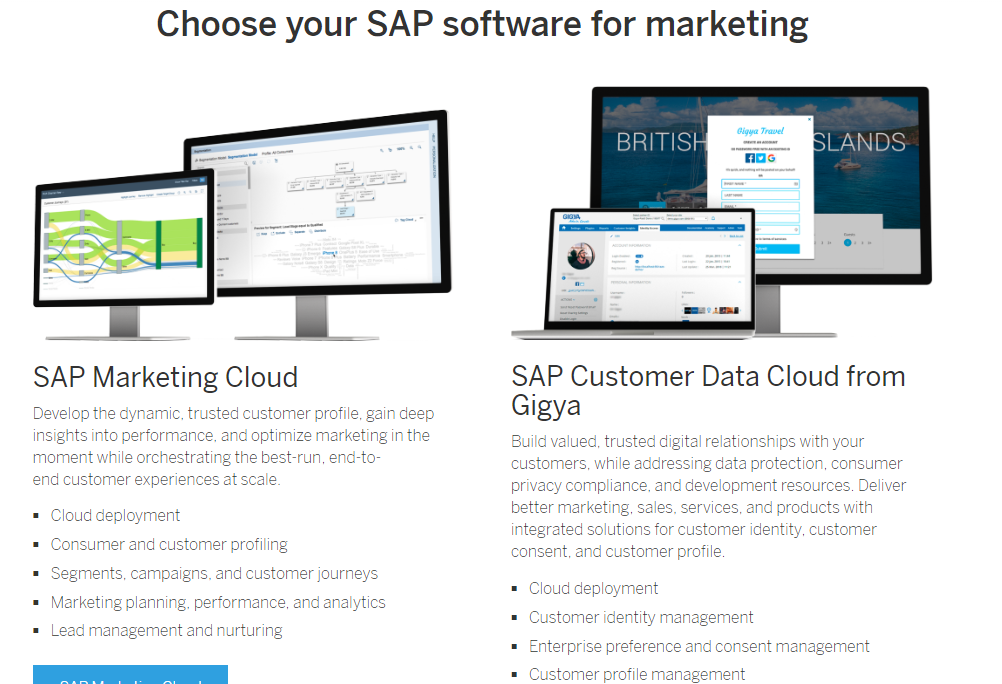 SAP Commerce Cloud
Give a consistent commerce experience across all channels – from mobile, social, and chat to contact center and in-store. Drive conversion with personalization and support omnichannel order management and fulfillment. Plus, you can differentiate with continuous innovation by shortening time to value with a choice of industry accelerators.
Cloud deployment
Innovation enablement and industry accelerators
Support for B2C, B2B, and B2B2C commerce
Prebuilt integrations to other SAP systems

SAP C/4HANA
Experience SAP C/4HANA, a fourth-generation, in-memory suite built for emerging business models. It brings together customer data, machine learning technology, and microservices to power real-time customer engagements across sales, service, marketing, commerce and beyond.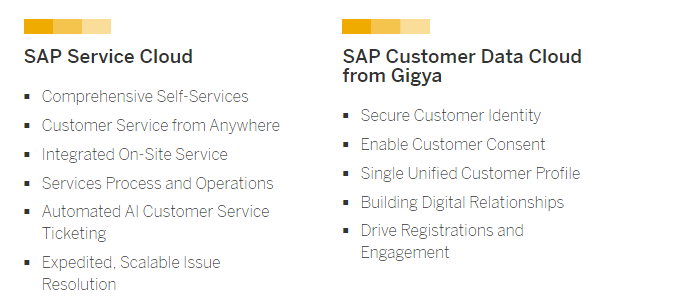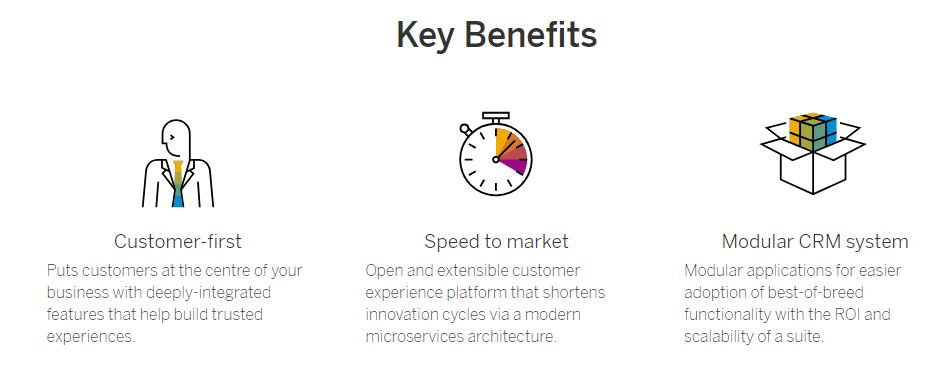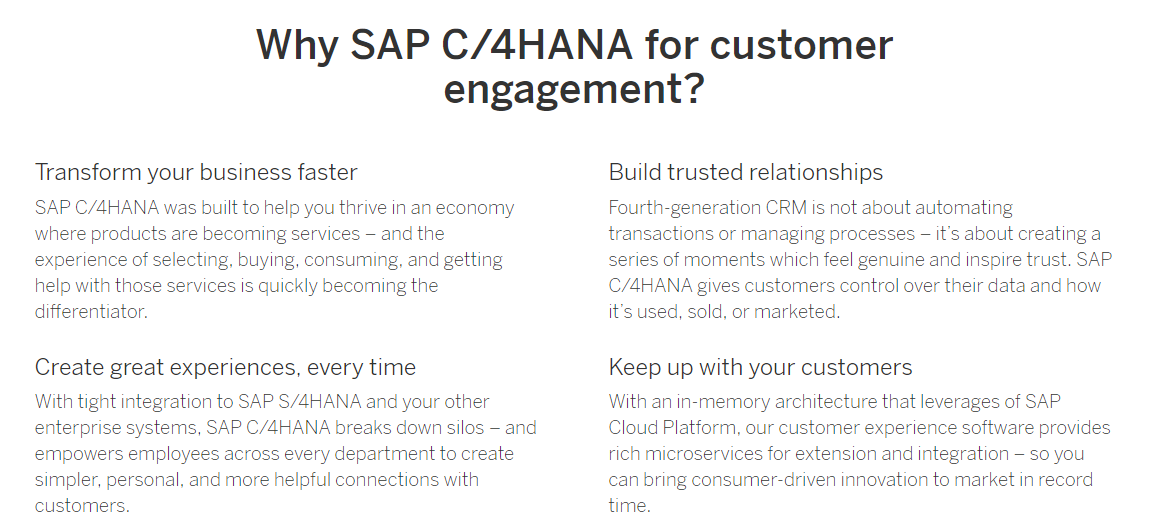 SAP Business ByDesign
Manage your business with a single cloud ERP solution for fast-growing, mid-market businesses to scale and compete without the complexity and cost.
A single cloud ERP solution for fast-growing, mid-market businesses to scale and compete without the complexity and cost. Connect every function across your company to time-tested best practices and in-depth analytics.
Intelligent cloud ERP: Streamlined end-to-end processes
Instant value: Enables agility to quickly adapt for new opportunities
Business impact: Real-time analytics included to help improve profits and efficiency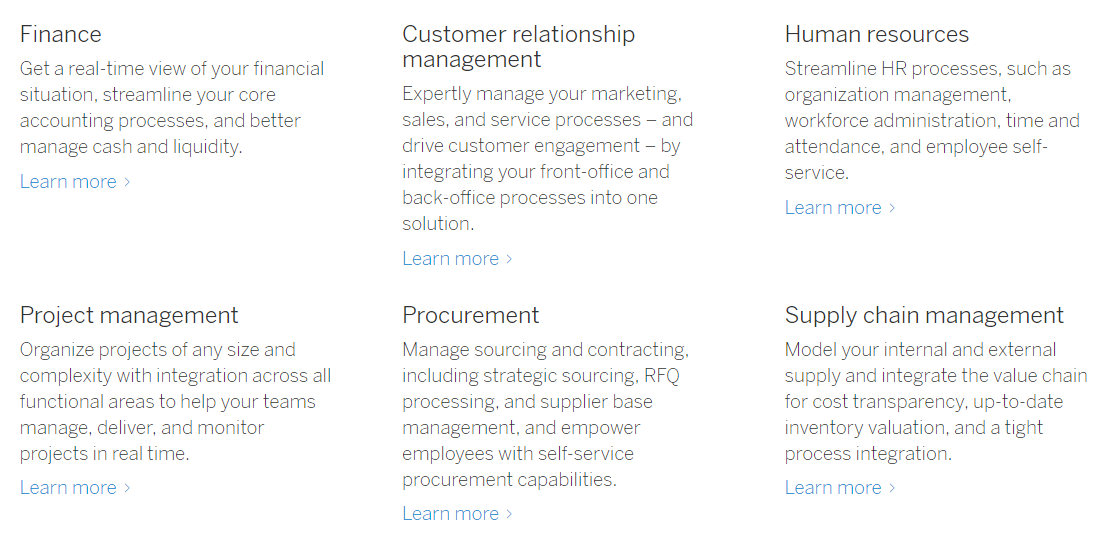 SAP Analytics Cloud
End-to-end decision-making for the business. Become a best-run organization by improving and simplifying analytics to support sound decision-making – from the boardroom to the shop floor.
Discover, analyze, plan, predict, and collaborate in one integrated experience designed expressly for the cloud. Access all data and embed analytics directly into business processes to turn instant insight into quick action.
Cloud deployment
Real-time analytics
Ad-hoc queries
Collaboration tools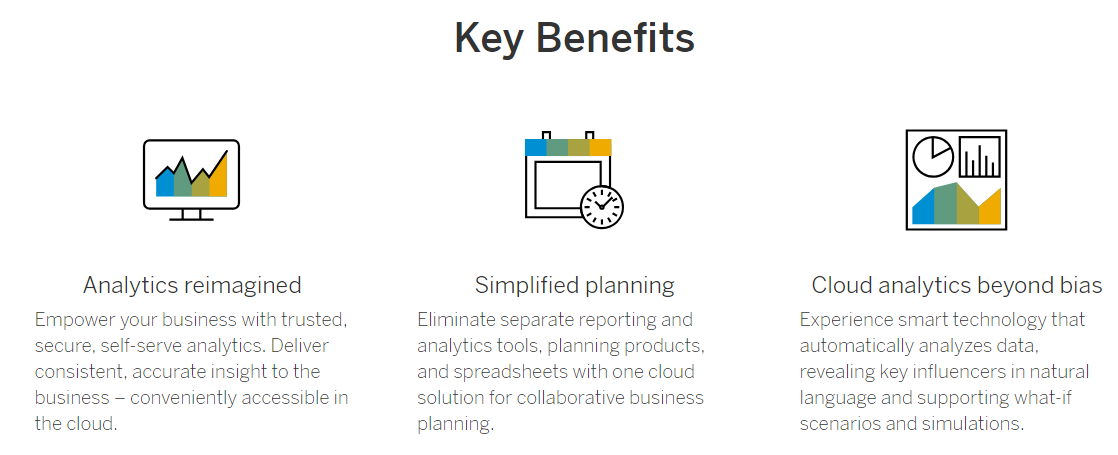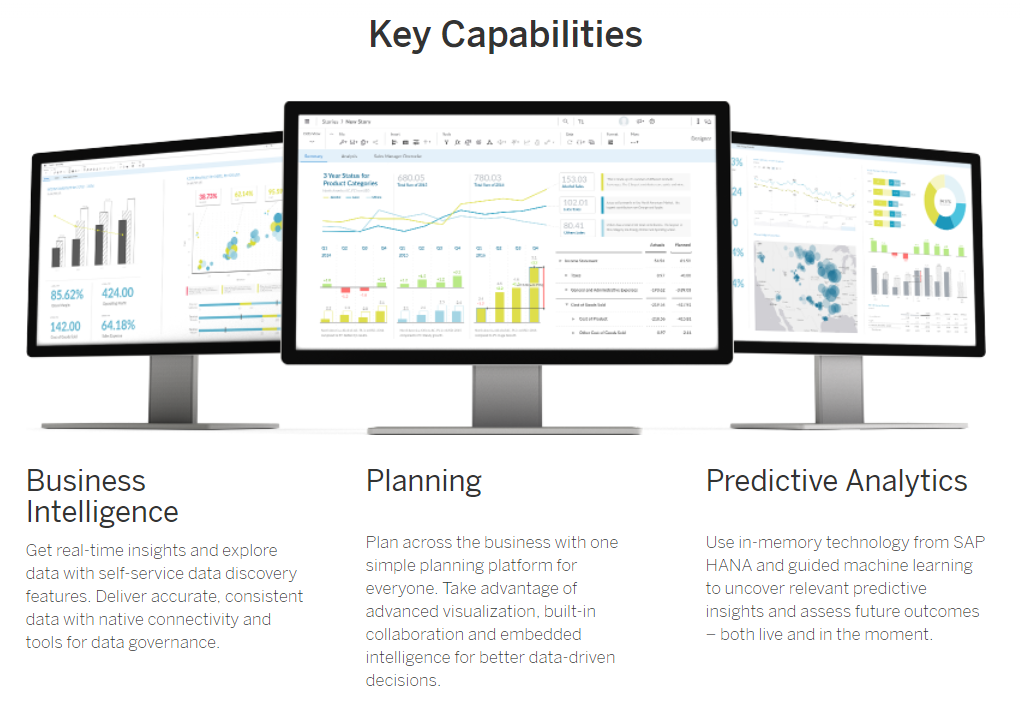 SAP Jam Collaboration
Solve problems faster and drive results by connecting customers, partners, and employees to the right information and processes in the cloud. SAP Jam Collaboration delivers secure collaboration where you work – inside your applications, on your mobile device, or in SAP Jam Collaboration itself. Break down barriers between teams, eliminate information silos, and bring social tools into any business process.
Cloud deployment
Integrated core business applications
Knowledge sharing with extended teams
Collaborative tools and documents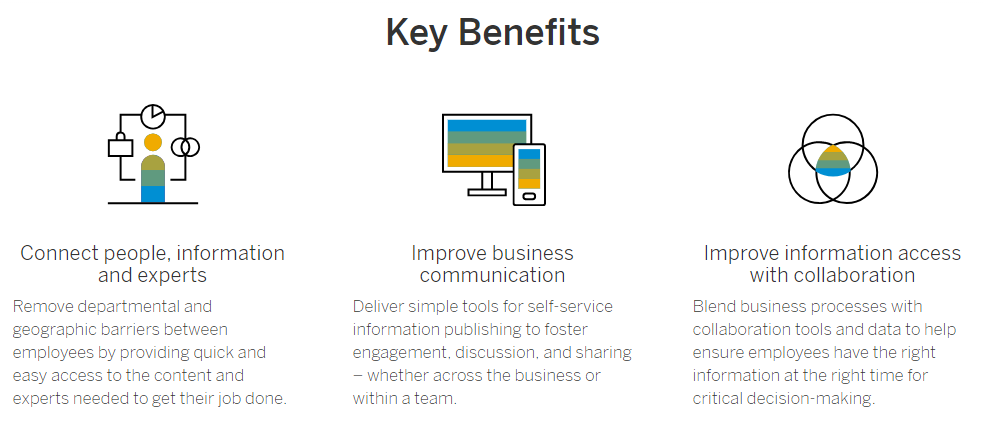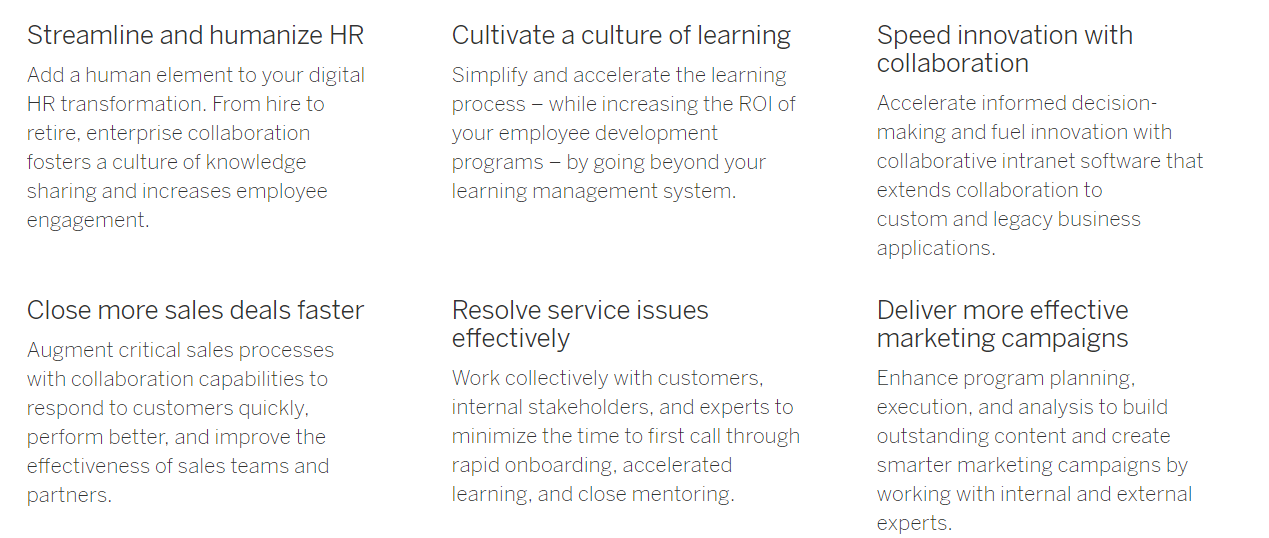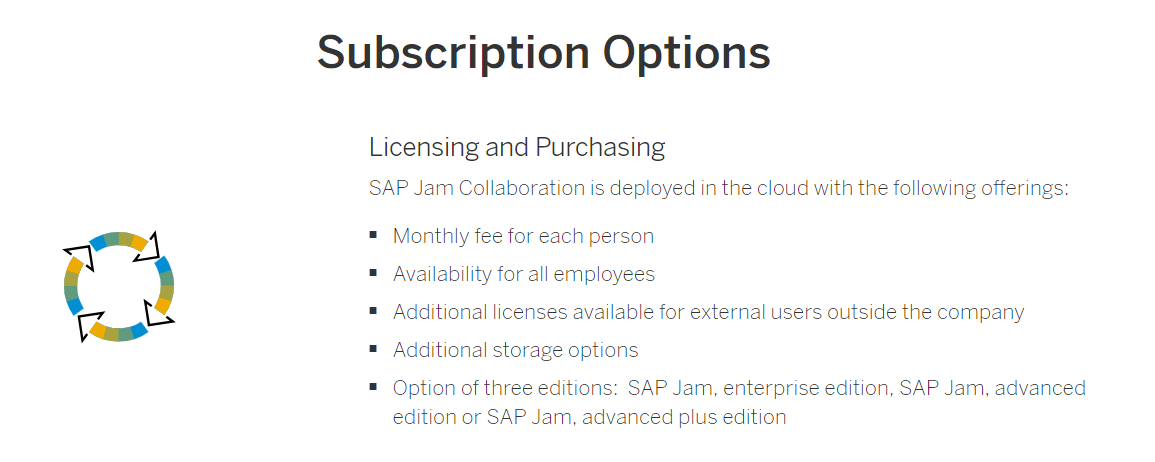 SAP Jam Communities
Build an online community where your customers, resellers, and distributors can collaborate and conduct e-commerce – with SAP Jam Communities. This community cloud solution integrates with SAP Commerce Cloud, so you can understand your customers' needs and interests – and offer relevant content designed to influence and accelerate purchase decisions.
SAP Integrated Business Planning
Respond to new market expectations with real-time supply chain planning capabilities. Fulfill future demand profitably with real-time supply chain management. Powered by in-memory computing technology within SAP HANA, this cloud-based solution combines capabilities for sales and operations; demand, response, and supply planning; and inventory optimization.
Cloud deployment
Real-time scenarios and simulation
Social collaboration
Powerful predictive analytics

Ariba Network:Sourcing, Procurement, & Finance
Shrink costs and increase profits with strategic sourcing and procurement. Streamline your procurement processes, reduce risk, and gain greater visibility and control over costs. Our intelligent sourcing solutions and networks can help you automate approval flows, facilitate collaboration with suppliers – and improve vendor and contract management with targeted spend analysis.


65% automation of purchase order line items.
66% fewer steps in the invoice payment process.
Concur: Travel & Expense Management





Partner apps and services future-proof your investment.
Unlike other travel and expense management systems, our open platform supports an ecosystem of partner applications and services designed to help manage compliance, spend, and traveler experience.


Fieldglass: Flexible Labor Management
Multi-Channel Workforce Solutions. Revolutionize how you find, engage and manage external workers and service providers with the SAP Fieldglass best-in-class VMS platform.
Transforming How Work Gets Done in the New Digital Economy
As a long-standing leader in external workforce management and services procurement, SAP Fieldglass is helping transform how work gets done across the enterprise, enabling organizations to optimize their use of external workers and service providers to be more agile and accelerate business outcomes in the fast-moving digital economy.
EXTERNAL TALENT MANAGEMENT
Source, Engage and Manage all Types of Flexible Talent. SAP Fieldglass External Talent Management automates the entire process of procuring and managing flexible labor, from requisition all the way through invoice and payment.With visibility into this key labor segment, organizations can reduce costs, enforce compliance, improve worker and supplier quality, and increase program efficiencies.
SERVICES PROCUREMENT
Streamline and Manage the Full Services Procurement Lifecycle. SAP Fieldglass Services Procurement simplifies how external service providers are engaged, helps to ensure compliance to safety and security policies, measures the quality of services being delivered and drives cost savings. Our solution manages a variety of Statement of Work (SOW) engagements including projects, offshore/offsite, independent contractors, managed programs, business services and BPOs.
LIVE INSIGHTS
Leverage the Power of Machine Learning to Drive Better Business Outcomes. SAP Fieldglass Live Insights is a machine-learning powered, data-driven insights service that enables organizations to benchmark, plan, simulate and predict external talent scenarios.
Companies can now experience speed and agility in activating workforce strategies using our industry-leading data set, supplemented with their own human capital data as well as trusted third-party data.
External Workforce Management for Mid-Size Organizations
SAP Fieldglass Flex is an external workforce management solution designed to help mid-size organizations easily source and better manage talent.
With our solution, organizations are able to procure contractors quickly, streamline processes, reduce spend and enforce compliance.
Public, private, or hybrid cloud?
The three types of cloud deployment models: public, private, and hybrid – and find out which one makes the most sense for your business.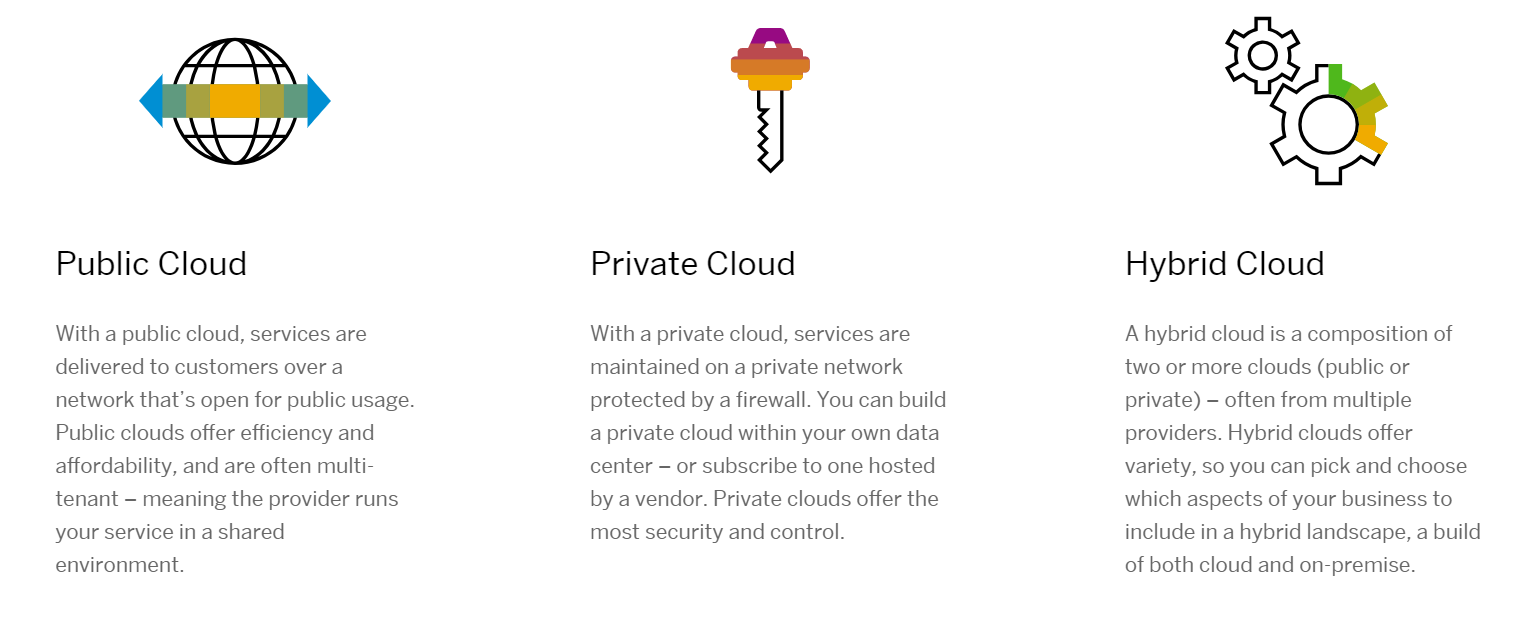 Simplify cloud and hybrid cloud integration
Cloud integration scenarios:
As companies digitize the enterprise, leveraging the best solutions from cloud with your SAP solutions helps establish your platform for innovation and business process automation. With sophisticated integration options and built-in integration from SAP, you can connect your core suite with other SAP and third-party cloud solutions.
View the SAP Road Map for cloud integration providing information on the recent innovations, as well as planned innovations and a summary of future direction for the cloud solution portfolio.
Journey to the cloud with SAP Digital Business Services
Based on over 40 years of experience working with the world's most progressive organizations and a robust partner ecosystem, SAP Digital Business Services can guide you on the path to innovation and digital transformation, while securing critical business processes.
Quickly and smoothly implement new SAP technologies and applications – no matter if the deployment scenario is on-premise, in the cloud, or a combination of the two. The key is having the right expertise to translate your business needs into a clear roadmap for transforming your IT landscape. Our services are co-designed with the solutions themselves, and our experts leverage proven methodologies and best practices to ensure your deployment is a success.
Reduce uncertainty and risk with co-designed software and implementation services
Speed implementation with SAP's exclusive best practices
Ensure critical integration and migration of data between on-premise and cloud solutions
Best Regards,
Lingaiah