SAP SuccessFactors Reporting and Analytics Quick Tips: Paste in a list of filter values for your EC reports

What is this?
This post is another in a series of SAP SuccessFactors Reporting and Analytics Quick Tips. In this post, I'll share with you SAP SuccessFactors' recent enhancement that allows you to paste in a list of filter values when creating or running a Employee Central report.
About Me
Mike Hoekstra is an SAP® SuccessFactors® Reporting and Analytics expert at Aasonn, an SAP® Gold Partner.  He is certified in SAP® SuccessFactors® Reporting, and as a Workforce Analytics (WFA) Technical and Functional Consultant.  He leads new implementations, delivers training sessions, and assists clients in developing complex reports.
Pre-requisites
Employee Central and Report-Canvas, a.k.a. ORD/Advanced Reporting.
The Scenario
Many of my customers have shared some variation of the following scenario in search of an efficient solution: You are your company's HR Reporting Analyst for WorldCo, a multi-national corporation with 42,000 global employees. Shelia, a SVP from Finance has come to you with an urgent request–they are evaluating some new budget items and need your very popular Employee Details report for 135 specific employees. They have provided you their employee IDs and need the data ASAP.
The Old Solution
Prior to the Q2 2018 release, you had two typical options:
Type in each Employee ID one by one into a filter and run the report. Unless you are a 100+ WPM typist this is not a particularly efficient nor enjoyable task.
Run the report for the entire organization, export to Excel, and then use VLOOKUP for those 135 employees. This is doable, but excessive Excel manipulation can lead to unintentional errors.
The New Solution
Now, whether you are (a) creating/editing or (b) running a report, you have the option to paste in a comma-separated list of values into the Filter popup.
Note: The max number of unique values is limited to 2000.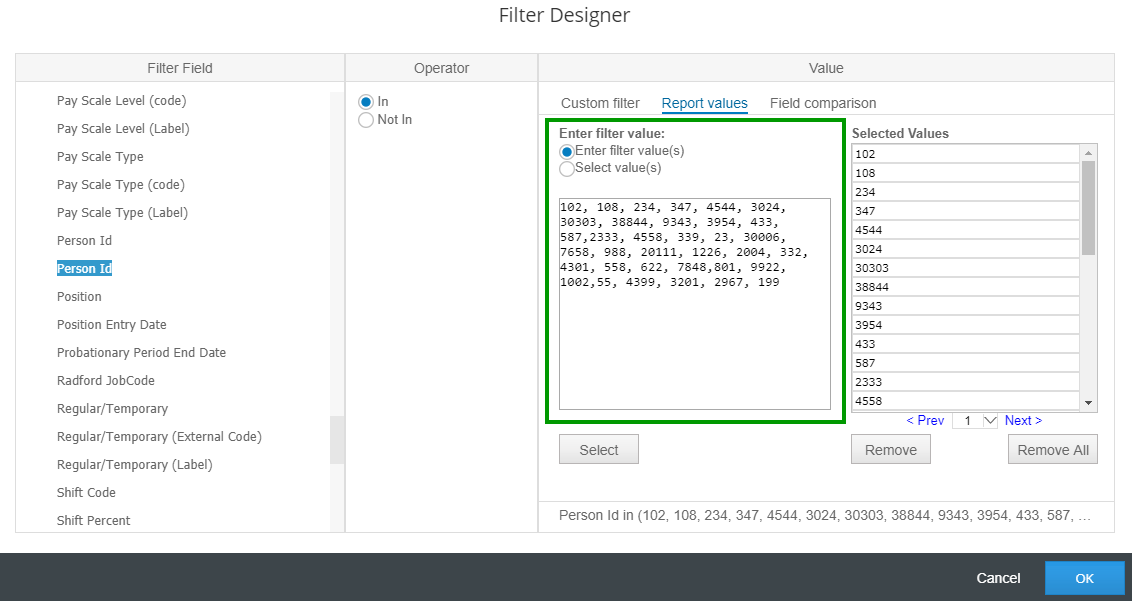 It is that easy! Now you're able to get that data over to Finance more quickly, and have some extra time in your day.
Bonus: This new feature is simple enough that you could likely share this report with your end users and they could run the report on their own.
Thanks!
I hope you found this useful; feel free to reach out to me with any questions or leave a comment below.