4 Options for SAP Payroll Customers
What are the 4 options for existing SAP Payroll Customers?

SAP has approximately 9,000 active on-premise Payroll customers today. In 2012, it was announced that support for all on-premise SAP HCM would be guaranteed through calendar year end 2025. The goal of SAP SuccessFactors is to transform its on-premise SAP HCM and Payroll customers to cloud-based solutions, leveraging not only the SaaS platform but also the latest technology available. While the option for core HCM is obvious (Employee Central), the options for payroll can be a bit less clear. In this blog, I want to introduce the four main options available today for existing on-premise SAP Payroll customers.
1. Keep your payroll on-premise
This is a 'do-nothing' approach. Customers have invested a large amount of time, money and resources into their Payroll systems to get them to work just the way they want them to. These customers are concerned about the looming 2025 end of support date, but are unconvinced that there is an urgency to move as they believe adoption has been slow and that there may be a change to that published date. It is worth noting that this date has been extended twice already and even if it did not get extended again, there will be additional support models available for SAP on-premise payroll customers beyond year end 2025.  You can still leverage the Payroll Control Center in this approach to innovate your processes.
 2. Employee Central Payroll
SAP SuccessFactors does not yet offer a new payroll solution. Rather they leverage the world-class multinational SAP Payroll in a hosted "Cloud" environment by SAP SuccessFactors called Employee Central Payroll.
To move to this model customers are required to do five things: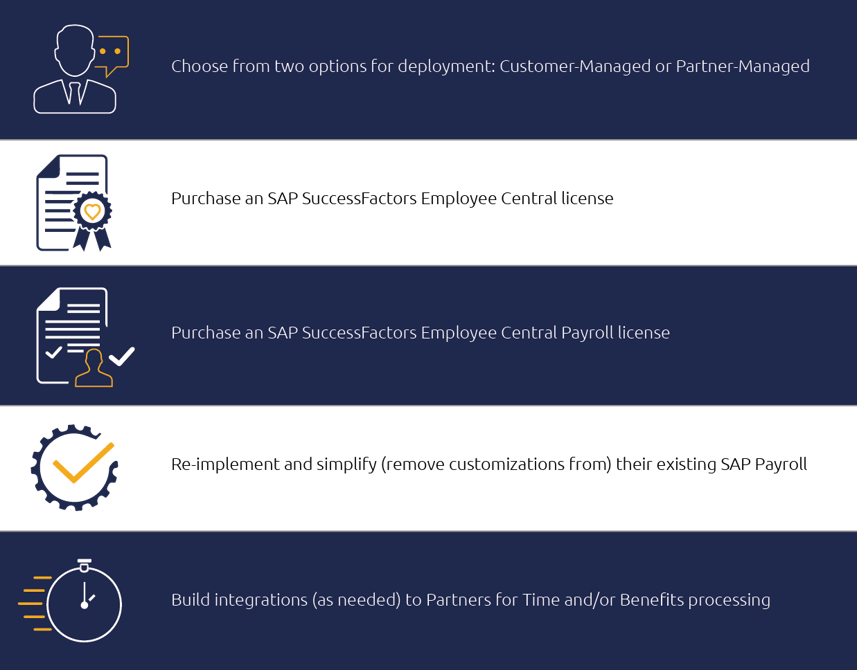 Why do I have to reimplement and simplify to move to Employee Central Payroll?
SAP has long been a system that is completely customizable, wherein each customer has designed the system (including its time and benefits functionality) to support their unique business processes and needs. SAP SuccessFactors, however, is based on a best practice methodology.
3. SAP SuccessFactors Managed Payroll
SAP SuccessFactors Managed Payroll is an offering, added in 2016, that addresses the needs of customers that have made a large investment in their SAP Payroll and do not wish to change it. This model allows customers to make no changes to their system or its processing. They simply allow a certified partner to host it on its server.
To move to this model, customers are required to do three things:

4. Outsource your existing Payroll (via BPO or another vendor)
If the three options above do not meet your needs, you can consider outsourcing your existing SAP payroll. There are many choices available for outsourced payroll including Business Process Outsourcing (BPO) or working with another payroll vendor.   Vendors like Celergo even offer SAP-certified integration between payroll data/processes and SAP SuccessFactors Employee Central.
Table of four options for existing SAP Payroll Customers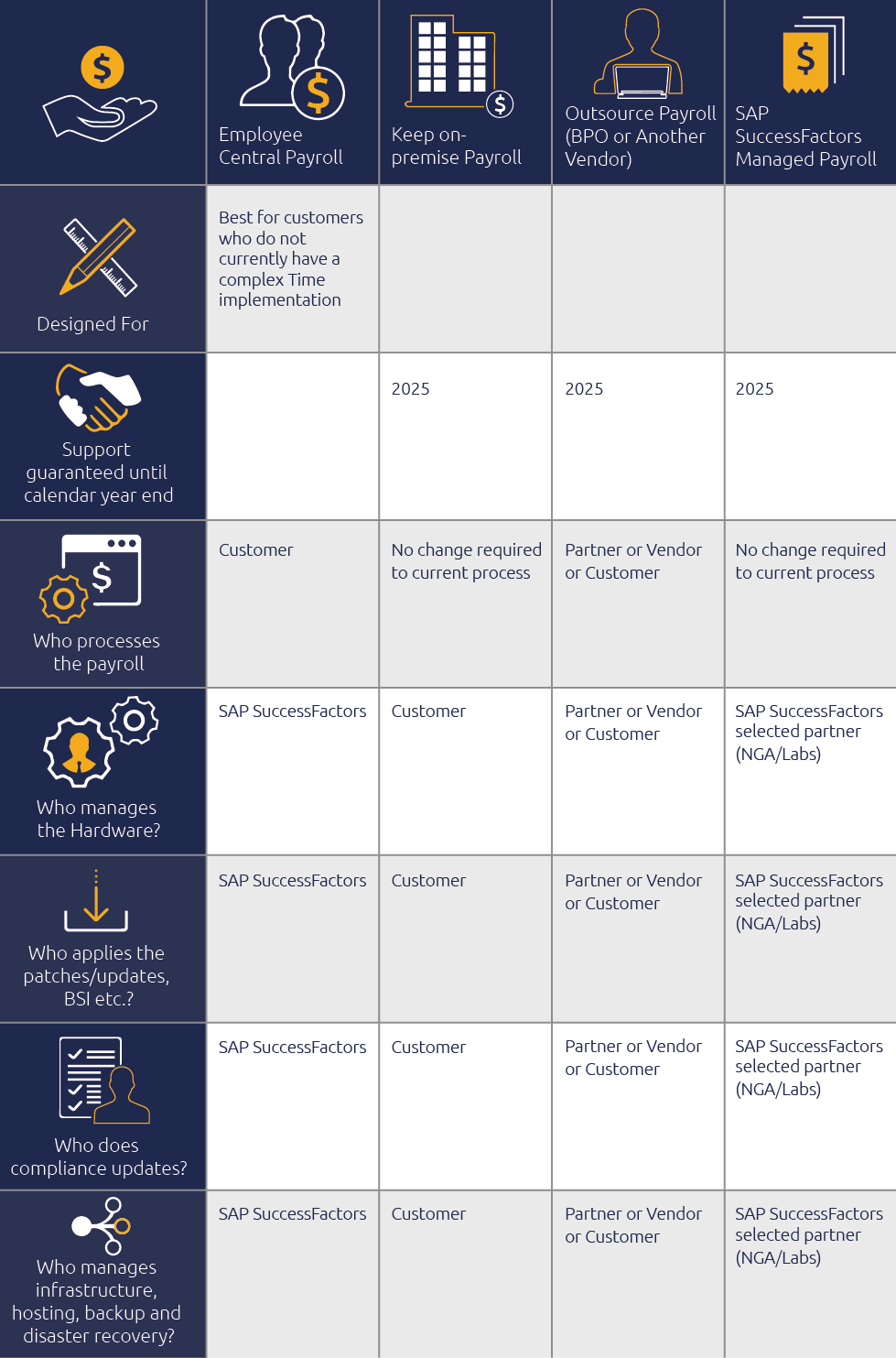 Please feel free to reach out to me if you have any questions around the SAP SuccessFactors Managed Payroll Offering.
This blog is cross-posted from http://www.epiuselabs.com/lets-talk-hcm/4payrolloptions.