Modern Analytics: From Reporting to Predictive
Over the last few months, I've seen more and more examples of organizations moving to modern analytics approaches based on real-time, actionable data, with greater use of predictive technology.
For example, Julian Pimm-Smith of Pret a Manger gave a great overview of the company's analytic projects at a recent UK Innovation Forum event in London.
Since 1986, Pret A Manager restaurants have proudly provided handmade, natural food prepared each day in the kitchens attached to every store.
The company is headquartered in the UK but has over 350 stores around the globe, including New York, Boston, Chicago, Paris, Hong Kong, Shanghai, and Dubai, serving over 300,000 customers every day.
Pimm-Smith explained that the company is working on three main initiatives. He started by emphasizing the critical importance of what he called "boring reporting":
We believe that reporting is the absolute foundation for business intelligence. It can't be dropped at any stage. It is what differentiates a successful business from a not-so-successful one, making sure that the staff who actually do the work — not the management — understand how they are performing on a daily basis.
The company uses SAP WebIntelligence to deliver real-time sales performance figures directly to front-line employees on mobile devices. For example, operations managers can access maps with the live status of stores, showing up-to-the minute sales compared to the prior day or week, and drill down to see detailed sales for every item.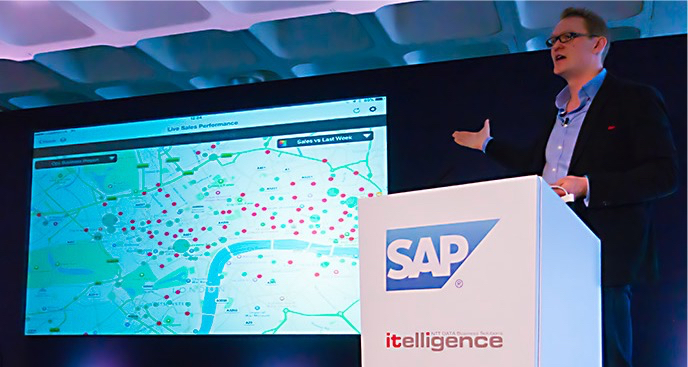 Store managers also get a full profit and loss report for every shop as soon as they close their day, and a detailed financial breakdown for the week's operations. This helps them quickly identify potential areas of concern and fix them before they become real problems.
The second analytics initiative is a new predictive analytics project, aided by SAP consulting partner itelligence.
Traditionally, the morning production at each Pret store aims to create roughly 60% of the salads, sandwiches, and soup that will be needed for the day. The remaining 40% is freshly-made during the afternoon, based on demand. This helps ensure that customers get the products they want while minimizing waste — but the process requires deep expertise from the store managers to manage the production of the right quantities of food at just the right time.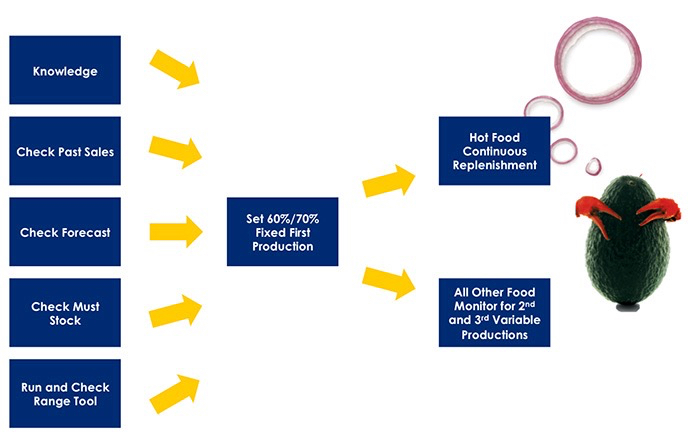 The company is now turning to SAP Predictive Analytics to operationalize the process. The new approach combines historic sales information with other data including corporate "required product" lists, weather, and special events. Predictive algorithms determine both the initial quantities to be produced and the amount to be made during the day, based on real-time sales figures. The system continuously adjusts production for each item in light of actual results — for example, if the store runs out of macaroni cheese by 3pm, the quantities will automatically be increased until customer demand is covered until the end of the day.
Along with cost and customer satisfaction benefits, it is hoped that the new system will help smooth Pret A Manger's rapid international expansion. Up until now, each new Pret store has relied on experienced staff from similar existing stores to jump-start operations. But this approach is less effective as Pret expands into new types of location, new countries, and new cultures. The new automated approach is designed to help new stores optimize sales quickly while taking into account the unique local circumstances.
The third initiative is a data science project with an external consultancy. Today, Pret looks at around 100 different data points when choosing to open a new store. The aim of the new project is to increase that to over 10,000 data points, sifting through information from many different sources including historic sales, organization structures, store visibility, signage, regional demographics, competitor locations, and foot traffic.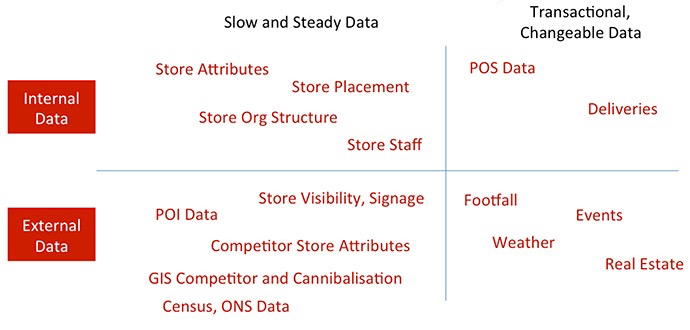 The ultimate goal is to create a more reliable model of how much revenue a new store will be able to generate, before making the decision to open — and to check that sales are on track as it ramps up. In addition, the model will help create finer clustering of stores for benchmarking, replacing the broad categories used today, such as airports, shopping malls, and city locations.
Would you like to hear more? Julian Pimm-Smith will be presenting a session at the upcoming itelligence UK user conference in London on May 17th on "How Data and Analytics Supports the Growth and Transformation of Pret a Manger." — I hope to see you there!
[A version of this post first appeared on my Business Analytics Blog]