Interview with Gauthier Vasseur, Trufa
Vice President of Marketing
You have an impressive resume that includes positions within large corporations, national keynote speaking opportunities, experience as a university professor and the ability to speak multiple languages… where do you find your inspiration?
An honest answer? I find my inspiration every day from everyone I meet. I love hanging out with passionate people: people that do things well, people that have expertise; regardless of what that expertise is. I actually put into practice what I tell my students: if we have two eyes, two ears and only one mouth it is to listen and to watch twice as much as we speak. That's how I take in so much from other people.
I really want to open up and reach out beyond my comfort zones – which would be data, technology, software. There are so many skills I can learn from everyday encounters.
Tell us about your teaching experience and the curriculum you developed at Stanford University?
To give some context to this, we'll have to roll back the clock to 10-years ago. Data, Systems and all the Processes around them really changed my life as a finance person. It was a game changer in terms of speed to insight and process efficiency; it made me a better professional and overall much better person at work by freeing up much more time to work with my team and my colleagues to solve real problems.
I realized that data was a critical domain to master. And I was frustrated that all of the new hires on my team knew nothing about all of this.
People needed to know how data could revolutionize their world.
I didn't know of any university or business school that was teaching this domain. So, I said, "You know what? I'm going to do it." And that's how it started. I set up an appointment with the dean at Bordeaux Business School, asked for 10-minutes and came in with my pitch: this is how data works, this is important for your students to know and I have a curriculum that I put together. So, three-months later I started teaching my class that fall semester.
At that time, there was no Data Hype and the students were looking at me thinking "who is this guy? He must be from Mars, telling us about something that we don't care about – this is just IT stuff…" Fast forward 10-years: my class is one of the largest attended at Stanford Continuing Studies program (with 82 students over 10 weeks this year.) I was part of the design and launch of the data class at the MBA earlier this year. The program has really been growing as business people are looking for this information and they want to learn.
Currently you are the VP of marketing at Trufa, a company using predictive analytics to analyze the cash-to-cash cycle to optimize working capital. Tell us what Trufa does and how this will transform the SAP world?
You mention the word "transform" and I certainly believe that we are going to transform the world of SAP users. The investment put into SAP the last few decades has helped companies reach an operational excellence. They then tried to get insight from the ERP data with indicators and dashboards. But, it never really worked out easily and sustainability other that with Excel or endless reporting projects.
The way that we are transforming the world of SAP users is that we've come with a solution that can harness the treasure trove of data that companies have been collecting over the years and that can be setup in a week. We can not only extract insight in seconds from it but also recommend actions identified with advanced analytics and statistics, that were impossible to run at such a scale just a couple years ago.
Looking at your explanation videos online, I wonder why everyone wouldn't want to use Trufa's services… It'll be one of those items where you'll say "I can't believe there was a time without it."
<Laughs>. I actually believe it. And it's not because we are rocket scientists or magicians. We are just taking advantage of a perfect storm. The sudden improvement of storage, processing, bandwidth and visualization capabilities has unlocked new approaches to massive analysis of data. This would have never before been possible at a reasonable cost just a few years ago and that's what we took advantage of. For the first time SAP customers can access their entire data set of their ERP. They can process it entirely with no constraints or limitations. Going back to how Trufa will transform the SAP world, there's also another paradigm that we are changing. We've all been through the implementation of ERPs, it takes time. It takes effort. And sometimes it takes a lot of pain. Very few people want to go through that again. Our approach is actually changing the game as companies can get set up within a week and there is no need to involve any technical team.
Trufa is part of the SAP Start-up focus program. Tell us more about how the SAP Start-up focus program worked for Trufa?
For us, it's a great opportunity. It's great to have SAP behind us and supporting us with their Hana technology. We are confident that we run on one of the best technology out there and it brings trust from our clients to know that we are a part of that community.
Tell us the most surprising cost savings story found as a result of Trufa's analytics?
I like the following story as I'm a former finance person. Overall technology solutions are cold and technical, but they do help people and it is always heart-warming to see how solutions are impacting their work life, for the better.
The story that I'm relating to is just that: We engaged with a CFO and working capital reduction was his top goal with 50 million dollars of improvement. For the previous two quarters he had remained unsuccessful and didn't know where else he could look. He could feel the pressure, the stress and despair among his team.
Just a couple days after we started, by accessing and processing the entirety of his ERP data, he rapidly identified cash opportunities that his traditional approaches could not see. On day 3, he was able to identify 22 million dollars of cash savings! Over the course of less than a week over 75% of his $50m target had been identified. The relief and the confidence of the team to achieve their final goal was really a great reward for us.
Trufa's analytics creates True Performance Indicators, as opposed to Key Performance Indicators. How are TPI's different from KPI's?
KPI's are man-made. Which means that they come with a bias. They change depending upon what you are after, the data you have available, and your own judgment. Also, you usually calculate your KPIs using high level aggregates, which also introduces more bias into the evaluation. Finally, most of the time you don't have access to all the data you need to make the decision and you take shortcut in your estimates. At the end of the day you end up with biased KPI, not calculated as perfectly as they should be, that come in a variety of shapes and forms and that are hard to compare. These are the classic shortcomings of business intelligence.
A True Performance Indicator (TPI) is calculated with an unbiased approach based on 100% of your data, each processed individually. It uses a common metric of performance to tie operational performance to financial excellence. Anything in your cash-to-cash cycle and your supply chain gets connected to either cash flow or profitability. With the TPI, you get a common metric that enables you to compare your information across the board and you are able to see which one is going to be the best and prioritize.
If I was a company interested in implementing your business cloud application how long does it take to get started?
Getting started is less than a week, from the few hours of data collection, to the data crawling and processing and the identification of the first opportunities. But what I like the most is that you are starting a process that is repeatable and sustainable. Once you have the solution running, your data is going to keep on coming. Your ERP will keep on feeding the application and constantly, every day, every hour, every second the crawler will keep on crunching the information to come up with new opportunities to show you where cash and profitability are hidden.
What don't people know about your company?
We're a German-American company. Our wealth comes from our culture. We have over a century of experience with SAP experts as well as Silicon Valley entrepreneurs at heart among the team. We have all joined the company to change the world and help company to fund their growth and innovation.
Is there anything else that you would like to share?
For the past five-years, we've seen the rise of Big Data. However, people realize more and more that there's no such thing as "doing data" for the sake of "doing data". We need to solve business problems. That's what Trufa was built for. We are all data passionate; but, for us, data is only worth it if data is applied to a business problem. We want companies to grow and we want to harness data for the sole purpose of freeing up cash and increasing profitability. Every analytics and statistics is geared toward this and nothing else. There is no glory in the volumes or complexity of data for us. The only thing that matters is the cash and the profitability opportunities identified and the actions that the application will recommend.
What was the last book that you read?
The Signal and the Noise by Nate Silver. It's an easy read that brings great insight into the world of statistics. And with this book you can accomplish two things: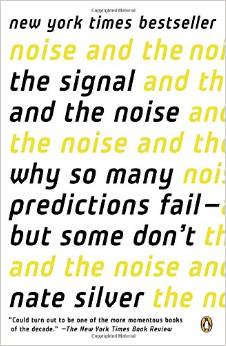 It will make you look so smart at your next dinner party ☺

It really explains the real nature of predictive analytics.
The example that really caught my mind is the following: It's about hurricane prediction and how statistics are saving lives. The point is not to see the future but to use the available data – and all of it – to make a better prediction of what the future will look like with the highest level of confidence as possible.
So, back to the hurricane prediction… 25-years ago the National Hurricane Center could only forecast when a hurricane would hit the coast with a 350-mile accuracy. A 350-mile radius meant that if it was going to hit in the Gulf of Mexico, six states would need to implement emergency procedures. By being able to run much more data, faster and more refined, they are now able to forecast accurately within a 100-mile radius. So, now only a couple metropolitan areas need to focus relief efforts in a much smaller area. It doesn't mean that it will hit right there, but that your response – your management of it – will be dramatically enhanced.
And that's exactly Trufa's approach. We're not going to tell you exactly what will happen, but we will be able to forecast it much more accurately than ever before. The reduction of margin allows you to do much more elsewhere. That's why I liked the book. And why I liked Nate Silver's ability to explain statistics, its usage and demystifying it – turning it into a language that a layman can understand.
Gauthier's interview was originally released in Ace in your Inbox monthly newsletter.