sitMUC Why you have to join in future!
(and a personal recap)
Hi all,
as you may know, I like bullet-points to clarify my thoughts. Today I will give you ten reasons why you need to attend a SAP Inside Track and additional to that I want to give a personal recap of SAP Inside Track Munich.
So let us start with my recap. I arrived Munich at Friday evening.
Unfortunately I was too late (not registered) to attend the Codejam event on the topic SAPUI5 with SAP Web IDE. I'm pretty sure this was also a great event and I hope to read a summary of it from an attendee 🙂
The event took place at http://munich.impacthub.net/ and started at Saturday at 9 o'clock in the morning. Luckily my place wasn't that far away and I needn't to worry about the parking situation in Munich.
The day started with the session from Hendrik Neumann, which wanted to share with us some ABAP-Topic *** errm, Mazes. Yes, your right, mazes are awesome. I didn't know anything about building mazes until yesterday. Right now I'm really curious about reading his book recommendation Mazes for Programmers.
Second session brought to us by Christian Lechner was all about HANA and the under presented Text-analysis-engine which is part of the package. This was really a great example what all is possible and how HANA generates new possibilities for the business. The example with some good old Bavarian words was also great.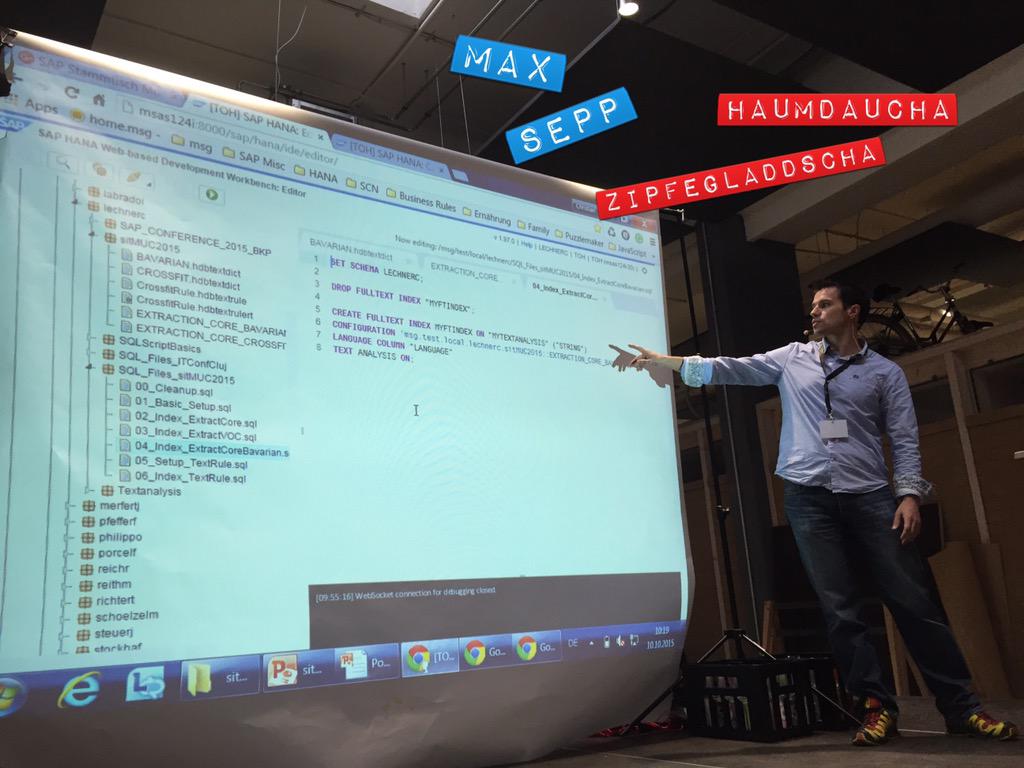 Third session was all about XSS. This was a session I thought is interesting, but not that hot. I was soooo wrong!!! The topic itself is
around of us every day and in my opinion we developers should care a lot more on it than we do. Not because there are hackers out there (by the way little live hacking was nice to see), because we are transforming ourselves at the moment and all the new possibilities like Fiori, gateway and things like that brings this topic also in our focus. Our small ecosystem behind the firewall isn't that secure and that is one of the major points I recognized for myself from the session Soumyasanto Sen had prepared for us.
Afterwards Vassilena Banova had her topic about S4-Financial (formerly SFIN) and shared some new insights. As this is a very common topic I liked the new insights into the data model and the discussion about the no disruptive journey to implement it. Maybe it is a little disruptive journey if you are not a brand new customer.
Lunch break now and a state-of-the-art-food were delivered by the team. Pizza, unfortunately there was no lactose-free cheese on it, so I had a pizza bread made just for me. Thank you for this!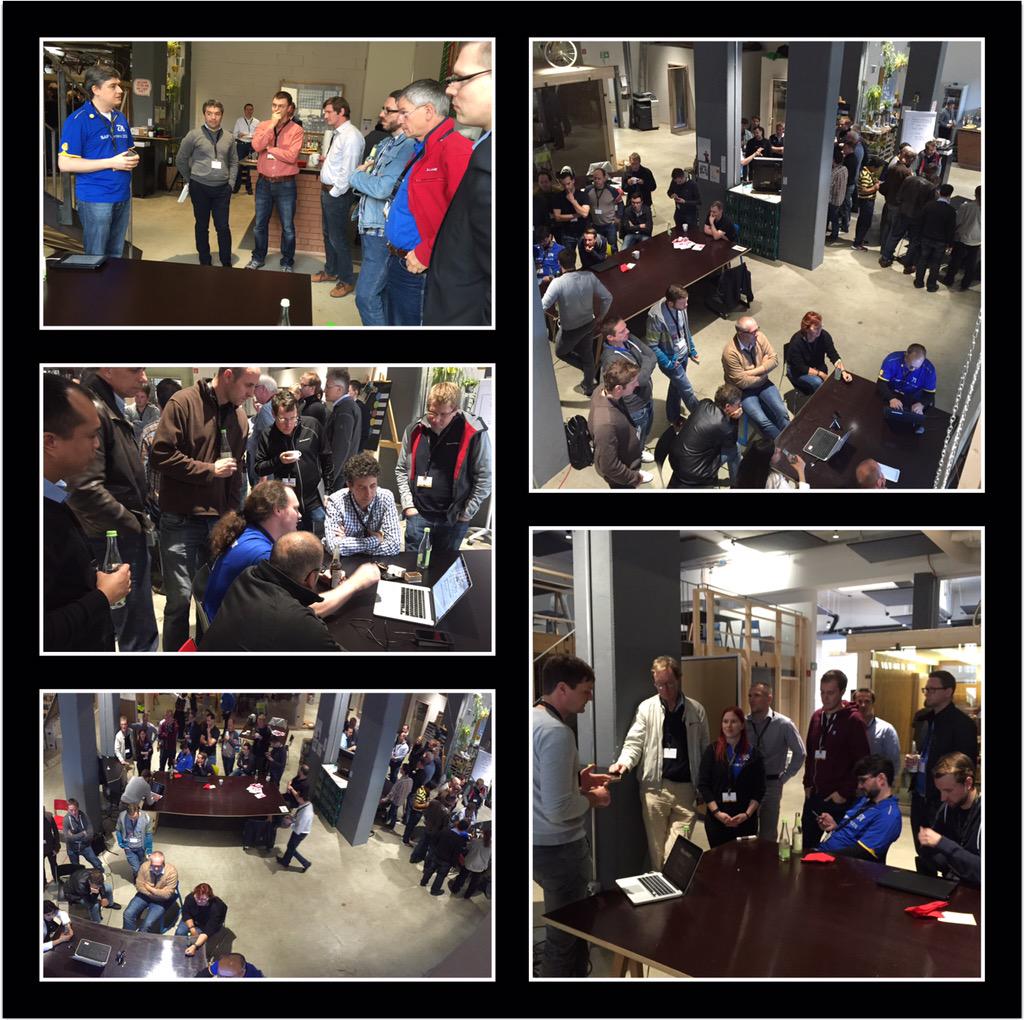 Now the "Marketplace" session took place, and I attended at the Test Gap Analysis: Risk-based Testing of ABAP Applications presented by Andreas Göb and Elmar Juergens.
This was really a surprising topic as announced. Their software does help you to improve your quality testing with a heat map. In my opinion there is a white gap this software could fill and from a technical perspective I really like the idea behind it. It was also nice to see, that a lot of the hanging around attendees asked questions on how it works and how to use it.
The other marketplace-sessions I missed, because of connecting with old friends and new to talk about this and that. Anyway, I need to watch the recording of Gregor Wolf's topic: IoT with the HANA Cloud Platform (HCP)
These topics were also presented and maybe someone can share a little bit about it:
Introduction to Functional Programming

Introduction to the basic concepts of functional programming (FP) and why you should care about it.

TUM Big Data Innovation Lab

In the Big Data Innovation Lab, academia and industry co-create future business systems with the objective to explore and understand the innovative potential of Big Data.

Vassilena Banova

Quality Management in processing?!

Markus Theilen (EWE AG) speaks about the operation of the Virtual Forge Code Profiler in the development of a grown application area: What effort goes along with a QM and what are the benefits for the developers in daily work?

Domain specific languages

I will show you a workbench I wrote in ABAP to define a domain specific language (dsl) and use it to model and execute artefacts from a specific domain. This could be e.g. test cases, AS/400 lists, object models, package hierarchies, complex configuration of business objects or a query language.
Marketplace sessions are in my opinion a really cool thing. So everybody has the chance to get some insights in different topics and also have time to discuss about it without bother others. I like it and would welcome it to see it again next year 😉
Now back into the main-presenting room with the following topics
Solving real problems without reading code presented by Dr. Tudor Girba
This would be too much to share it here and I recommend you to watch the replay. (I hope there is one)
Next: Just Weighing a Pig Doesn't Fatten it. – From Quality Analysis to Enduring Quality Improvement of ABAP Code presented by Christian Pfaller and Elmar Juergens
This I described a little bit before, because it was the sequel of the marketplace session.
On stage was now the Business Intelligence Clients presented by Karol Kalisz. This I nearly passed out because of a nice discussion about software development and how to use Guidelines. So sorry, I cannot say a thing about it 😐
Last but not least Thomas Grassl entered the stage and talked a little bit about the SAP developer program. The first Codejam only had 3 participants and the second 1.
Thank god that it doesn't stopped the train because today the Codejam-format is a well known expert-session for us.
Also cool to see that the http://sap.github.io/ is growing. More and more content shows up there.
Now the day ended for me and it was a really awesome one. A lot of impressions I could take out of it. Thank you sitmuc
Ok, back to the bullet-points. I mentioned that I like it in the beginning (just in case you forgot). Why you should also attend an SAP Inside Track
1st Have fun
2nd Connect with old friends and find new
3rd A face to face conversation is also in our digital world a cool thing
4th Find out that you are not the only one with your problems
5th Find solutions to your problems because you can share it (this is the solution to point 4 😛 )

6th Share your point of view and discuss about it
7th Take nice pictures from geeks like you
8th Travel to other places and don't be bored at home
9th Meet the people in real life you interact on SCN
10th Good food and have a drink together
11th Meet the SAPMentors
and a lot more

That's it. This is my personal recap of sitMUC and I just can repeat myself to recommend everybody of you to take your chance to visit one.

Thank you to the organizers Martin, Gregor, Damir, Andrea, Roman and all the others I forgot to mention here for spending your time to keep the community relevant and make things like sitmuc happen.
I promise I will attend again next year and suggest a topic (maybe for the marketplace 😉 )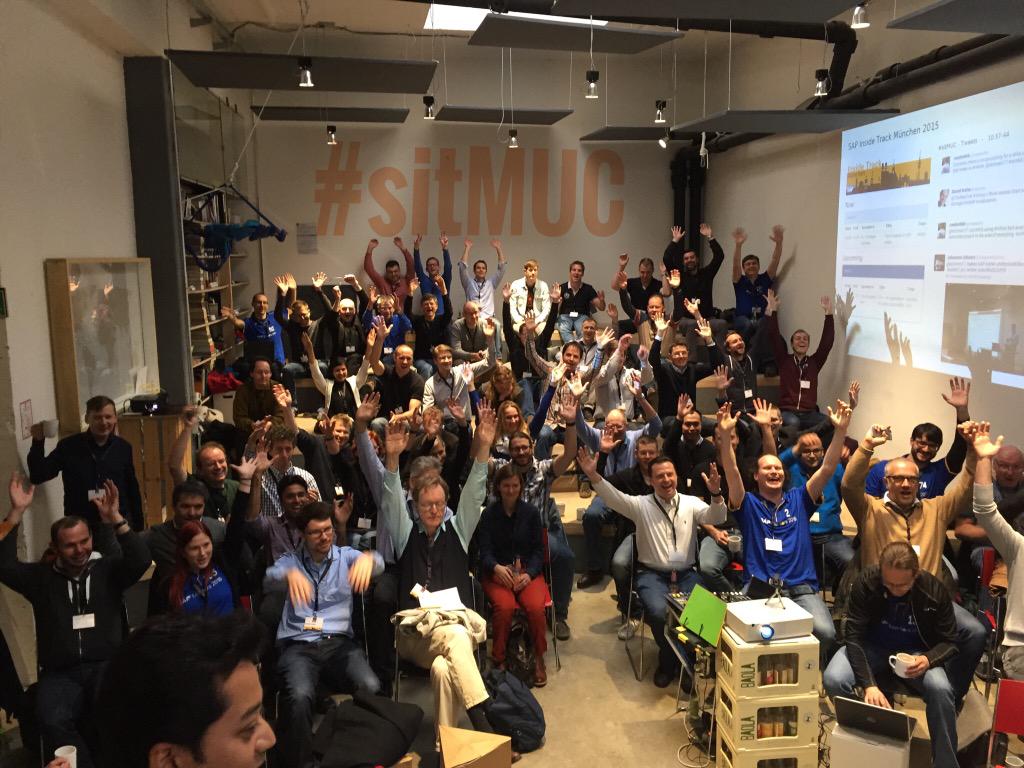 Cheers Florian 🙂
Hope I remembered the timeline correct…
Additional information (added 12.10.2015)
Link to the Channel:
SAP Stammtisch München – YouTube
and also the direct link to the playlist