How (Not) To Do An Enterprise Software Keynote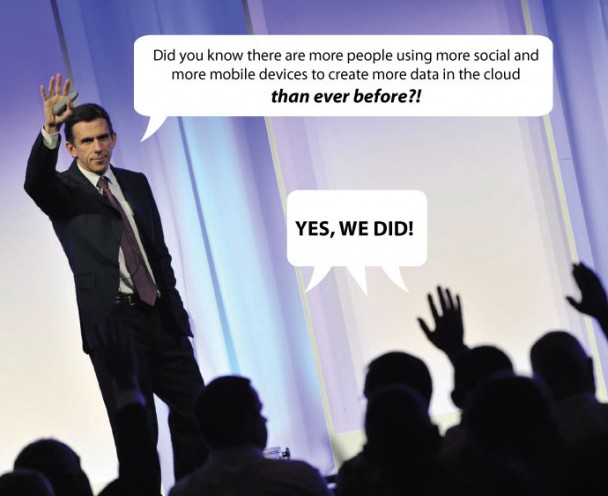 Warning: snark ahead. As an innovation evangelist, I attend 40+ enterprise software conferences a year. If you're preparing a keynote, please don't do the same as everybody else, i.e:
Introduction
Show Dramatic opening video featuring an American Announcer Voice (i.e. this guy)
Start with a few irrelevant words about being in city X, the current date, etc.
Unenthusiastically thank the sponsors for paying for the conference and the audience for attending
Give a few stories about cool disruptive companies that have nothing to do with your organization (Whatsapp, Uber, etc.). Bonus points for using terms like "paradigm shift" and "game-changing"
Marvel at how the technology your kids use is different from when you grew up
Mention how many Milennials will be in the workforce in the future
Display lots of big numbers on the screen, ask "Did you know that there's more social/cloud/analytics/mobile than ever before?" (actually, yes, we did). Bonus points for including the words "zetabytes" and "yottabytes" and/or using 8pt fonts
Put up some cherry-picked statistics/quotes from industry analysts (does anybody really believe or care about "predicted market size" figures?)
Optional: include some high-level social trends that have nothing to do with the audience, such as growth of consumers in Asia, water scarcity, etc.
Talk about the consumerization of enterprise IT and the importance of ease of use. Bonus points for using terms like "democratizing" and "for all of us"
Awkwardly link everything you just said to the product that you actually want to talk about
Products
Play high-level, buzzword-laden product marketing video with an American Announcer Voice
Call colleague on stage to demonstrate your software (audience wakes up!).
Nervously mention how it might go wrong because server is other side of the world, etc (or use canned demo, but don't mention that it's canned)
Give long business situation setup explanation that audience instantly forgets
Click around in the software, pretending to find out something new. Omit to point out that what you've found is either obvious or doesn't really make much sense
Tell some lame jokes
Include lots of colorful charts in the demo (bonus for 3D pie charts) and emphasize "powerful mobile-first native HTML5 interfaces"
Use the terms "open," "ease of use," "simple," and "real time" at least ten times
Tell an oversimplified story about a customer deployment of the product and the benefits they saw. Don't mention any challenges, problems, etc. (Bonus for another Announcer Voice video)
Repeat above points per product you're trying to sell (bonus for vaporware that doesn't exist yet and double bonus for concept demos of software that you have no intention of actually ever building)
Conclusion
We also have services! and training! and partners!
Did I mention that there was disruption, and we all need to innovate?
Mention ease of use/simple/real-time etc. again
Talk to us!/download the product!/buy the product! etc.
Go 20% over your allotted time because you're more important (and nobody dares complain), thank the audience for "holding out" for so long.
Upbeat rock walk-out music
Thank heavens none of this would happen at an SAP event! Did I miss any of your favorite keynote tropes? (I would have said cliché, but that's a bit of a cliché…) Tell me and I'll include the best ones!
Of course, it's much easier to criticize than it is to offer useful suggestions — and of course most people only attend a couple a year, so probably don't feel my pain. In addition, keynote presentations are typically very political, with a certain amount of content that "has" to be covered (product launches, key initiatives for the year, etc.). The only advice I could give is to mix up the format in any way possible, take a few risks (this is one of the reasons that any presentation by SAP's Steve Lucas is always a pleasure), and talk as much about real implementations as possible.
Your turn — what would you like to see done differently in the next conference keynote you attend?
[A version of this post first appeared on the Business Analytics Blog]