Interview: The Power of Collective Insight

At the upcoming UK SAP Innovation Forum in London on March 11th, Waldemar Adams, VP EMEA Business Intelligence for SAP will be talking about The Power of Collective Insight. I took the opportunity to catch up with Waldemar to ask him about the latest and greatest trends in analytics and SAP BusinessObjects.
What is your background?
I've been working in business intelligence since the mid-90s with Comshare and the Essbase OLAP system. Back then, cubes were typically updated once a month so anything updated daily was called "real time" — now everybody has at least daily updates. I then joined information management vendor Acta, which was acquired by BusinessObjects, which was in turn acquired by SAP.
What are some of the big trends you're seeing in the market?
I've been doing BI for the last 17 years, but it's never boring because it's constantly reinventing itself. One core trend has stayed the same: BI allows organizations to be more successful. They can understand what's going on and develop in a better direction, and if they do something wrong, they do it for the shortest possible time.
One of the newer trends among our customers is real-time analytics. When everything is perfectly aligned in the back office and the business processes, the only competitive advantage is to have better insight with less latency. Real-time analytics means two things. First, BI "at speed of thought" is still a very relevant expression: people want to ask whatever question they have and get an immediate answer. But the other side of it is accessing up-to-date data – being able to analyze data that includes the order that was passed a few seconds ago. Latency is a big issue for everyone.
Have the barriers changed over time?
No. The barriers are still the same. The technology is there to better solve problems but the main obstacle with providers and consumers of IT still hasn't been answered. In the world of the business, there's a disconnect between IT and the users. It's like the tortoise and the rabbit: whenever IT delivers what has been requested, the business people already have a new request. And this problem has been accelerating over the last decade. Organizations need to set up an aligned strategy for BI and analytics that includes both IT and Business as a prerequisite to take advantage of the technology shifts. Otherwise the technology can't add value: having lots of data in memory doesn't matter unless you can span the bridge.
What does 'the power of collective insight' mean?
It's about the collaboration aspect of business intelligence. Decision-making should be about more than flipping a coin, but it is like a coin in that it has two sides. One side is getting the insight, the other is the collaboration you need to turn that insight into a decision. Insight alone isn't enough. Decisions are made by a team, and there should be a transparent process that tracks why and how decisions are made. The latest agile visualization products have brought self-service capabilities, but you also need to bring people together. We believe you should have seamless integration between tools to get insight and the tools to share feedback and make collaborative decisions.
Today, when people make decisions, they have to send emails and spreadsheets back and forth. It's complex and inefficient, and it's hard to figure out what happened in the past if somebody new joins in the process. To help with this, we introduced a product called StreamWork for collaborative decision-making several years ago. This has now evolved and combined with technology from SuccessFactors to create SAP Jam, and we've integrated it with the business intelligence environment. We're finding it really makes a difference to customers.
People are really amazed with the level of collaboration they can do – in part because it's not limited only to BI. Jam is much more advanced in overall collaboration, so you can use it as a portal for lots of activities. You can collaborate directly from the BusinessObjects Infoview to see follow reports and see people's comments and questions. But you can also see BI content through the Jam portal, where you have it as one of the facets of everything else you're doing. For example, a sales person can see some BI content in a sales analytics forum, post a comment, and that comment can be viewed from the BI system.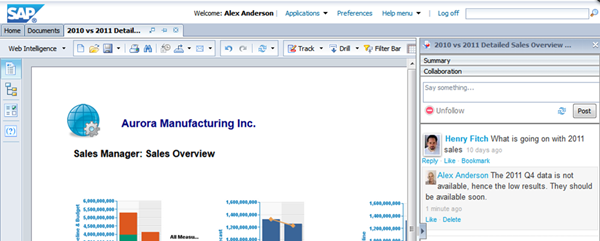 Adding a comment to a report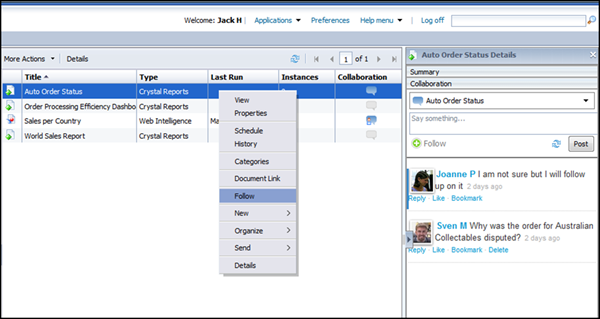 Following a report

Seamless collaboration in mobile environments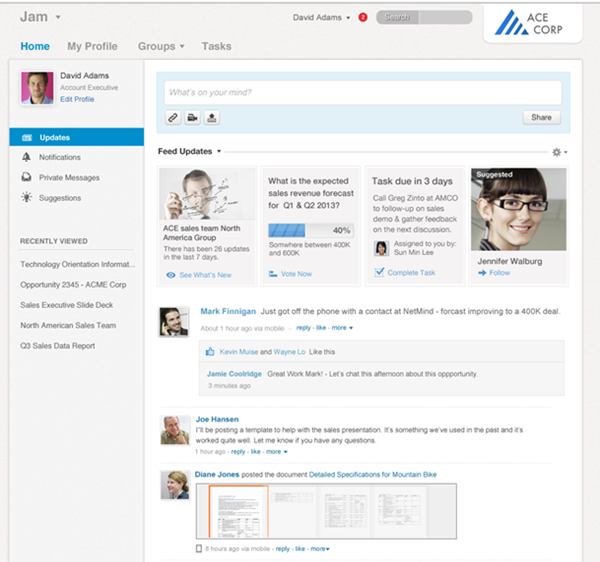 Collaboration for business users, combining BI and non-BI content with SAP Jam
SAP BusinessObjects BI 4.1 is a very mature business intelligence platform and the SAP JAM capabilities have been well-integrated for a smooth transition. To make it as easy as possible, we have a website SAPBusinessObjectsBI.com that has all of the relevant information in one place: prerequisites, best practices, videos, specific recommendations for your landscape, and much more.
And since SAP Jam is a full-scope collaboration system, we're starting to see large organizations use it as part of their BI Competency Center processes. IT and departmental business people can collaborate on a repository of prototypes, demo views, and specifications, and use the decision-making functionality to support the deployments decisions behind BI itself. It's early days, but it's an exciting area for the future.
What do you find people misunderstand about BI and analytics today?
The importance of governance. An analogy might be the use of smart phones in the business world. As a consumer, you just want to use your phone, and enjoy the apps. That's OK in your personal life. But in the business world, it's much more complex. You have to apply certain rules about data governance and security. Your business phone has confidential data. It would be a big deal if everybody in the pub can see the KPIs you're using to run the organization.
The same is true of analytics and BI. People now expect to have powerful tool enable them to play around with data, and that is not a a bad thing. But we also need to be sure that in a corporate environment, it's not a tower of babel with many different languages. Everything has to be aligned: data discovery doesn't add any value if everybody is doing it on their own island.
I think people think that a smart tool will fix all the problems. But organizations have been inadvertently creating more silos, with all the common problems that come with that. As one of our customers Gabriel Orthous puts it: "self-service BI is good, but it shouldn't be self-centered"
Why should people come to your session?
There are a lot of the discussion today on key trends like cloud, mobile, and big data. This are all very valuable, but analytics and BI is always the last mile which adds the value and brings the use cases for these technologies. CIO surveys show that analytics is always the #1 priority, now and in the past. This session is about how companies can REALLY benefit from using today's business intelligence.
Thank you for your time!
13:45-14:10. The Power of Collective Insight with BI. Waldemar Adams, VP EMEA Business Intelligence, SAP
This session, packed with the latest SAP BusinessObjects BI roadmap information, takes a deep dive into the new functionality and offers insight into how this latest release can fit within your BI landscape.
This post first appeared on the Business Analytics Blog