LeWeb: In the Future, All Companies Will Be Software Companies
George Colony, CEO of Forrester Research, gave a presentation at LeWeb Paris on the topic of "The Age of The Customer," which he defined as:
"A 20-year business cycle… in which the most successful enterprises will reinvent themselves… to systematically understand and serve increasingly powerful customers."
The overall outline of the presentation will be familiar to anybody in the technology industry: customers have more power than ever, and there's an opportunity for organizations to engage with customers in new ways, notably through mobile devices.
Colony fleshed out this basic premise with data from his company's research, and explained how companies need to change in the future.
Three reasons that customers have more power:
Pricing. Services can be more precisely priced, giving consumers more choice (this is similar to the "unbundling" notion introduced in Fred Wilson's LeWeb talk yesterday).
Shared critiques. People increasingly turn to others for advice: 17% are influenced by consumer ratings and reviews, 13% by recommendations from friends and family, 5% by online forums or blogs.
The ability to buy anything, anytime, anywhere, from anyone. Old barriers to commerce are falling – for example, 22% of European online adults have ordered products from a website outside of their home country in the last three months.
Colony emphasized how changing demographics are accelerating what Forrester calls the "mobile mind shift," defined as:
"The expectation that any desired information or service is available, on any appropriate device, in context, at your moment of need"
He outlined Forrester's research calculating the "mobile mind shift index" for different groups (country, gender, by type of phone usage, etc.). Unsurprisingly, iPhone users have the largest index – i.e. they have the highest expectation of easy access to goods and services from their phone.
Colony believes that "in the future, companies will put themselves into their customers' pockets" and that the importance of the web will diminish, becoming "the AM radio of digital." In other words, it will never go away, but it will not be the place where most commerce is conducted. Instead, mobile devices, accompanying customers as they walk through time and space, are the future of digital commerce.
The company argues that organizations need to start working today on increasing mobile engagement with their customers, but that optimizing the customer experience will ultimately require big disruptions to current commerce ecosystems, with different services coming together: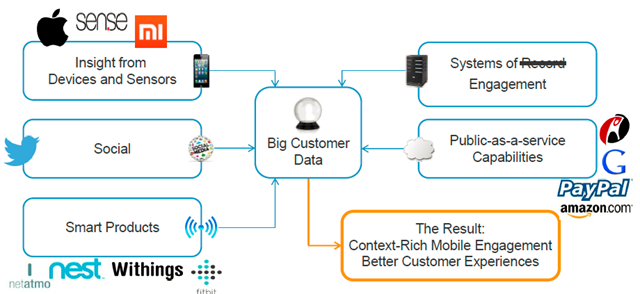 Colony concluded that "in the future, all companies will be software companies" – in other words, fulfilling the high expectations of tomorrow's consumers will require a seamless, coherent approach, centered on big data, and that this "software" will be the ultimate source of competitive advantage.
An interesting real-world example of this trend is the recent creation of a "mobile commerce ecosystem" around the Montreal transit system, where software from SAP is used to continuously optimize mobile offers to the 1.2 million daily users:
"Jumping on transit in Montreal just got a whole lot more rewarding thanks to a first-of-its kind loyalty program developed by Société de transport de Montréal (STM) and its technology partner SAP."
You can find more about Forrester's research in their report Competitive Strategy in the Age of the Customer.