#sapteched first day impressions and photos of #SAPPortal team
SAP TechEd is full of action and packed with sessions, meetings and great experiences as you can expect. Portal team is spread thin around cloud, mobile, #fiori, hana, context_aware_services, EP 7.4 upgrade and customers topics.
This is a first compilation of my impressions.
It all started with beautiful morning at St Marco Square
And continued with a great keynote by Vishal Sikka with a very clean and straightforward message:
Fiori for UX | Cloud for extensions | HANA for the platform
Couldn't be explained shorter and more clear. An eBay HANA story continues to thrill me (eBay data scientist is on the photo with Vishal below)
Vishal also made two announcements closely related to the portal team:
– SFSF extensions were announced and demoed by Sam Yen featuring HANA Cloud Portal as the front end for the extensions UI.
– Fiori wave2 plans were announced with Fiori Launchpad demoed on stage.
After the keynote that took a bit longer than planned portal team spread to their activities. I personally been mostly in the mini codejam area. Where Craig Cmehil and Thomas Jung taught how to build your first HANA app. It was quite crowded at times.
Tomorrow, Wed, at mini-Codejam would be not less exciting. I'll begin the morning with 3 sessions (10am, 11am, 12am) on how to build beautiful and flexible UI with HANA UIS and than Codejam will continue to cloud technologies.
Asi Messica was extremely busy explaining about #hanacloudportal and particularly cloud extensions for SFSF apps. Cloud extensions generate a lot of interest from customers and partners.
You could spot The specified item was not found. – the fresh mentor always on 911 calls, all around. I caught him talking about #mobile portal at the very crowded pod (thanks for zoom function, otherwise I would take picture of audience heads only).
Guy Bavly , the portal ninja, is always happy to pick up any portal and UX topic. In a matter of fact, I passed over my networking session to his caring hands. Caught him on my lens later when he was paving the portal roadmap to the thrilled audience at Q&A session.
Even Amir Blich and Sven Kannengiesser were mesmerized by Guy's speech
I had a privilege to meet Richard Hirsch for lunch and discuss context-aware services and context-aware UX. As always got very interesting perspective on that topic. It became already a tradition I share my new endeavors with Dick. It started exactly two years ago with Cloud Portal and have follow up every 4-6 months.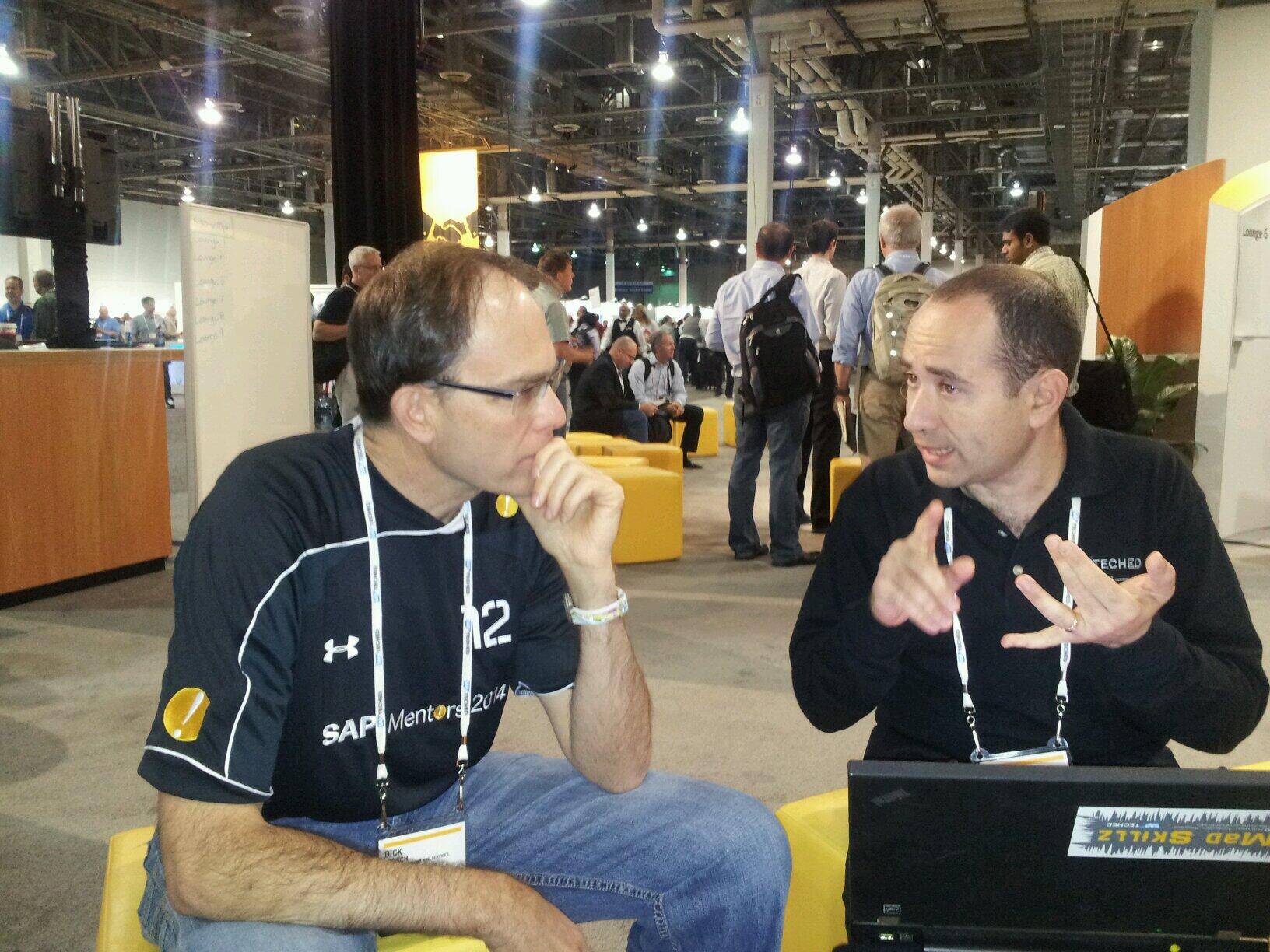 Have you noticed "Mad Skillz" sticker on my laptop?
There were much more encounters, not everything was caught on my lens. Looking forward for the even greater day two.
Last, but not least, Orna Kleinmann, Guy Bavly , Amir Blich , Asi Messica , The specified item was not found. , Nimrod Barak , Yariv Zur , Winfried Wenisch please add your impressions and photos.
See you tomorrow on the show floor. TechEd Rocks!