Transform Your Business With Analytical Innovations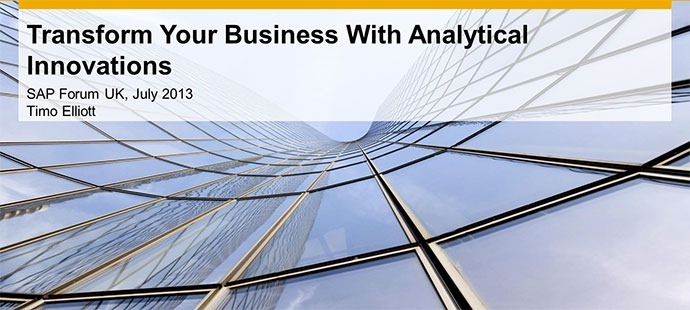 I presented the first session in the analytics track at the SAP Forum in the UK last week, called "Transform Your Business With Analytical Innovations".
It is similar to other recent analytics keynotes I have published on this blog. It reviews what I think is the most interesting trends in analytics today; examples of companies using analytics in innovative new ways; and how SAP's products fit in with those trends:
The business use of forward looking "signal" data rather than looking in the rear-view mirror
Analytics maturity
Information becomes the foundation of IT infrastructures (rather than applications)
The datification of daily life, including "my Kindle is watching me" and car telemetrics
In-memory is ripping up the rules: faster, smarter, and simpler
Breaking down old barriers in BI, including unstructured data, predictive
"OLTAP" architectures and the rise of the real-time data platform
The NSA's data quality problem
User interfaces without compromise – data discovery AND corporate governance AND predictive AND mobile AND social
"Smart Grid" business intelligence, AKA the "network of truth"
Customer examples
You can download the presentation in pdf format, with notes or the full presentation as a .pptx file.
[This was originally posted to my Business Analytics blog. If you're interested in analytics and BI, maybe follow me on twitter?]