#SAPPHIRENOW #Analytics News: SAP BusinessObjects BI 4.1 RTC
Just before the SAPPHIRE NOW conference, SAP announced the Release to Customer (RTC) of SAP BusinessObjects BI 4.1, Edge BI 4.1 and Crystal Server 2013.
What's New in BI 4.1
BI 4.1 is one suite for all insight, one place for all information and on standard for enterprise BI. Here are the highlights of the new release – or you can skip to the end of the post to get a detailed technical presentation of the new features.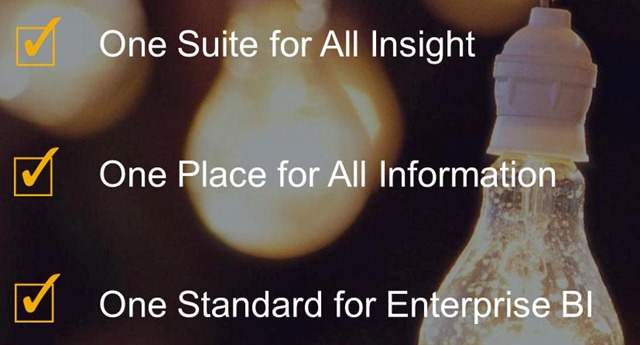 The features in this latest release include:
Unified and highly personalized platform with improved interoperability and usability across the BI suite
Powerful visualizations that empower end users with industry focused visualizations and spatial analytics
Big Data ready with support for Amazon Elastic MapReduce and Hadoop Hive. Improved access to Oracle's Exadata, OLAP and Essbase. BI 4.1 also includes enhanced workflow capabilities in conjunction with SAP HANA and BW
Professional grade BI platform for any size business, any type of deployment and for any role across the organization
BI 4.1 includes features for all five areas of SAP BI innovation

One Suite for All Insight
One Place for All Information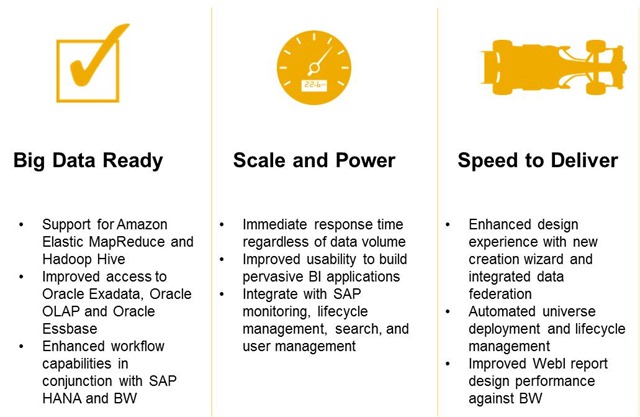 One Standard for Enterprise BI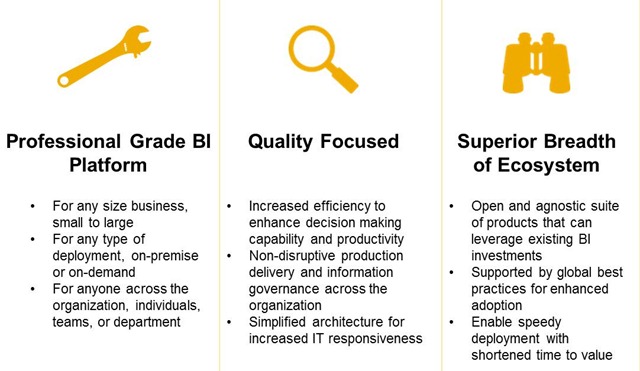 Three key types of information access: self-service, dashboards and apps, and reporting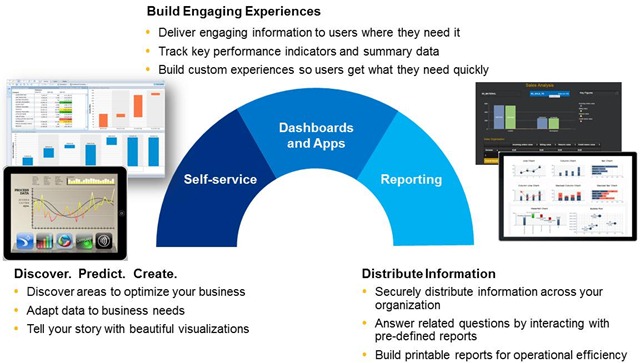 New Self-Service Features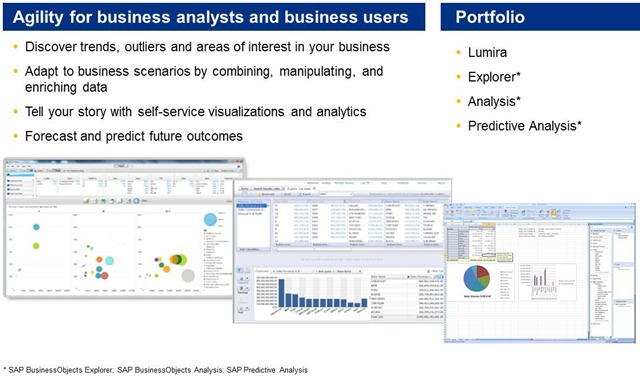 New Dashboarding Features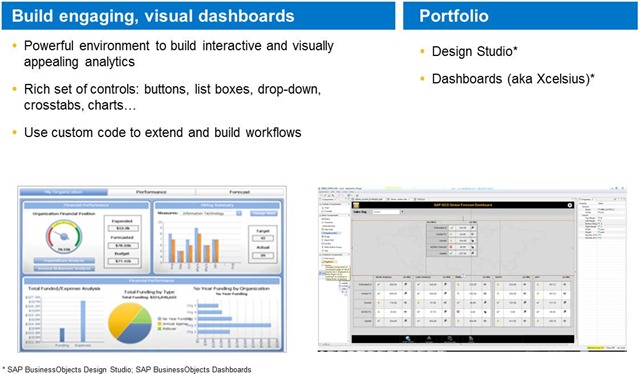 New Reporting Features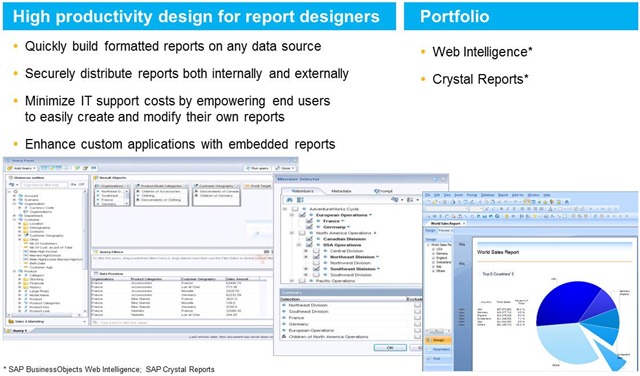 New Platform Features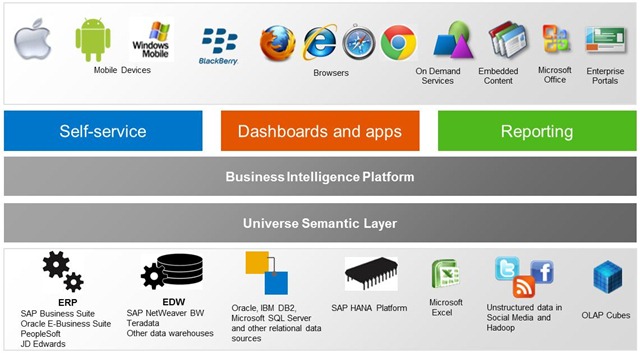 What's different about this release?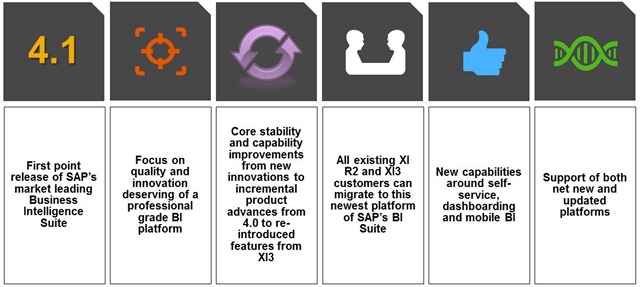 Summary of Key Messages for Business Objects 4.1
One strategy for enterprise BI: one suite for all insight, one place for all information, one standard for enterprise BI.
One Suite For All Insight
Unified and highly personalized
Improved interoperability and usability across the BI suite
Deliver engaging information to users when and where they need it
Create custom experiences with embedded analytic extensions
Powerful visualizations
Monitor your business with specialized charting and geospatial analytics
Empower end users with industry focused visualizations and spatial analytics
Detect outliers and discover areas to optimize your business
Faster more accurate decisions
Create and consume BI content from any mobile device
Empower teams to deliver collaborative decisions
Simplified deployment to accelerate time to value
One Place For All Information
Big data ready
Support for Amazon Elastic MapReduce and Hadoop Hive
Improved access to Oracle Exadata, Oracle OLAP and Oracle Essbase
Enhanced workflow capabilities in conjunction with SAP HANA and BW
Scale and power
Immediate response time regardless of data volume
Improved usability to build pervasive BI applications
Integrate with SAP monitoring, lifecycle management, search, and user management
Speed to deliver
Enhanced design experience with new creation wizard and integrated data federation
Improved Web Intelligence report design performance against BW
Automated universe deployment and lifecycle management
One Standard For Enterprise BI
Professional grade BI platform
For any size business, small to large
For any type of deployment, on-premise or on-demand
For anyone across the organization, individuals, teams, or department
Quality focused
Increased efficiency to enhance decision making capability and productivity
Non-disruptive production delivery and information governance across the organization
Simplified architecture for increased IT responsiveness
Superior breadth of ecosystem
Open and agnostic suite of products that can leverage existing BI investments
Supported by global best practices for enhanced adoption
Enable speedy deployment with shortened time to value
Key Links
Full, Detailed Technical Feature Documentation/Presentation
Here's the official feature-level what's new manual for BusinessObjects 4.1, and a presentation by Ty Miller, delivered at the ASUG2013 / SAPPHIRENOW Conference