Does an in-memory database dream about the shoulder of Orion ?
For us, it began one late evening during a lovely country workshop around Big Data, I was looking to recruit some handsome startups for the Hana Startup Forum that we were organizing in SAP Labs France in Sophia-Antipolis a few days later. After the SophiaConf conference, a cocktail was organized where we talked lengthy about the new possibilities that Hana will bring to the industry.
Few glasses of wine later – Illogical but remember we are in France – Christophe de Dinechin (one of the co-founder of Taodyne) and I started to talk about something else, more precisely a pedagogical project that Taodyne was building together with the Nice Observatory: they were exploiting their 3D technology to explain the universe to teenagers visiting the observatory.  (If you are visiting Nice, the observatory is this massive white dome – see picture- which dominates the city located on Mont Gros and was built by Charles Garnier and Gustave Eiffel).
Space, the final frontier
The discussion was becoming more technical as Christophe was explaining to me that he was using the 3D star catalog Hipparcos (circa 118,000 stars) and the fundamentals used by the satellite to compute the stars positions (see the ESA web site on Hipparcos or for French speaking people you can check this publication done – in his former life – by Christian Martin one of our SAP Labs France colleague). During the discussion, we also started to talk about Gaia – an acronym for Global Astrometric Interferometer for Astrophysics – the next ESA satellite to be launched in October, 2013 that will be located approximately 1.5 million kilometers from Earth in the Sun–Earth Lagrange point 2 (see animation on the ESA web site).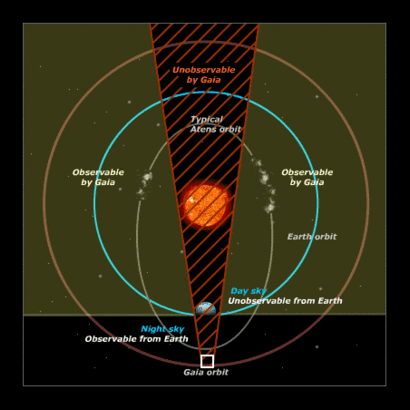 Its 5-year mission: to explore strange new worlds with a unbelievable precision of 1 microarcsecond – i.e. 1000 better than the Hipparcos resolution , to seek out the 3D position, speed and mass of approximately 1 billion stars, or roughly 1% of stars in the Milky Way, to boldly watch where no man has watched before. It will monitor each of its target stars about 70 times to a magnitude 20 over a period of 5 years.
Additional scientific products include detection and orbital classification of tens of thousands of extra-solar planetary systems, a comprehensive survey of objects ranging from huge numbers of minor bodies in our Solar System, through galaxies in the nearby Universe, to some 500 000 distant quasars. It will also provide a number of stringent new tests of general relativity and cosmology. See more on ESA web site
One billion stars to display, to browse, to filter, to compute statistics about…
Maybe we were men too long without sleep but somehow, we decided that we must convince a disbelieving world, that Hana could be used as a powerful graphics processing unit (GPU) pre-processor. Technically, at first glance, making a first prototype looked relatively easy as our test data – the Hipparcos catalog – was well structured with the star ID, its 3D positions, its spectrum, its absolute magnitude, its velocity and some names.
It was definitively for me time to do some hands-on experiment with the HANA platform,
Several trigonometric functions later, we were able to select the stars visible in a quadrant together with their relative magnitude from our observation point and to compute the statistics about the spectrum distribution. We quickly designed a REST interface using XS and a specialized output format (the OData format was definitively too verbose for our purpose) to enable the communication between the Taodyne Presentation and our Hana instance running on AWS.
That was a very nice rendering, Dave
Some graphical tricks made by Christophe made our visualization quickly amazing. But while we had great fun to see the result of our coding, we thought it would be nice to enable the spectator to interact with our prototype. We came from planet Earth, and we built this base, called Hana, to learn more about space and we decided to modify it to enable our guest to name anonymous stars and to leave their favorite quotes using Tweeter. The new named stars became soon our final destination. This small improvement may eventually help scientists to name a small subset of the 300 sextillions of stars of the Universe according to Yale astronomer Pieter van Dokkum (see interview with Space.com).
300 000 000 000 000 000 000 000 stars
300 sextillions is a 3 followed by 23 zeroes, this is definitively about Big Data !
Dear hasso plattner and Vishal Sikka ,
We would like to buy 3 megapetabyte of RAM to handle the universe 🙂 .
jc
Beam me up, Hana and Taodyne !
Something that can't possibly exist… but it does
This proof of concept is far to be perfect, time constraints but also the cloud setup with its associated network latency do not enable yet to use Hana as a GPU pre-processor, but for all simulations that are handling a number of objects far above graphic card capabilities, Hana can provide a handy way to filter objects and to approximate distant objects  (e.g. in the case of stars we may compute the background light from distant stars). We can also imagine that the objects are coming directly from the enterprise system (eg. equipment or stock for retail) and that avatars may be built on top of them to enable 3D real-time immersive experience in the company landscape. In this setup, Hana can become an ideal companion for an image processing engine.
Why has all of this happened to us, Professor?
The gods using us for their sport, perhaps?
---
The work described in this blog was developed as a collaboration between SAP Next Business & Technology and Taodyne and was demonstrated in SAPPHIRE Madrid. You can also access the Taodyne page referring to this experiment  http://www.taodyne.com/shop/en/blog/53-sap-talks-about-taodyne-during-keynote.
Thanks to Elton Mathias  and Gabriel SERME for their help during the development of the prototype.
Special thank to Christian MARTIN for his valuable remarks on the ESA missions.
This article contains memorable quotes from Blade Runner, Star Trek, The Invaders, 2001: A Space Odissey and Space 1999 – Can you find them (without googling !).