The difference between financial accounting and management: in consulting it is not just the letters that count
As is often the case at this time of the year, I spent a week chained to a desk with a bunch of sales people and sales engineers. This situation could possibly only be worse if they were all from marketing, or I was a customer! Well, you know what I mean…
At any rate, during the course of our meetings we revisited the concept of personas and roles in the organization and once again I spent time talking about who the real decision makers are in meetings with SAP customers, who the influencers might be and who are quite simply, tire kickers. For those of you unfamiliar with what a tire kicker is, it is a person who goes to the used or new car lot periodically, and especially on weekends and sunny days and spends their time peering in through the windows of the parked cars, running their hands up and down the sleek lines of the vehicle, occasionally sitting in them, squinting under the hood or bonnet looking intelligent or simply, well, kicking the tires of the car to see if it collapses in a heap.
Technology tire kickers are important and perhaps I will write about them another day, but for now, I want to focus on how in the world of finance, and in particular finance with ERP. There are really two different kinds of finance people. There are those focused on the accounting side and those that focus on the management side. As a consultant it is important that you know the difference between the two, their expectations and needs.
An industry colleague that I was talking to a few weeks back, really summed it up quite nicely to me. The financial accountants focus on the historical stuff and correctness of reporting and the financial managers are more focused on what all that historical stuff means for the future. In other words, both are critical functions and both have equal weight in the world of business. Failure to get the accounting right could mean problems with your regulatory compliance, problems with the statements of account and potentially fines or jail time for the CFO or persons responsible for reporting. This is one of the reasons why the financial accountants and finanicial accounting managers are a little bit paranoid about correctness, fidelity in the processes and precision of things like journal postings. Failure to close the books in a timely fashion for example will also see the auditors and stock markets fretting about whether the books are being cooked.
Financial managers are also interested in the correctness of the financial accounting because they rely on those numbers to hone their crystal ball skills. Financial managers will also identify ways to cut costs, identify anomalies in the trends and try to gather in information from sources other than the accountant's relatively narrow view of the world. The distinction between these two roles makes an important impact when you consider the kinds of education qualifications that an accountant vs. a financial manager need.
Many accountants, controllers, CFO's and Finance executives are CPA's (Certified Public Accountant) or CA's (Chartered Accountant) ; that means that they have achieved some level of professional qualification that relates specifically to the practice of accounting. Though they may not have endured quite the same level of educational rigour as a doctor or surgeon, it will have taken them some time to achieve their Certified or Chartered status and it is usually a status that they will take with them to the end of their days. One of these certifications is important, depending on the country, to actually be able to sign off on the chart of accounts for a public enterprise. If you don't have a CPA or CA in your organizational fold, then likely your auditors or accounting firm will have one who is designated to do it. Management acountants don't have quite the same expectations associated with their role, though interestingly, many who come to the role with a Master in Business Administration (MBA) qualification are actually also qualified or previously qualified CPA's or CA's. Many come with another qualification too, that of the CMA, or Certified Management Accountant – supposedly much more focused on the whole corporate finance function. The management accountant has as his key objective – the creation or improvement of the financial health of the organization, either by generating cash, or by adding related resources to support productive cash flow. Financial management is about governance and maintenance of financial assets with less focus on the quantifying techniques and more focus on financial asset assessment. Financial management is often referred to as the science of money management. (1).
In the end the qualifications themselves really are, as with all certifications and qualifications, just indicative of a person's ability to learn; study and be tested in a particular discipline. None of them of course tell you about their actual abilities or their ability to envision a different way of doing things. The role and title of the individual does of course help you in understanding what that person does and the qualifications that they hold indicate the kind of science that they may bring to their individual role. In financial management for example, there is a lot of planning, Controlling, and Decision-making; the American Institute of Certified Public Accountants (AICPA) conversely describes accounting functions as being largely focused on "The art of recording, classifying, and summarizing in a significant manner, and in terms of money, transactions, and events, which are, in part at least, of financial character, and interpreting the results thereof." (2)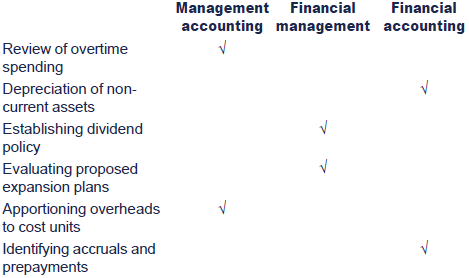 From a usage of SAP perspective they similarly have different expectations, needs and wants with respect to what the system needs to deliver to them. Accordingly when talking to someone around in the finance department about system requirements. You need understand what drives their work activity every day. Is it daily processing, is it period close or is it reporting. A lot of the solutions that are offered today as add-ons to SAP, whether they be dyed-in-the-wool SAP solutions or third party applications focus on the management side of finance and sales in particular, not the accounting side of finance and yet the accounting finance part of business activity feeds into sound and effectiveness financial management and decision making.
Dashboards and dash boarding solutions are great and carry an element of sizzle but in the end they can be a bit like presentation slide decks without the supporting dialog or speaker notes. This means that when you're positioning your requirements gathering questions you need to be clear what drives your audience to a more satisfactory decision making state. financial accountants are for the most part looking for speed, agility/adaptability, accuracy and consistency whereas the financial managers are assuming that you are helping the financial accountants and financial management accountants to get all that good data in in a timely fashion, but that you'll find some elegant and creative ways to help them slice, dice and even splice data to help them make informed decisions. Interestingly, I find that both groups love Microsoft Excel too; that should help you to understand that when you need to look at hard numbers either from a pure accounting or a financial management perspective there are very few tools better than Excel for presenting that information in an easy granular way.
A concluding thought; counting the livestock in the pens is great if you just want to make sure that they are all there – this may be all that your audience is asking you for; however if you have no idea which ones are cows, bulls, goats, pigs and sheep, you'll have a tough time deciding whether you're a dairy, wool or bacon farmer.
Additional Reading
(1) http://www.economywatch.com/finance/financial-management.html
(2) https://www.princeton.edu/~achaney/tmve/wiki100k/docs/Accountancy.html
(3) http://www.amazon.com/gp/product/0324422695 Financial Management: Theory & Practice (with Thomson ONE – Business School Edition 1-Year Printed Access Card)