Mobile Marketing in Real Estate
There are many industries nowadays that use mobile marketing as a way to share information with the public. Some of those industries include retail, entertainment, TV and radio, print media (magazines and newspapers), advertising agencies, restaurants, real estate, etc. In the next few articles I will be giving you a few examples of how different industries use mobile marketing.
A great example of a real estate text message marketing campaign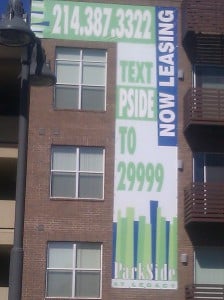 "For more information Text PSIDE to 29999"
In this example the number, 29999, is called a short code. This is a five to six digit number which is directly connected to all the US carriers (or at least should be). "PSIDE" is a mobile keyword. It is reserved by the company and when texted to the short code the user receives a text message with more information on the property.
Full post can be found here.