At the beginning of the year we started putting our plans of getting involved in SAP's mobile strategy into action by experimenting with SAP NetWeaver Gateway. Since then we have created several prototypes covering different business processes in both logistics and real estate maintenance, mainly focusing on utilizing our SAP know-how to create mobile business applications.
In this post, I would like to introduce our Loading Dock Manager application which is our first SAP-certified app and is available for both Apple iPad and Google Android tablets.
About the app

CONET's Loading Dock Manager aims at providing up-to-date information to workers responsible for the process of dispatching shipping orders. The app allows users to access detailed information about all shipping orders open for processing. In addition, it enables them to instantly update the status of shipping orders and modify the order position counts to account for unplanned deviations. It is connected to SAP's Transport Management through a custom SAP NetWeaver Gateway service.
Shipping order overview: Individual orders (l. – iPad) and orders grouped by loading docks (r. – Android)

Users of this mobile application do not need to have any SAP knowledge to benefit from it. It is easy to use and requires near to no training effort at all. Both versions were designed following the user interface guidelines of the respective platform to give the users the native experience they know and love from using other apps on their devices.
Detail view of a loading dock: With a single order (l. – iPad) and multiple orders (r. – Android)
About our experience as developers
When developing mobile apps that utilize SAP NetWeaver Gateway to interact with various data sources and backend systems, we were able to really grasp the benefits of having this layer of abstraction providing a single point of communication for the client application. Very early in the project were able to separate the development process into three parts:
Gateway configuration
Backend service development
Client development
While the backend developers' work was not influenced by the fact that the program was used by a mobile device, the mobile app developers in turn had little contact with the SAP world. Once the environment had been set up using the code generation tools provided by SAP, this project was very comfortable for the app developers as all they had to do was to consume a web service – which they already knew how to do. While the SAP NW GW development tools had a few quirks in the early versions, they have matured a lot over the past year making the first project setup much easier today.
About our experience as a mobile app partner
We have been very pleased with how our contacts at SAP handled our cases. Correspondence was very quick and helpful whenever we had questions or needed help throughout the preparation for getting our apps certified and published. The process of publishing apps in the SAP Store still needs improvement since everything was still very "manual". But it seems that SAP is working hard to provide an easier solution by improving the store and adding new features. We at CONET are looking forward to participating more in SAP's mobile endeavors.
About CONET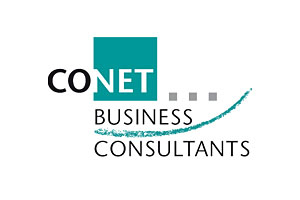 The management and IT consulting company CONET Business Consultants GmbH offers a wide range of SAP-related services for renowned enterprises and public sector organizations alike. The company's service portfolio centers on SAP consulting, business process optimization and the development, implementation and administration of SAP-based solutions. CONET Business Consultants GmbH pools extensive SAP expertise, making it one of Germany's top 10 SAP consulting firms for public sector customers. As a member of medium-sized and IT-focused CONET Group with its twelve locations throughout Germany, Austria and Switzerland, CONET Business Consultants GmbH expects turnovers of some 23 million Euros with approximately 130 highly skilled SAP professionals for the current business year.