The Business Value Marketplace
The move from Plan, Build, Run IT operations to a Demand Supply IT organization, is not a strategic move; it represents the complete commoditization and consumerization of IT. Beyond instituting an ERP system specific to running IT, there exists one more solution which will prove to disrupt the IT industry and in the process give the business a method for understanding how to drive value for the business they serve.
Implementing a supply chain system for managing the delivery of IT services (sourced internally or externally), tells us an interesting story about the future of IT. The slide below describes the manufacturing methods of fulfillment used for each category of IT service delivered.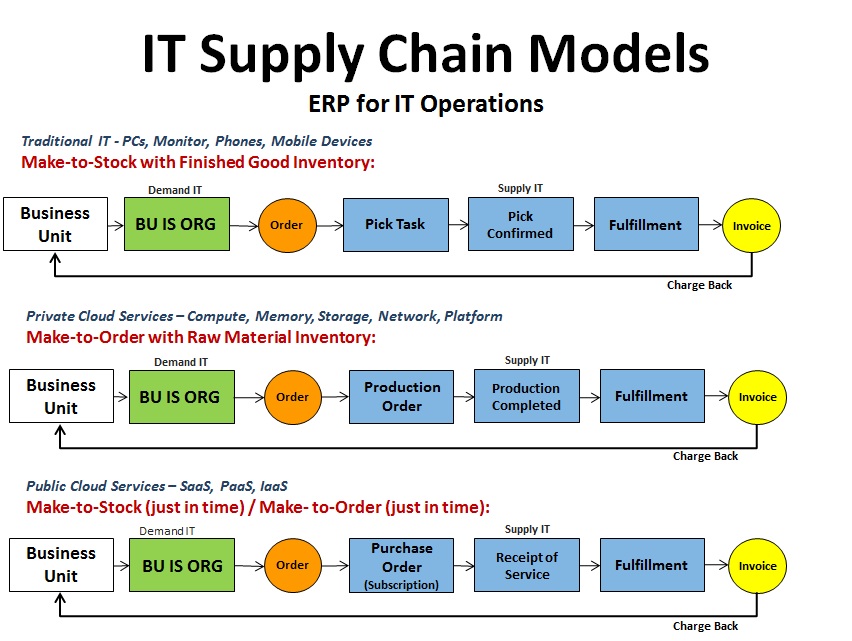 What makes this view of service delivery important is how it might mirror the history of discrete manufacturing. Lean practices in manufacturing were adopted to meet several goals. One is to reduce inventory levels. Inventory translates into a financial asset for the company. This asset represents a tax liability to the company. It also increases risks for a business that they may get stuck with products that their customers don't want. This last point is very important because it has relevance to over investing in IT. Another factor is that when your inventories are high, then your cash flow is low. That money could be earning interest, but instead it is sitting in a warehouse and it's a tax liability.
Just-in-time sourcing, production, and fulfillment, reduces tax liabilities and increases cash flow. So as we look at the models, one can see why public cloud computing might be financially attractive. It would be a bad assumption to think that everything will go to public cloud providers or is always financially the best decision. But the future might hold it as the standard choice and all other methods would be exception managed decisions. Also, if the IT department is no longer in charge of the selection process for LoB applications, then it might be difficult to predict the longevity of any service investment. This makes multi-year cost and budget analysis projections very difficult to know with certainty.
The Purpose of the Brokerage
In this last year there has been a lot of conversation about the "Cloud Brokerage". In its basic design it's the interface between the business consumer of IT services and the supply chain that supplies it. However, there is a view that this layer will broker services for best value in the way that Lending Tree does for home mortgages. With home mortgages the offering from different banks are the same product with different sources. This creates a wonderful situation for there to be a bidding war over rates and costs. With cloud computing, no two offerings at this point are the same (not even at the IaaS provider level), so I don't see this as the ultimate purpose or focus for the Cloud Brokerage Platform although it has viability in the future.
The supply chain should reconcile the best pricing through planning and supplier management. The brokerage as defined today needs to change into something far more relevant for the business. The end goal to all of this restructuring of IT into a Demand Supply organization is not just about reducing the cost of IT service delivery, but more importantly to bring value to the business. The cloud brokerage needs to evolve into a "Business Value Marketplace".
The Business Value Marketplace
So now imagine that you have deployed an IT ERP system to manage the fulfillment of service delivery to the business. The Cloud Brokerage was going to be the interface to business, so they can order services, manage users, manage user authorizations, engage the service desk, and even track performance of the provider over time. But the real driver is understanding how each service brought value to the business and the real nature of its cost. This in essence should be the real mission of the cloud brokerage. To extend the concept, it's more than just managing cloud services. It should deliver any solution that brings value for the business.
What we really want is an Amazon-like marketplace for the business with social collaboration woven into it. Now imagine that your enterprise has just used SalesForce.com in their Asia Pacific sales and marketing department. In fact they found a creative way to use the CRM that has increased the right kind of engagement for that division. Now imagine you are in the US sales and marketing division trying to solve a similar challenge. There is a really great chance that you have no idea that Asia Pacific has grown their sales until the next quarter results are release, and would have even less understanding of how they drove that success.
This is the bridge that a Business Value Marketplace would serve. In the same way that you rate a recent kitchen appliance in the Amazon marketplace, you would rate an IT service and have an environment to collaborate and articulate how you drove value for the business, its cost and have measurable results.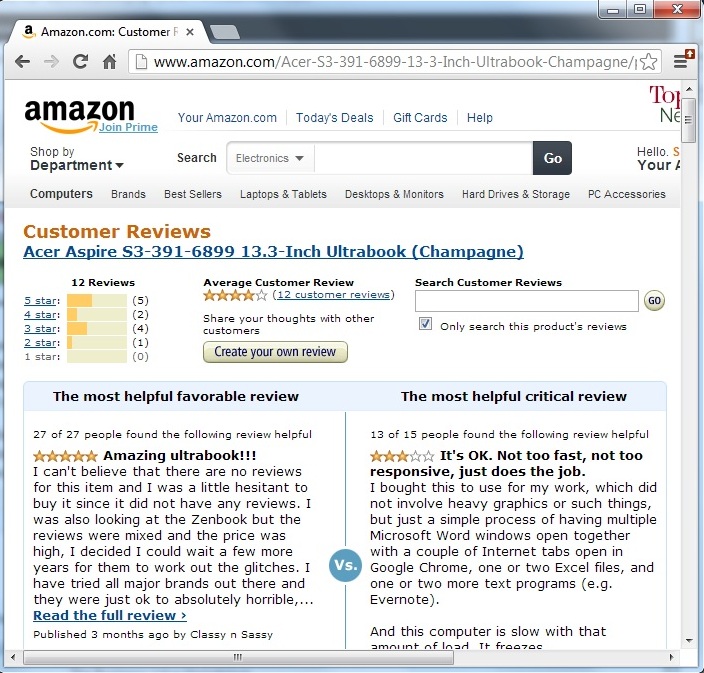 To date there are many collaboration platforms in the marketplace. I myself am a huge fan of Jive, Yammer, etc., but there lacks a context within them, where one can see how business solutions are being used, where the limitations are, how people have overcome them to execute their strategies and operations of the business, and to help guide a business user to find the right solution for their own needs. As discussed in a previous article the narrative of who is in charge of selecting line of business solutions now securely is in the business unit's camp and not with IT. Therefore we need to empower the business user with information and an environment to provide the right consultation and collaboration to be successful.
Socializing business value and having that financial relationship tied to the cost of service used, is the holy grail of IT business intelligence. Understanding the real return on investment story would be an incredible benefit. This creates a wealth of knowledge and will help inform the Demand IT organization about opportunities to focus their consulting efforts. This creates an environment and a culture where the Demand IT organization can fulfill its ultimate purpose: Consult to execution. Instead of IT just providing a technical roadmap, Demand IT will produce a capability roadmap for the business user and the Supply IT will manage the service delivery roadmap. This distinction is critical for changing the dialog IT has with the business. They don't care about technical dependencies, etc. Their concern is understanding the capabilities they can acquire to drive effective processes and functionality for the business.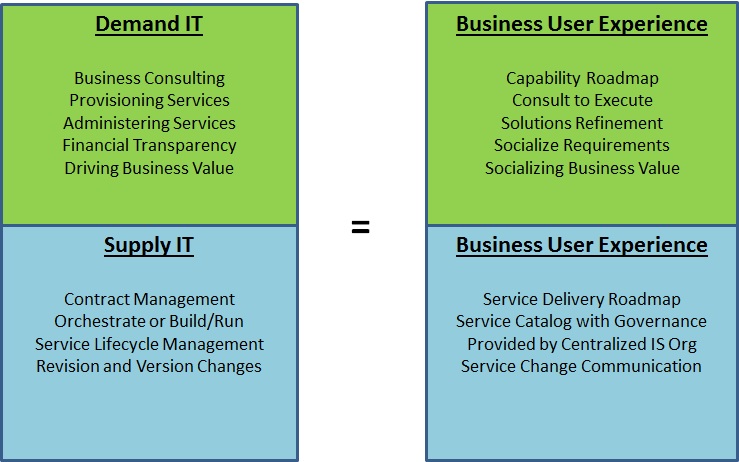 The Disruption of IT Consulting
Imagine now that this Business Value Marketplace is managed by a SaaS provider. This marketplace SaaS provider could over time have a hundred or a thousand customers on it. They would have insight into what and how much, each service costs to deliver; how business users are using the services; what value they are deriving for their business; and know the ultimate cost of the service delivery. They will see this data in real-time. This could be a treasure of IT consulting data. Imagine now that this SaaS provider aggregates this information and shares without breach of customer information about how the IT marketplace is bringing value to the business. This would be of great interest to both Enterprises and IT Vendors.
This I think will be a major shift and the continuation of the disruption created by cloud computing. In this case, instead of the Enterprise becoming disrupted, it's the IT consulting world. Now it would be foolish to think that IT consulting would be taken out by such an innovation, but it certainly would bring new paradigms about how IT consulting is delivered to the Enterprise and to what degree portions of IT consulting will be commoditized. This is something that Gartner and Forrester should be watching. I see this as a huge opportunity for someone.
IT-as-a-Commodity
The entire Demand Supply IT model is about commoditizing IT service delivery. The Business Value Marketplace is where the strategy execution is socialized and helped to execution. As you read this you might be thinking that these things don't exist yet and that this is a stretch to conclude. If the ideas were new, then I would agree. But this has all been done before; it's just now being applied to IT. When Amazon created its robust supply chain infrastructure, it also created an ecommerce experience around the needs of each customer. The effort is precisely the same here, only applied to the idea of providing value to the business through the use of an IT supply of services. The difference is that the business will select their solutions and collaborate to drive continued improvement.
As an IT leader, if you accept this as the future, the IT organization will have to take on a new form. This will be topic of discussion in a future article, but seeing the IT organization run like a well-tuned distribution center of services is critical for thinking about how to transform the IT organization.