Little did you know that lemonade stand marketing and content marketing have something in common! Remember the days as a kid when you tried to make some money by opening up a lemonade stand in front of your house? You mom or dad probably spent days trying to help you out from getting the 'store" together, whether is was a table, stand or just a couple of chairs. Think of the things that you had to do before you 'opened shop': make a trip to the store to buy the ingredients, make the sign, decide who was going to be the sales person, come up with the things that you were going to say and then decide how you were going to spend the cash that you made. Finally the day comes and you open shop and no one stops to buy your artisan drinks! In fact, no one drives by at all! Well, the same think could happen to you with out the write blogging strategy! if you don't get the word out!
Understanding how to promote your blog post is critical because it will drive incremental visits to your blog and reads of your blog post, like getting people from the other block to visit your lemonade stand! Blogging is a great way to be found so you can articulate your thoughts and POV. However, it's like a tree that falls in the forest if no one is around; no one will know that you wrote it!
Here are simple five ways that you can promote your blog post and avoid the Lemonade Stand Effect!
Twitter. Your blog is a great source of linkable content; especially if it has how-to advice, research that is referenced, interesting quotes, a reference to a use case to solve address a pain point or provide was to create competitive advantage! In fact, these are five examples that make great tweets! Pull out 5 to 10 blurbs or references to your post and tweet them once or twice a day. As long as the tweets are different you will be fine, even if you are linking to the same content destination. Tip: Start each tweet out with '[Blog]', an understood call to action to a blog post.

LinkedIn. You should be updating your LinkedIn profile at least once a day, and what better message to provide than a call out to your blog post! The best way to use a status update on LinkedIn is to drop your blog post URL into the "Share" box. LinkedIn will shrink your URL after you place your copy in before the URL.

Facebook. Get your Facebook friends and followers on board with your post by updating your news feed with it AND a photo, since photos that are attached to a Facebook post generate 53% more engagement than the average post (Source: Hubspot 2012 data), this will help you organically break through the newsfeed. Breaking through on the newsfeed is key, since only 16% of organic newsfeed updates break through to your followers' feeds (Source: Facebook, October 2012). In SAP North America, 95% of our posts include a photo, which has resulted in higher Facebook engagement rates with our content!

Syndication. After you have a collection of blog posts think about finding a blog with which you can share your ongoing posts. This sharing is a fantastic way to amplify your awareness. As an example, Business2Community is one of 3 places where I syndicate my blog posts. You can see from the 42 tweets by people who have read this post, Social Channel Roles: What Does A Beer Pairing Dinner Have To Do With Social Media, that the amplification is taking place with no effort on my part! The other two places? SAP's Business Innovation site lead and SCN!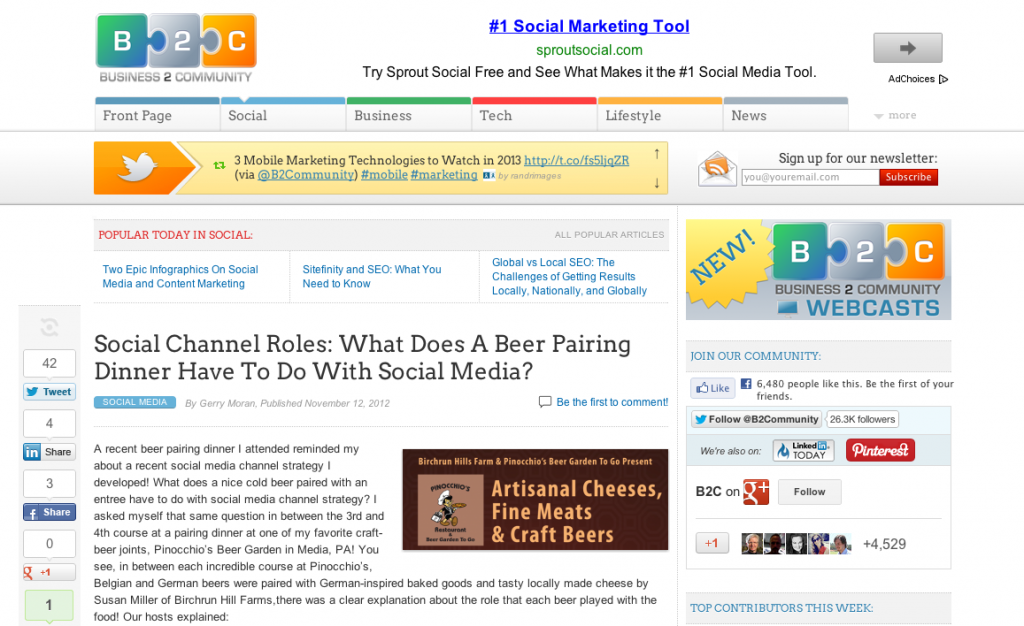 Email Signature. Adding your most recent blog post or a collection of your blog posts to your signature is an easy way to spread the word the audience is not a typical blog reader or heavy user of social media.

Looking for more insight into blogging? You might enjoy these posts:
Also, make sure to use Google Analtyics to help you undertand what referral site (e.g., Twitter vs. LinkedIn) is driving traffice to your blogs posts. Recently one of my blog posts was picked up by SmartBrief and American Express' Open Forum. I would not have known this was the case if not for Google Analytics. Once I found out, I promoted the fact that I was picked up by them both on LinkedIn and drove even more reads!
Comment on THIS blog below if you have a question on how to promote your content to reach more readers! You can also reach me on Twitter @GerryMoran
So you have created some posts that are not getting great readership, let's make some lemonade out of those lemons by following the five ways to promote your blog post. And if you have kids of your own, make sure you let them read this article, since they can use the same tactics to help them sell their lemonade so they can save for college!
Cheers!
Gerry Moran.