Syclo Blog >> Mobile is the Word at Gartner Symposium and SAPInsider Enterprise Mobility events
It's fall tradeshow season where SAP and Syclo have been able to share our joint plans and demo our solutions. We had great conversations at Gartner Symposium this week. The IT leaders we met are all mobilizing their business and we have the goods to help them build a comprehensive strategy with a platform (SAP Mobile Platform) with apps for their field workers, office staff and consumers.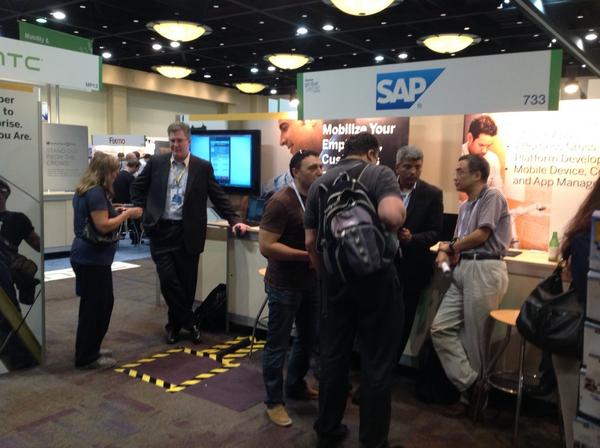 You can also find us next week at SAPinsider Enterprise Mobility 2012 conference to offer proven advice to attendees. The event takes place at the Mandalay Bay in Las Vegas, October 29-31, 2012. Attend to learn how you can define, build, and optimize your enterprise mobile strategies, solutions, and infrastructure.
If you're able to attend the event, please visit our booth (710) in the exhibit hall and be sure to catch educational sessions presented by three of our top experts plus a case study delivered by Carl Stahl:
An in-depth guide to the mobile applications available from SAP and Syclo
Roland Gonzalez, SAP and Mary Sullivan, Syclo
Oct. 28, 2012 • 9:00 AM
Demo showcase: Syclo mobile applications for service personnel
Brian Nelson, Syclo
Oct. 29, 2012 • 10:45 AM
Track 5: Spotlight on lines-of-business
A best practice approach to mobilize asset-intensive industries
Joe Granda, Syclo
Oct. 29, 2012 • 4:30 PM
Track 6: Spotlight on industries
Case study: How Carl Stahl optimizes service processes with the SMART Work Manager from Syclo
Stefan Aubele, Carl Stahl
Oct. 31, 2012 • 1:45 PM
Track 5: Spotlight on lines-of-business
Lastly for those of you in Europe and the Middle East, SAPPHIRE Now and TechEd Madrid is taking place November 13 – 16. We will be holding Syclo Mobile Conference EMEA on Monday November 12th. You can go to www.syclo.com/SMC-EMEA for more information.