Blog It Forward – Ivan Femia
The day after the SAP Inside Track in Milan I received two Blog It Forward by Uwe Fetzer (his BIF) and Bala Prabahar (his BIF), but these are not the only because my new fellow SAP Mentor Peter Langner (his BIF) was ready to blog it forward to me… So finally I had my BIF Thank you guy I really love this initiative!
Do you already know about Blog It Forward? If not, I suggest you to read the "Blog It Forward Community Challenge" by Moshe Naveh and have a look to the existing chain.
Home Town – Milan
I was born 35 years ago in Milan, Italy.
Milan is the economic Italian capital in the north of Italy, the 2nd biggest italian city. It was founded by the Insubres (Celtic) in the 600 BC, and it got, since the early age, a very important role in italian history. Milan original name was Mediolanum that means "in the midst of the plain". (Milan is in the middle of the well know Pianura Padana)
Milan is famous for some architectural buildings: Duomo and the Castello Sforzesco.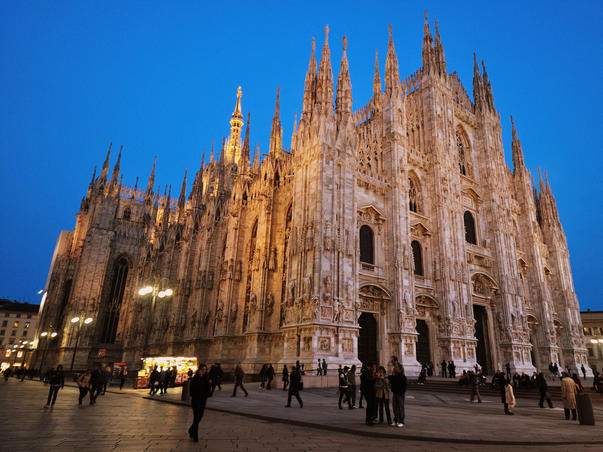 Duomo
Castello Sforzesco
But it is also well know for its cuisine; the most famous plates are Cotoletta alla milanese, Risotto alla milanese and Ossobuco
Cotoletta alla Milanese
Risotto alla Milanese
Ossobuco alla Milanese
About myself
As a child I had the possibility to live either in a big city or in the countryside. My parents come from the south of Italy and all my relatives are farmers! So I lived for a long time with animals: pigs, chickens, rabbits, turkeys, foxes, ducks and whatever… all kind of farm animals, but I had also the possibility to experience in agriculture, so I know how to maintain a fruit tree or a water melon. This is really cool 🙂
I'm not a real Italian, I don't like coffee and wine… Is it really strange? Btw I like eating and cooking. Yes I'm a good cook… This is a sneak preview, I'm going to open a real Italian cooking channel for dummies where I'm the cook!!! Stay tuned
BIF questions by Uwe
What has your Mum cooked for you as a child (the everyday meals, not the special ones)?
Pastasciutta or better Spaghetti al ragù
BIF questions by Bala
Share a fun fact/story about yourself that people don't know
Have I already said that I like to cook?
Describe in one short sentence: "what need does your SAP solution meet"
I will use 2 words: Innovation and Flexibility
Which 5 things do you absolutely want to achieve in life?
Get married
Have 3 children
Relocate in California
Open an Italian restaurant in California
Eat everything without gain weight. Is it possible?
Blog it forward
I would like to Blog It Forward to some great guys, that I had the possibility to meet in person, Patrizia Rossi Alessandro Spadoni Andrea Olivieri , asking them:
· If you could be a super hero (or are in your spare time) who would you be?
· What do you most enjoy on SCN?
· If you were 20 again, what would you study?