Building A Cloud Ecosystem: Part 3
The goal of this three part series is to describe the strategy and framework for constructing an ecosystem from cloud services to best serve your enterprise. It's also a discussion about the future role of cloud service providers and how the end user will become ultimately empowered.
Why pursue a cloud ecosystem?
The reason for integrating services from different cloud providers is to ultimately enable the users through efficient execution of business processes. The end goal is to create business processes that are well structured with controls, but at the same time agile enough to respond to your company's industry and unique requirements. For process execution to be successful the business users need to have the right tools.
I guess it's fair to say that this is true of any IT infrastructure. So why cloud? Architecturally, cloud services are built to be delivered in the way the business consumes IT. It's a service not a technology. It can also be very flexible. That flexibility is the new requirement of the business. The volatility in the economy and the competitive landscape is putting pressure on companies of every size to be more agile. Business strategies today will require IT to provide an infrastructure that can quickly respond and change based on an ever changing set of needs.
Service Agility for IT and for Business
Some cloud services are consumed by IT folks and others by the Business. Services that can be administered by a business analyst versus a technologist represent systems of agility. In turn, the business analyst will live within the business unit and drive the necessary process changes. This is where a Chief Process Officer can oversee business process improvement and change management. They will also function as the feedback loop from operations back into strategy formulation. This is a very important distinction, because in the future, system process changes will be administered by the business instead of IT organizations.
Today we understand Cloud Computing in three tiers of services: Software, Platform and Infrastructure. It's the Platform (PaaS) which will prove to be the great enabler of the business. The truth is there are two very distinct approaches to platform services. One which requires technical skill in the way of code development and the other is business process oriented. If its business process oriented then coding is not required to configure. Business analysts will have the ability to construct work flows using preconfigured objects. Not too different then using your inbox rule wizard in Outlook.
The trick is that you can construct complex applications without the need to code. In turn, this will become a very powerful tool for the business and it won't necessarily require IT department involvement. Understanding the difference between a PaaS and what I would call a BPaaS (Business Process as a Service), is precisely the difference in who will use this technology.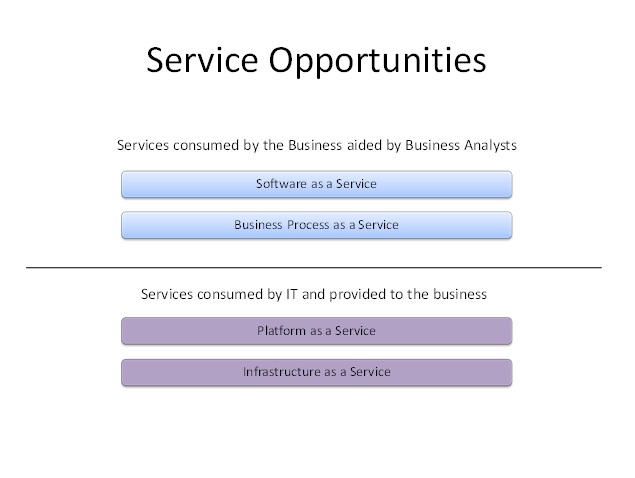 The ease of cloud computing subscription has created quite a problem for IT departments to maintain control. The trick is to prevent rogue cloud purchases by providing the business, tools for self enablement. Striking a balance between data governance and business enablement is essential for the success of the IT department's future. Cloud computing has forced IT departments to stop thinking about their work as technological; instead they are refocused on services. I see SaaS and BPaaS services as the end goal for business user consumption. IT will function as the ultimate change control body because of their global process visibility. They will also insure dependencies are identified, integration integrity, master data management, and communicate operational changes. This will allow the business user to innovate, and IT to manage the transition into operations.
Your Identity In Total
Most likely you are someone who is responsible for several different processes within your company. Each process may have multiple services used to support it. In a cloud ecosystem each of these services could be provided by a different provider. The result is that you now have unique identities with each service per user. Managing those identities can be difficult. As employees are hired or leave, each service provider identity has to be immediately managed. This poses as one of the largest security issues around cloud services.
In the past when all your applications lived behind the four walls of your intranet, IT departments could take their time to change authorizations or remove identities. Within the cloud ecosystem, there is no tolerance, because it will pose an immediate breach in a borderless computing environment.
Identity and Access Management (IAM) is the centerpiece of securing cloud services and providing end users a more seamless experience with single sign-on capabilities. Larger enterprises have identity management systems already deployed. The challenge today is that many of the cloud providers do not still support standardized identity federation protocols, so there needs to be and identity systems that can support federation compliance and providers that do not have the capabilities yet.
Single Sign-On consoles are emerging as way of providing users a single web page to launch their connections to the many cloud services.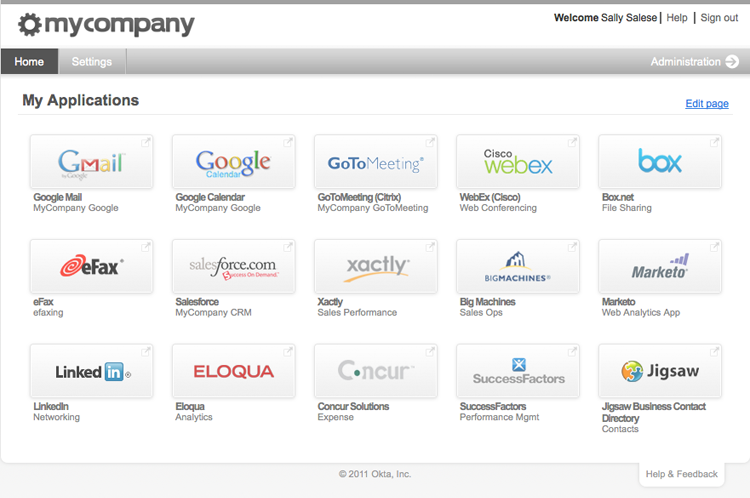 [Image sourced from Okta Inc. website.]
In total, providers like Okta, Ping Identity, VMWare Horizon are providing authentication, authorization, account management, and audit data services. This is an important next step for users to have a more seamless engagement of cloud services and administrators the ability to manage with scalability and security.
The challenge is that for the end user, there still is no understanding of when and why they should be connecting to any of these services. Business users are the ones who execute processes. Although single sign-on management pages like the one shown here are extremely helpful for access, they do not alert users of open tasks or that their interaction is required. These interfaces have to evolve.
The Universal Task Engine
Processes are executed when an orchestration of tasks are completed. In the cloud ecosystem we have organized our services to execute those processes. However, we have not created a call to action for the business user.
For processes that span across multiple departments it's essential that each person responsible for the respective tasks is aware of the work they need to do. The need for a task console for business users is critical. Users should see links to tasks that they are assigned regardless of which cloud service is generating it.
The end user can click the link, and thanks to single sign-on they will be authenticated and sent directly to the cloud service to complete their task. The need for a universal task engine is to provide business users a purposeful way of engaging the cloud ecosystem. The last piece of the puzzle is to keep the business user motivated to fulfill those tasks.
Gamification Aggregation
There has been a lot of talk over the last year about gamification. The essence of gamification is to provide a system of reward to shape users behavior to reach an end goal. For business applications one primary tool has been the use of badging or the assignment of points or stars for user effort.
With the coupling of single sign-on and the universal task engine, the only item left is to reward users for completing tasks with quality and in a timely manner. As users complete their tasks, the universal task engine should be able to aggregate the effort of the user from each cloud service they use. This becomes a starting point for engaging the user to leverage the ecosystem for their measured success. It also becomes the vehicle to complete business critical processes which promotes efficiency and consistent execution.
Combining identity access management, the universal task engine and gamification will create a unified user interface which will bring the proper context for users to engage a cloud ecosystem.
IT needs to provide a platform which will most likely involve multiple cloud services to fulfill business requirements and execute processes. It also has to engage business users of the ecosystem in a way that promotes efficiency, quality, control, and scalability.
IT and the business community they serve must be prepared to interact with each other in a new way. IT will become far more integrated with the business. Innovation efforts will be done primarily in the business unit. This will result in IT departments growing smaller and far more process and operationally focused. IT departments need to let go of controlling innovation and provide the business, platforms of innovation. The cloud ecosystem is the future look of that platform.