The real strength of Google+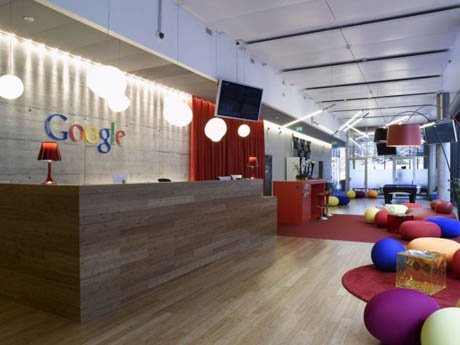 Who doesn't want to work in a place like this?
First encounter
It was some time ago, when browsing my Facebook contacts, that I came along a post of a friend of mine. He mentioned that he had some invites for Google+. Being a bit of a Google fan (It's on top of my list of companies I want to work for), I quickly sent him a note to ask for an invite.
Disappointment
For quite a while, I was a bit disappointed. Sure it offered some nice features like the circles and hangouts, but after creating 4 circles to categorize my contacts, the need for further categorizations dissapeared. I even never tried the hangouts either. All in all, I found that it was just no match for Facebook.
Insights
Some time later, I read an article on Think With Google that shed a different light on G+. Well of course, on one hand there's the finer granularity Google can now offer for people targeted ads, but the statement that rang my bell was: "Google+ is not a social platform, it's a collaboration tool". As such, we're not supposed to compare it with Facebook. We should be comparing it to Sharepoint/Office 365, Sap Streamwork, Sourceforge,…
The statement continued to linger somewhere in my head, but as I had no need for online collaboration, I didn't really do anything with it.
Sudden stroke of genious
Recently however, I got involved in a study about the usage of cloud solutions in the enterprise world. That was my cue to start looking at online collaboration, document storage, PaaS, SaaS and al those other nifty buzzwords. I always approached this from a technical point of view. Infrastructure changes, security policies, service enablement, development and so on… For once, I got to go on a roll from a business perspective (It's nice to be on the other side for once). What struck me was that the most important functionality was not the complex SAP backend, but simple and dumb office authoring tools, documents and collaboration options.


That's when I finally started seeing the potential of Google.
You have your circles (Project teams)
You can store/share documents online (Google Docs)
It's possible to work on these docs via Google Apps
You can create a team calendar (Google Agenda)
Communicate 1 on 1 via Gmail
Start hangouts for virtual meetings, chat sessions
publish results via status updates
market result via blogger
And it's all available on desktop/laptop/tablet and mobile
Now I said we should be comparing this to solutions like Office 365, Sap Streamwork and Sourceforge (to name some). So to be a bit complete, let's put in a quick overview of those solutions as well.
Microsoft is actually offering quite a comparable solution/set of tools. With office 365, you have your document editing completely in the cloud. Your documents can be stored on a free SkyDrive or in a cloudy sharepoint collab space. In the sharepoint, you have many collaboration options like discussions, workflows, tasklists and so on.

Via the windows live ID's you can also leverage their "social platform" to increase collaboration. But let's be honest, the added value there is nimble.
None the less, they have quite a nice package there, and it is nicely integrated into their desktop/tablet and mobile platforms. So definitely a good offering there. But it comes at a price whereas Google is for a very large part free of charge.
SAP Streamwork sounds very specific to SAP projects, but in fact, it isn't. it's just SAP version of a collab tool, but open to all possible targets. It also offers very nice options to start project teams, add members, share documents and start discussions. However, it lacks the authoring tools, so still depends on other providers for the authoring. It does offer a very nice API in REST/OData so mobile versions and offline versions are quickly emerging.
But it does have a more professional ring to it than Google+
Sourceforge has basic options for discussion boards, sharing source code and documents, but let's face it: "it's from the stone age".
So there you have it. Before claiming that Google+ isn't ready to compete with Facebook, consider that it might just be the next innovative step to moving collaboration to the cloud.