Overview of transport requests across multiple systems
If you ever have been looking for a handy tool that helps you not getting lost in the flood of transport requests? This program shows
which requests were transported to which systems
which requests are missing on certain systems
whether they contain (generic) keys or method execution (XPRA)
whether they are client dependent
which objects they contain -> in an object list spanning multiple requests
Results are presented in an ALV grid, or as a classic list. Exporting data to spreadsheets is a breeze; sorting, filtering etc. are supported as well. Long live ALV! The program works regardless of whether import tracking has been properly configured in CTS.
Practical extras: Cross-system version comparison for all objects contained by one request. Single import of requests is supported using TMS services, eliminating the need to change to transaction STMS.
Cross-system version comparison
Maybe you have some larger portion of development (especially coding) in one specific transport request. There is a little known utility report RSVCAD11 (at least it is in ECC 6.0) in the Correction and Transport System that does a version comparison over an RFC destination for all versioned objects contained in the object list of the respective request. This is very handy, if you need to do a quick check to be sure that you do not mess up versions in your target system. Note: Not all objects are versioned, so the comparison tool just prints out a warning for these.
Download Z_CTS_CROSS_REF as SAPLINK nugget…
Screenshots
At one glance
Check results, dates, and attributes of transports and their export / import steps.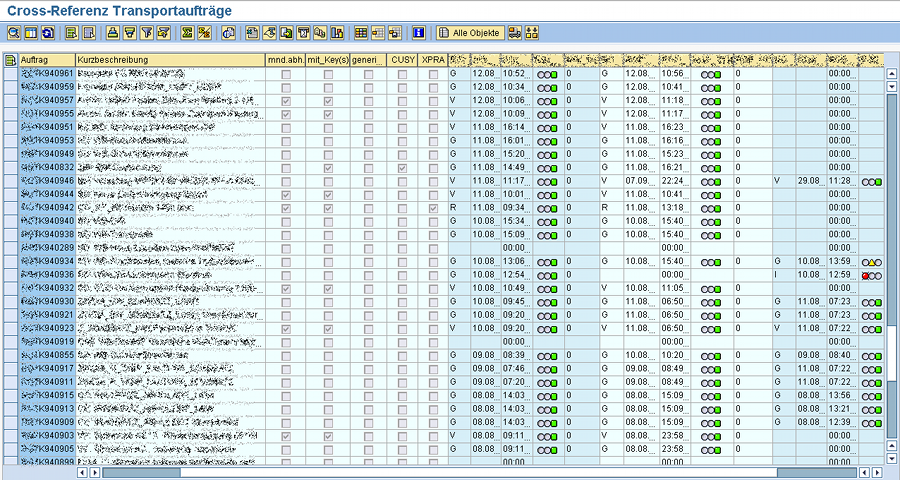 Quickly check object lists spanning multiple requests
…you might even enhance the program by a table-controlled / configurable check of object lists for "dangerous" objects, and earn undying fame

Cross system version comparison on a transport request basis
…specify destination to check versions against…
…specify transport request (pre-filled)…
…find out what you will be going to mess up by importing this transport request! (Red lines indicate: "Object not found in target system", yellow lines "non-versioned / not comparable object").