Product Information
SAP Business Process Operations Extensions at SAP TechEd 2011
SAP TechEd 2011 lectures, sessions, and discussions about SAP Business Process Operations Management with SAP Solution Manager will introduce and demonstrate different concepts to run solutions in your IT environment even better. Complex business processes across different software and system components inside and across organizations require tools, and procedures for end-to-end solution operations, ensuring smooth and stable business processes. Business Process Stabilization and Improvement are supported by Business Process Operations in SAP Solution Manager.
SAP TechEd 2011 session ALM265 will provide examples of how to extend selected content and functionality, i.e. in SAP Solution Manager's Business Process Monitoring and SAP Data Consistency Management. Business Process Monitoring provides technical monitoring as well as business monitoring via out of the box monitoring objects and key figures, which are available and ready to be configured. Data Consistency Management provides tools to setup and configure consistency checks between data in SAP systems or between data in an SAP system and a non-SAP database, i.e. remote or standalone database.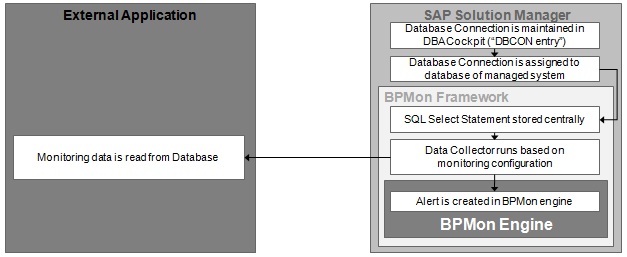 Figure 1: Business Process Monitoring – Monitoring via Remote Database Access
Gain visibility and coverage of technical and business monitoring and alerting by extending it into the non-ABAP/non-SAP system landscape. Improve service levels and process automation by tailoring autoreactions and notifications to individual requirements. Use the extension framework to make sure adjustments are safe when upgrading service tools and support packages.

Figure 2: Data Consistency Management – Architecture of Cross Database Compare
Gain visibility and coverage of consistency management by configuring it for non-ABAP/non-SAP sources. Improve service levels and process automation by running data comparisons regularly including autoreactions and notifications. Export your data models for future use.
What is in it for you?
The Business Process Monitoring exercise will cover accessing a remote database of an assumed external application system. This system is identified via the database connection. In SAP Solution Manager, the Business Process Monitoring engine triggers the monitoring data collection and performs the alert evaluation based on the selected data.
The Data Consistency Management exercise will cover the cross database comparison functionality, comparing data of multiple tables between two systems. The user interface is offering graphical system- and data-modeling as well as executing and saving comparison runs for later usage and analysis. Integration into Business Process Monitoring is available.
Where can you find the TechEd 2011 lectures and sessions?
To read about all lectures and sessions offered in the Application Lifecycle Management – Operations track, click the Operations link and select the topics that you are interested in and would like to attend.
Whom can you follow to get further updates?
Feel free to follow me on Twitter and Toolbox…
With best regards
Robin