Freedom for Java
In a flat world whose economy is dependent on global relationships, IT has an essential enabling role to power the global business network. SAP systems are at the core of large parts of global IT, and are powering more than 65% of the transactions that make up the world's Gross Domestic Product (GDP). SAP bears a great responsibility to provide a stable core.
At the same time, SAP software also needs to be open and adaptable in order to allow customers and partners to be nimble and benefit from the speed of innovation within the SAP ecosystem.
The Role of Java in Global IT
There are few inventions that exemplify our aspirations and have captured our imagination the same way as the Java programming language, and we commend Sun Microsystems as its owner and steward for the ecosystem it has been able to build.
For 15 years, Java has been a programming language that brought about significant innovation. Java is everywhere, from large scale enterprise applications to mobile devices and payment cards. Java is also the language of the community, enabling a whole generation of developers to collaborate and co-innovate within open source communities like Apache and Eclipse.
While remarkable new programming languages are invented frequently, on average roughly every ten years, the many software systems built using these languages have extensive lifespans. It is safe to say that systems developed with Java will be around for long long periods of time.
For SAP, it was an important decision when in 2001 we incorporated Java into our core products and made it an essential part of our technology platform SAP NetWeaver.
Change is Coming
The Java industry is currently going through important changes, and there are many discussions around the openness of Java and the Java Community Process (JCP). To date, the JCP is heavily dominated by Sun Microsystems which was not always to the benefit of all parties interested in Java. Java is the lifeblood of the IT industry, and IT is a fundamental underpinning of the way business is conducted in the 21st century. The technical interfaces that are jointly developed by the community should be immune from bias, and the community should be able to work even closer together in the spirit of cooperation to continue the Java success story.
Independence and Freedom
To ensure the continued role of Java in driving economic growth, we believe it is essential to transition the stewardship of the language and platform into an authentically open body that is not dominated by an individual corporation. Java should be free of any encumbrances to permit fair competition between compatible implementations for the benefit of customers. By preserving the integrity of Java, the IT industry can ensure a vibrant developer community and continued innovation for enterprise software customers. This ensures the continued global economic success brought about through open innovation.
Eclipse is an excellent example where a brilliant technology has enjoyed dramatic adoption after it was set free and subsequently managed by a team not employed by a particular company. With the acquisition of Sun, Oracle has now the unique opportunity to open the Java Community Process, which manages the Java specifications, and transition it to an equally independent body. The Java Virtual Machine should become open source and be managed by an independent Board, including its license terms that are currently restricted to free software and thus not adaptable to the commercial terms required in the global IT marketplace.
In fact, Oracle itself had already proposed such transition and the Java Executive Committee has subsequently made the following decision:
"It is the sense of the Executive Committee that the JCP become an open independent vendor-neutral Standards Organization where all members participate on a level playing field …"
JCP EC meeting summary – December 7th 2007, Resolution 1 (proposed by Oracle, seconded by BEA)
If such new Java Foundation will be proposed by the owner of the Java programming language, SAP is committing to make significant investments in form of engineering and financial resources into Java technology and its new governance structure.
History Repeats Itself …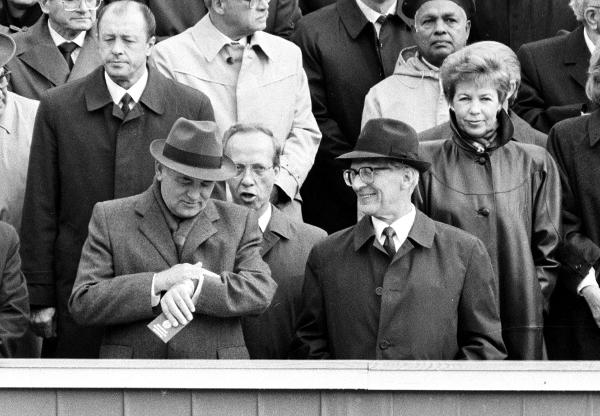 (c) picture-alliance / Sven Simon
History has always been the best judge for what a man has accomplished in life. In October 1989, visiting the country's leadership for the 40th anniversary of the German Democratic Republic (GDR), Mikhail Gorbachev told hardliner Erich Honecker a sentence which is credited for setting in motion the Gentle Revolution of the GDR that effectively ended the Cold War: "Wer zu spät kommt, den bestraft das Leben" – "Those who are late are punished by life."
The German people will be forever grateful to their "Gorby" because on November 9, 1989 the Berlin Wall came down. But let us not forget that it took an equally great man and politician, Ronald Reagan, President of the United States of America, to have the vision to directly address Mr. Gorbachev in a historical speech in front of Berlin's Brandenburg Gate on June 12, 1987.
There are some striking similarities between the final days of the GDR and the fate of Java. In both cases, there has been a dangerous erosion of confidence because the ruling party has not been living up to the long awaited promise of reform to its people and community.
I believe that today, during these important times for Java, President Reagan's words can again provide us with that much needed vision. And so it is with great respect for him when I say:
"Mr. Ellison and Mr. Schwartz, open this gate! Gentlemen, tear down this wall! Let Java be free!"